12 Website Content Ideas for Beginners in 2022
November 18, 2021 •DJ Team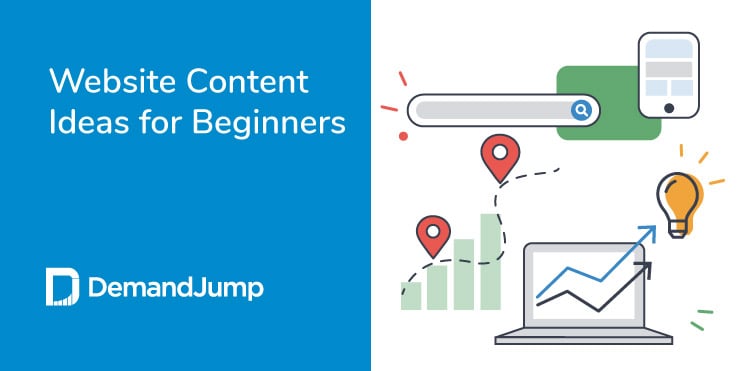 Did you know that 252,000 new websites are created every day?
Despite increased competition and more publishers, there has never been a better time to start a new website and make money online in 2022.
But how do you find website ideas that attract traffic from search engines and social media?
In this article, we'll share several website content ideas for beginners, along with examples and tips to help you get started.
The Best Website Ideas to Make Money Online
Starting a website is easy these days. But to consistently make money from a website, you need to consider several factors.

First of all, you need to choose a website niche that you're knowledgeable and passionate about. Ideally, choose a niche where the consumers routinely spend money online. This allows you to offer products and services your target audience can purchase.
Secondly, choose a business model for your website. There are numerous ways to make money online from a website, but you need to narrow down your focus to two or three monetization methods to develop a coherent website content strategy.
Some of the popular online monetization methods are:
Affiliate marketing
Advertising
Sponsored content
Digital products and courses
Services
Consultancy
Physical products (e-commerce)
The list goes on and on.
To help you get started, here are some of the most popular niches for website ideas.
Personal finance and investing
Entrepreneurship and starting an online business
Health, fitness, and beauty
Relationships and dating
Self-improvement
Making money online
Pets
B2B SaaS
Software development
Website design
Content creation
If you create a website in any of these niches, you won't have any problem monetizing it. However, there's a lot of competition in these industries, so to stand out, you'll need to understand your audience better and create more comprehensive content than your competitors.
Website Content Ideas to Drive SEO Traffic
Creating a website is the easy part.
But if you want to drive consistent traffic from search engines and convert it into leads and customers, you need to create high-quality SEO-optimized content regularly.
How do you find relevant content ideas for your website? Here are a few tips.
Competitor Analysis
The easiest way to find content ideas is to analyze your competitors. Visit your most successful competitors' websites and note the topics they frequently cover. This gives you a clear idea of what to talk about on your site.
SERP Analysis
Search for your primary topic on Google and scroll down to the People Also Ask section in search engine results pages (SERPs) to get an unlimited list of questions your audience is asking about your topic. You'll find a wealth of content ideas with this method.
Keyword Research
Use any popular keyword research tool to analyze your topic and find new angles and subtopics to cover on your website.
Once you find the right content ideas, use the following content formats to publish them.
How-to posts
Tutorials
Product comparisons
Product reviews
List posts
Round-up posts
Case studies
Interviews
You'll need to consistently publish high-quality content on your site to find success and drive SEO traffic. So once you find the right content ideas, stick to them and create excellent content to help your audience see you building your authority.
Website Content Examples You Can Replicate
The best thing about content marketing and website content creation is that you don't need to reinvent the wheel. Instead, you can analyze your competitors, learn from other successful content creators, and produce stellar content that drives your marketing strategy.
If you're looking to create a consultant website, you can use NeilPatel.com as an example. Neil built his entire consultancy business on the back of high-quality content.
Similarly, if you're a startup, you can look toward Buffer.com for inspiration. Buffer is now a multimillion-dollar company, but its early successes came because of its content quality.
3 Common Traits of Successful Websites
Creating a website doesn't automatically guarantee success. You need to have a proven strategy to attract traffic, convert it into leads, and persuade those leads to buy from you.
Here are the three most common traits of successful websites.
User Experience
Successful websites offer a memorable user experience that starts from an attractive website design, quick load speed, and easy navigation.
SEO Optimized
Successful websites are carefully optimized for high-traffic keywords to attract traffic from search engines. This allows them to drive an unlimited stream of visitors that they can engage and convert into customers.
Optimized for Conversion
The best websites convert their traffic into email subscribers, leads, and customers using opt-in forms, pop-ups, and landing pages.

Are You Ready to Start a Website in 2022?
As we've said before, starting a website in 2022 is easier than ever before, even for beginner website content creators. But to make money from your website and turn it into a profitable business, you need to have proven SEO, user experience, design, content creation, and traffic conversion strategies.
Get Your Free Pillar Strategy Report