39 Content Marketing ROI Statistics You'll Want to Share
November 18, 2021 •DJ Team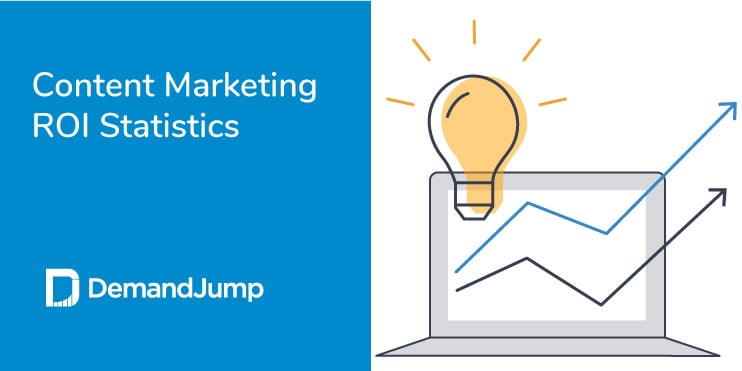 Is content marketing effective in 2022? At the top of the marketing funnel, it can be difficult to gauge your return on investment from simply generating brand awareness.
Building measurement into your strategy from the start will help you set a baseline to monitor your success and adjust your strategies based on what's working.
In fact, a HubSpot study found that content marketers who measure ROI are 12 times more likely to be generating a greater year-over-year return.
Why should your business invest in content marketing? Content marketing gives you better data about your audience and better control over your marketing strategies than paid or earned media.
Content marketing brings leads that are more qualified to your sales team because the prospective customers have already spent time engaging with your brand.
Most successful content marketers will tell you that it takes time to build a content marketing program from the ground up. Below, we share a roadmap for how to build measurement into your content marketing program. But first, how do you gain buy-in from your leadership team before you have results?
We've compiled a few digital marketing, social media, and content marketing statistics to help you talk the language of the C-Suite to get the resources you need to be successful.
Content Marketing and Digital Marketing Statistics 2022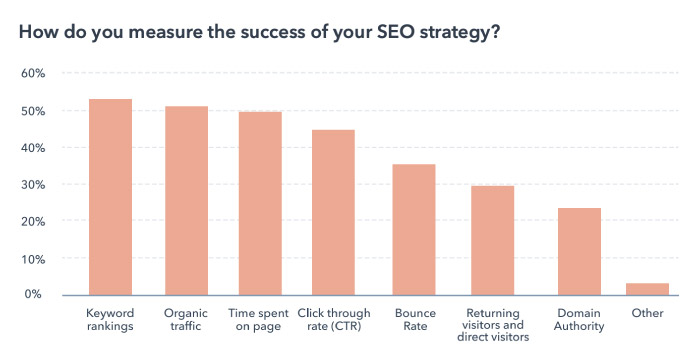 Content Creation Statistics 2022
B2B Marketing ROI Benchmarks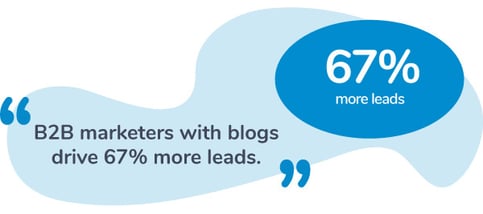 Social Media ROI Statistics
What Metrics are Used to Measure Content Marketing ROI?
Two important metrics used to measure content marketing are leads and sales, which require some setup and measurement for attribution (read our guidance below).
While it may take some time to build up an audience and attribute direct leads and sales to your efforts, there are other metrics you can use to gauge your success. Let's take a closer look at some of them.
Traffic/Views. You can use Google Analytics or your social media analytics to understand how many times a piece of content has been visited.
If you use Google Analytics, you can take an even closer look to see which channels are drawing in the most traffic. Some of these channels are organic traffic, referral, display, and social media.
Engaged Sessions. Engagement on Google Analytics shares the amount of time when your app screen or website was in the foreground of a person's mobile device. The Engaged Sessions tool will count a single session as any time someone viewed your website or app for at least 10 seconds, had two or more screen or page views, or resulted in at least one conversion. Your engagement rate will tell you which percentage of your total sessions resulted in user interaction.
Social Engagement. There are many ways to measure social media engagement, including through Google Analytics, but you will want to look at what percentage of views interacted with a post or video on social media, as well as how many times a specific URL has been shared. As more people use social media, engaging with your potential customers is increasingly important. Social media builds relationships with potential customers, too, because they can respond to and share your posts in a way that they usually can't on your website.
Conversions/Events. Conversions, known as events in the latest version of Google Analytics, can tell you what percentage of page visitors perform a certain action. Common conversion events are registrations, downloads, page scrolling, or, of course, a purchase.
How Do You Measure ROI in Content Marketing?
To calculate your digital marketing or content marketing ROI, you will need to first calculate your costs by either using a content marketing ROI calculator or by doing your own math. Make sure to include any costs that contribute directly to the investment, including your staff headcount, equipment and software, design or other production services, and any content promotion in your costs.
Select the key performance indicator (KPI) you'd like to analyze, which for most companies is revenue from sales. Then, follow this digital marketing ROI formula:
(Sales growth – Content marketing cost) ÷ Content marketing cost = ROI
If you can identify sales earned through content marketing tactics, you can make a powerful case about your growth and value. If you don't have marketing attribution connected to sales, you can use your overall sales numbers to make an estimate, or you can assign a value to other KPIs like leads.
Here's an ROI calculator example. A Q4 holiday campaign might cost $5,000 to produce, including video production and staff time. If the sales as a result of the campaign are $30,000, the formula would be ($30,000-$5,000) ÷ $5,000 = 500%, or 5:1.
ROI can be expressed as a percentage or as a ratio. For social media campaigns, check out HootSuite's social media ROI calculator. This calculator will ask for information on:
Facebook visits from a campaign
Landing page conversion rate
Closing rate
Lifetime customer value
Total ad spending
Content creation costs
Labor costs
ROI helps your business make financial decisions. If your ROI is high, that means the money you are spending on marketing is worth it and your marketing is successful. If it's low, it's a good indicator that you need to make some changes to your marketing strategy because what you're doing is wasting money. If this is the case, you may want to consider doing some deeper research into your target audience to determine which platforms they use most and what content they respond to the most.
What Is a Good ROI Percentage for Marketing?
A good ROI percentage can vary based on the specific costs and margins of your industry. However, 5:1 or 500% is considered a good general benchmark for a marketing ROI.
Any return less than the cost of your investment is operating at a loss, and a 2:1 ratio or less may not be profitable depending on the other costs involved in your business.
How to Set Up Content Marketing Attribution
Only 52% of marketers currently use marketing attribution reporting, so there's a lot of room for improvement in the industry. To set up marketing attribution, you need to dive deep into your available analytics to set up tags and reports that will allow you to track content effectiveness. There are several ways to do this depending on the complexity of your marketing technology use case:
Create unique campaign tags for Google Analytics. You can create tags on your email marketing and social media that create a footprint linking your conversions to specific pieces of content.
Use a marketing attribution tool. For example, DemandJump's marketing attribution feature pairs with HubSpot, Salesforce, Pardot, and social media advertising sites to create sleek and powerful reports showing the origination point of your leads and sales.
(DemandJump Attribution flow report)
Content Marketing Trends 2022
Where will content marketing go in 2023 and beyond? If 2022 is any indication, there are exciting possibilities on the horizon for content marketing. Here are a few trends you'll want to watch:
Video on the Rise
Video was the top form of media used on content strategy in 2021. HubSpot reported that 88% of those marketing said that videos gave them a positive ROI.
B2B marketers have made video their top investment in 2022. That's because they noticed an 87% increase in website traffic and an 80% increase in sales due to video. This likely reflects brands moving toward live stream and live content.
Welcome to the AI Future
While less than half of all marketers report using bots in marketing, artificial intelligence (AI) use is expected to grow exponentially by 2025. Spending on it in the U.S. is expected to increase to $126 billion by that time. Use of AI, such as chatbots and ad targeting, can help businesses better engage with their customers and increase their chances of conversion.
Pandemic Changes Are Here to Stay
70% of B2B marketers reported that the pandemic made a moderate to major impact on their content marketing strategy. 85% expect that some of the changes will stay in effect for the foreseeable future.
Popular changes included changing their targeting or messaging strategy, adjusting the editorial calendar, or changing the content distribution or promotion strategy.
While the use of in-person events decreased drastically (down to 42% in 2021 from 73% in 2020), they are back on the rise. 52% of businesses are expected to increase in-person events, and 39% say they will do more hybrid events.

Understanding the value that SEO efforts bring to your overall marketing strategy is one of the most important steps in creating a fully optimized content strategy. DemandJump's podcast, Page One or Bust!, features an episode dedicated to the discussion of why measuring ROI from content marketing is crucial for revenue growth. If you want to learn more, check out this clip below or listen to the full episode at this link.
Convert SEO Trends into Returns With DemandJump
Content marketing has a lasting, cumulative effect and builds a direct line to potential clients that can deliver results for years.
It's important to have a company's trust to be able to try out new content marketing tactics each year, while measuring, iterating, and continuously improving on campaigns and tactics.
Whatever your KPI, you need the right approach and tools to measure and deliver an ROI.
Work smarter with automation tools designed for you, the marketer. DemandJump brings a roadmap and metrics to content marketing with tools for keyword research, one-click outlines, and marketing attribution.
Get Your Free Pillar Strategy Report