B2B Content Marketing Statistics from 2020
December 29, 2020 •DJ Team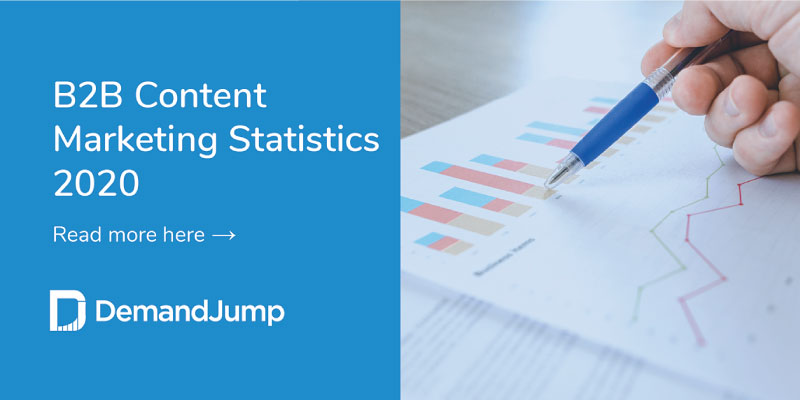 There are a few key differences between B2B (that is, business to business) and B2C (business to consumer) marketing. B2B sales, for example, tend to be heavily relationship-based. They also focus on regular communication and rely on finding your niche. That said, B2B marketing is still marketing to humans, and they're emotional beings.
While businesses rely less on impulse buys and are very thoughtful about price, it doesn't mean they don't rely on thoughtful, helpful, interesting information to make smart purchases—or that they don't want to buy from experts.
Some trends in B2B Content Marketing statistics from 2020 can give us insight into the ways many successful businesses ran their marketing departments this year. Let's have a look.
What is B2B Marketing?
When many of us think of marketing, we think of the ads, content, and other drivers we see everyday that push us to buy things. Whether that's a billboard or a digital banner ad, or a how-to video showing how to change your own oil, these things are all a part of what is known as Business to Consumer, or B2C, marketing. It's businesses selling to consumers, which are each and every one of us.
B2B marketing, on the other hand, means Business to Business marketing. Every business has needs, from complex software to office supplies as small as paper clips. And even on a grander scale, businesses often buy massive, heavy machinery from other businesses. There are some significant differences between the ways B2B marketers talk to their audiences than B2C. They can often be more serious and benefit-driven, and more to-the-point.
Because businesses are making decisions usually based on data and analytics and less-so on emotion like traditional consumers, B2B marketing strategy is usually unique. That said, it's important to remember that behind all of those businesses are humans who, despite their better efforts sometimes, do let emotion get into their decision to buy.
What is an Example of B2B Marketing?
Many companies are forced to dabble in both B2B and B2C marketing, which requires entirely different strategies. Look at Delta Faucet Company, for example. While they sell faucets to consumers (via big box hardware stores and showrooms), a much larger chunk of their business is working with design and plumbing professionals.
This means that instead of just appealing to emotion with beautiful design and simple function, they also have to appeal to practicality and provide other helpful means that will get those designers on board with selling their faucets and other plumbing features.
To help celebrate these designers and show how Delta has helped them make a difference for their clients, Delta ran a campaign called "The Difference Makers." It features three well-known designers each working with Delta products. Each one is like a case study, blog, video, and influencer media project all rolled into one.
B2B Content Marketing Statistics
With all of that in mind, let's look at some content marketing statistics that we've seen in 2020, and see what we might glean from the things the industry is showing us.
84% of B2B marketers are outsourcing content. (Smart Insights)
LinkedIn is second only to Facebook as a social media platform for B2B marketers. (Statista)
Paid channels with the highest ROI are Google Search advertising and Facebook. (Salesforce)
73% of marketing agencies say they're successful at meeting their clients' content goals. (Content Marketing Institute)
The three top types of B2B content used by marketers are social media, blog posts, and email newsletters. (Content Marketing Institute)
47% of B2B marketers don't measure the ROI of their content strategies. (Point Visible)
In content creation, only 66% of B2B marketers prioritize audience need over sales message. However, of the most successful in that group, 88% do. (Content Marketing Institute)

B2B Content Marketing Trends from 2020 to Watch in 2021
What can all of those numbers teach us about what's to come in 2021? There are several trends we can see when we look deeper.
Outsourcing content is totally standard, and will continue to be with agencies helping meet their client needs. It was found that most large companies (1,000 employees or more) were responsible for a lot of outsourced work, but even small companies outsourced at least one type of content. Specialized agencies can often create greater content than small companies have the time or money to produce on their own.
Paid distribution channels (like Google Search advertising, Facebook, and LinkedIn) are all primary ways that businesses distribute content—but that does leave an opening for other organic means, plus SEO-heavy tactics.
Automate Your Content Strategy
DemandJump's Insights show you where you are winning and where you are losing to your competitors around any topic. The platform will point out gaps and opportunities to take traffic share, and with one-click SEO-optimized content outlines, you'll save time in the process.
Save over 50% of your time while creating better content - that ranks!
Get Your Free Content Marketing Strategy Report