B2B Content Marketing Statistics from 2022
December 29, 2020 •DJ Team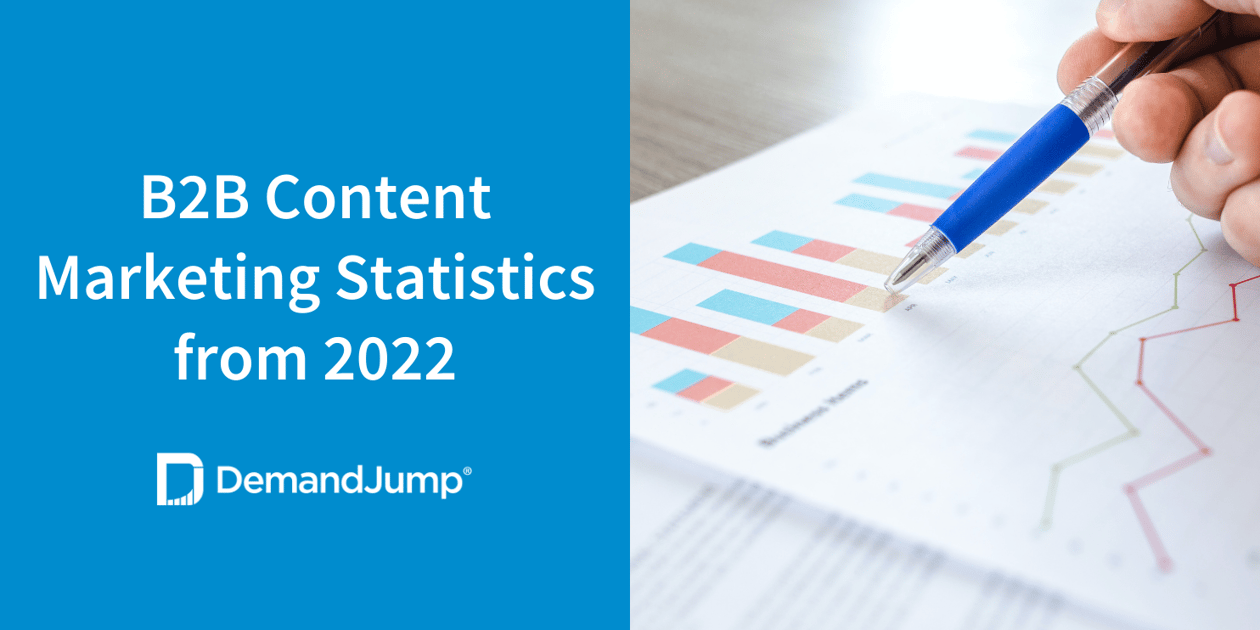 There are a few key differences between B2B (that is, business to business) and B2C (business to consumer) marketing. One of the main differences in B2B sales, for example, is they tend to be heavily relationship-based between the product or service provider and the customer. B2B marketing focuses on regular communication to ensure the product is meeting expectations and fixing any issues that arise. That said, B2B marketing should base their marketing techniques on what appeals to businesses—selling products to executives and higher-ups at other companies requires the ability to interest people.
While businesses rely less on impulse buys because they have very specific needs and they are deliberate about spending, it doesn't mean they don't rely on helpful and interesting information to make smart purchases—or that they don't want to buy from experts.
These 2022 B2B Content Marketing statistics can give insights into the ways many successful businesses ran their marketing departments in the last few years. Let's have a look at B2B marketing statistics and trends.
What is B2B Marketing?
When many of us think of marketing, we think of the ads, content, and other drivers we see everyday that push us to buy things. Whether that's a billboard or a digital banner ad, or a how-to video showing how to change your own oil, these things are all a part of what is known as Business to Consumer, or B2C, marketing. Of course, this includes brands selling products directly to customers, like food and electronics for the individual consumer to purchase.
B2B marketing, on the other hand, means Business to Business marketing. Every business has needs, from complex software to office supplies as small as paper clips. And even on a grander scale, businesses often buy massive, heavy machinery from other businesses. There are some significant differences between the ways B2B marketers talk to their audiences than B2C. They can often be more serious and benefit-driven, and more to-the-point.
Businesses are making decisions usually based on data and analytics and less-so on emotion like traditional consumers. B2B marketing strategy is unique by focusing traditional selling methods toward business needs.
What is an Example of B2B Marketing?
Delta Faucet Company sells both B2B and B2C. A much larger chunk of their business is working with design and plumbing professionals from business to business.
This means that instead of just appealing to emotion with beautiful design and simple function like they typically would with B2C, they also have to appeal to practicality and provide other helpful means that will get those designers on board with selling their faucets and other plumbing features.
To help celebrate these designers and show how Delta has helped them make a difference for their clients, Delta ran a campaign called "The Difference Makers." It features three well-known designers each working with Delta products. Each one is like a case study, blog, video, and influencer media project all rolled into one.
With this example in mind, what does the practice of marketing look like statistically?
B2B Content Marketing Statistics
With all of that in mind, let's look at some content marketing statistics that we've seen in 2022, and see what we might glean from the things the industry is showing us.

B2B Content Marketing Trends from 2021 to Watch in 2022
What can all of those numbers teach us about what's to come in 2021? There are several trends we can see when we look deeper.
Outsourcing content is a standard approach to marketing and will continue to grow and help agencies meet their clients' needs. It was found that larger companies are 66% more likely to outsource than small businesses. By 2021, the content marketing outsourcing industry is anticipated to be worth over $600 billion by 2024. But even small companies outsourced at least one type of content. Specialized agencies can often create greater content than smaller companies with less financial and employee resources.
However, outsourcing isn't the only way companies can build their marketing strategies. Paid distribution channels (like Google Search advertising, Facebook, and LinkedIn) are all primary ways that businesses distribute content to potential customers. In fact, Google's ad revenue reached $209.49 billion in 2021. But an increase in ad revenue doesn't negate the need for businesses to aim for organic web results. These organic results can come directly from implementing a strong content strategy.
Writing content by following DemandJump's pillar-based marketing strategy gives your business the ability to create original pillars (3,000 words), sub-pillars (1,500 words), and supporting blogs (750 words). These different pieces of content should contain high-ranking keywords and questions, so you can answer what customers are actually looking for online. DemandJump can help you cut down on the research and build a successful pillar strategy with keyword rankings and insight reports.
Following this strategy results in higher page rankings and can land you on the first page of Google. More than 85% of global desktop search traffic was attributed to Google—that means more eyes on your content.
Automate Your Content Strategy
We know content marketing can be stressful starting from square one. DemandJump's insight reports help you build a pillar based marketing strategy to create content that brings in organic traffic. Our reports show you what keywords you rank high on and where you are ranking lower than your competitors around any topic. Our platform will point out gaps and opportunities to take traffic share, and with one-click SEO-optimized content outlines, you'll save time in the process. At DemandJump, we give you the tools to take your content to the next level and reach page one!
Save over 50% of your time while creating better content—that ranks!
Get Your Free Content Marketing Strategy Report