Benefits of Digital Transformation
May 6, 2020 •DJ Team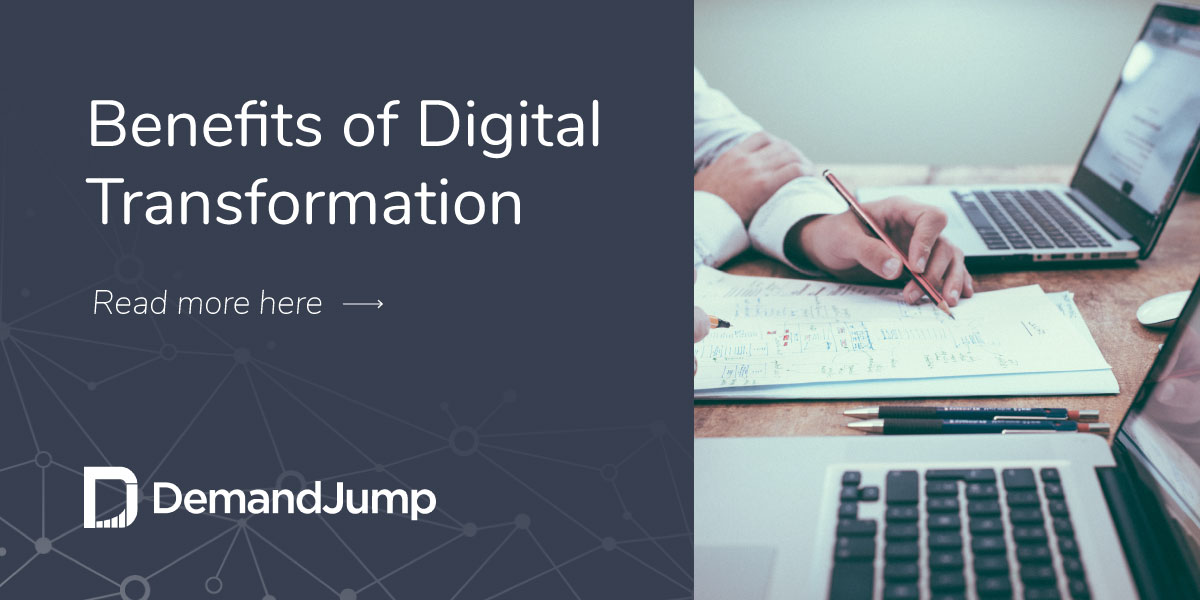 Digital transformation, or leveraging data and technology to inform and improve business operations, helps savvy marketers reach their targets at a lower cost per acquisition and improve the customer experience. In addition to providing numerous new possibilities, digital transformation prevents businesses from being left behind or crushed by the competition.
Instead of polaroid pictures in photo albums, people now store memories in the cloud. And rather than collecting DVDs and CDs on dusty shelves, consumers stream much of their entertainment content online. The digital age continues to transform our day-to-day lives to the point that business executives no longer doubt the importance of digital transformation. What they want to know is how exactly DT benefits their business.
Data-Driven Insights Inform Strategy
Cross-channel analytics provide a picture of a customer's full journey with a business. By analyzing consumers' digital behaviors, marketers gain the ability to target the consumer behavior rather than a persona. More precise targeting equals more effective use of marketing dollars.
Cummins Digital Marketing Leader Nicholas Wojdyla discussed this recently at The Digital Transformation conference. Initially, his team targeted audience personas, such as average household income or homeowners versus renters, rather than consumer behavior.
"It was hard to show ROI or value through the sales we were generating," Wojdyla said.
By using consumer behavior insights from DemandJump, Cummins updated its content strategy for the business' home generators segment. This data-driven approach led to a 60% reduction in cost per lead within 45 days.
Digital Transformation Improves Customer Experience
At the heart of all digital transformation lies the desire to better serve customers. This proves true whether answering search queries to capture them at the top of the funnel or providing better website UX and more agile service offerings.
According to SAP's digital transformation executive study, 92 percent of business leaders report they have mature digital transformation strategies in place to improve customer experience. In addition, 70 percent report significant value from digital transformation that focuses on customer satisfaction and engagement.
Considering two-thirds of a company's competitive edge comes from consumer experience, businesses that fail to prioritize digitizing the customer journey will soon be left behind.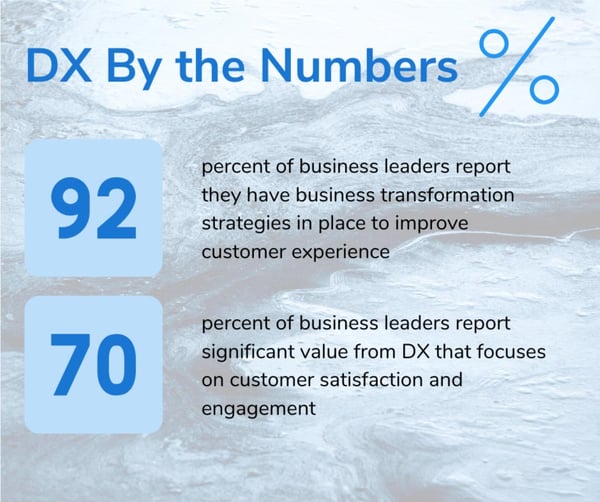 Digital Transformation Enhances Business Processes
Digital transformation enables companies to consolidate and automate crucial business processes, elevating operational efficiency. Channel optimization helps marketers continuously improve digital marketing efforts to improve return on ad spend. With channel optimization, companies combine data from various marketing channels and sources to provide a cross-channel picture of overall marketing strategy.
But more than getting the most out of marketing budgets, digitizing and automating various company tasks increases workforce capacity to focus on key initiatives across the business. These efficiencies touch every part of the company — from IT and human resources to finance and sales — resulting in happy and empowered employees focused on growth and the business bottom line.
Digital Culture Increases Agility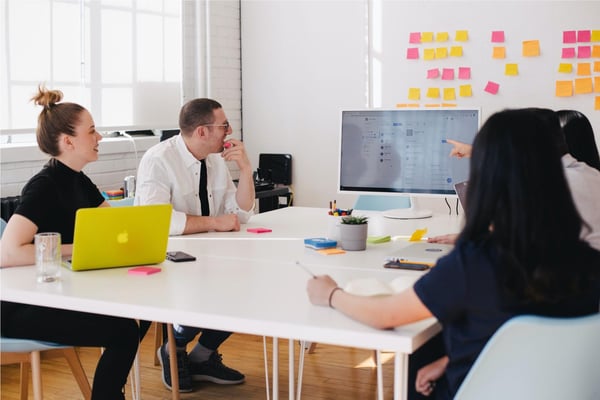 With employees immersed in digital technologies and strategies, companies increase their overall in-house digital knowledge and ability to swiftly pivot in response to market changes. According to CIOinsight.com, more than two-thirds of companies rank agility among their top three considerations for digital transformation initiatives.
With the digital landscape constantly evolving, businesses must be prepared to adapt and innovate on the fly. As technology evolves, customers will continue to demand quicker service, leading to innovation races and increased competition.
Why Digital Transformation?
Why is digital transformation so important? Now that digital transformation permeates our daily lives, business executives no longer have to wonder if it's worth it. To win business in today's fast-moving digital landscape, companies big and small must rethink their strategies to digitize, digitalize and digitally transform. Digital transformation requires a holistic approach to elevate internal business practices and customer experience.
If you are ready to increase profitability and speed to market while enhancing your customer experience, DemandJump offers enterprise solutions to digitally transform your marketing efforts and outmaneuver the competition. Request a demo to see what your customers and competitors are doing and where your business should go next.