Content Pillar Examples: Simplifying Pillar Page Strategy
June 14, 2021 •DJ Team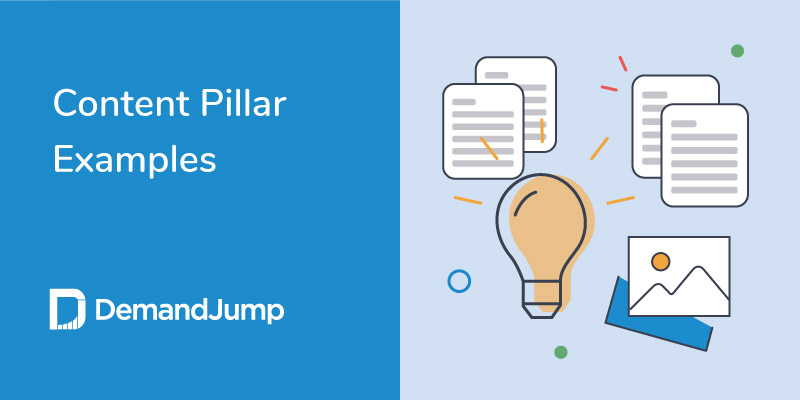 Successful brands know that content pillars are the solution to sharing industry knowledge with the world, and in turn, increasing organic search engine rankings. Maybe you've read our many articles on content marketing, but you're looking for a solid example of what a content pillar is and how it can be implemented in your company. Let's review how to create content pillars and then dive into a few content pillar examples.
How to create content pillars
The key concept to creating content pillars comes from knowing your business specialization, who your target audience is, and what exactly it is they're searching. An easy way to answer the question "How do I find content pillars?" is to narrow down the key, short-tail term that represents what your company is selling. This key term will be the title of your main pillar and all the support pillars and supporting blogs will stem from it. The number of support pillars and blogs will depend on how wide a range your key term topic is.
Content pillar examples
Content pillar ideas can come from simply examining what your company sells and produces, or who your target audience is.
Let's look at a hypothetical Florida travel company, Dream Travels, that specializes in creating custom trips to Disney World. Their goal is to increase their website traffic and, in turn, gain more leads as a result of readers wanting their services. After narrowing down their services and audience, they identified their short-tail term as Disney World Vacation.
Their main pillar would be titled "Disney World Vacation" and would be a 3,000-word article encompassing the broad topic and everything a person planning a Disney World Vacation would need to know.
Dream Travels would then break down the topic of "Disney World Vacation" into several, slightly longer tail sub-pillar topics. Pillar page examples for the term "Disney World Vacation" might look like:
Disney World Vacation Packages 2021
Disney World Vacation Planner
Planning a trip to Disney World on a Budget
Disney World Resorts
Best things to do in Disney World
Supporting blogs for the support pillar "Disney World Resorts" could look like:
What is the best Disney World resort for the money?
Which Disney World Resort is the cheapest?
How do I pick the right Disney resort?
After their plan was created and the main pillar, sub-pillars, and blog topics were identified, they would set out to write the SEO content for each article.
Another example could be seen in a hypothetical company, Clear Tech Solutions, that sells its software analytics tools to help companies integrate their IT automation software. Their main pillar could be the short-tail topic, IT automation that encompasses everything the consumer needs to know about IT automation. The company would then get more specific with the support pillars, possibly diving into the types of automation for the target audiences they are selling to.
Some pillar pages examples for IT automation could be:
What is Automation
Types of Automation
automation Process
Healthcare Automation
Manufacturing Automation
After Clear Tech identifies its support pillars, they should get even more specific with their blogs.
Under their support pillar "Types of Automation" blog topics could be:
How secure is automation?
What are the pros and cons of automation?
What are the different stages of the automation process?
Under their support pillar "What is Automation," blog topics could be:
What does automation mean?
What happens in an automation reaction?
What is automation used for?
The end result of this process is an interlinking web of content that signifies to search engines that there is deep and rich content surrounding a topic. Another key component to this type of pillar content strategy is the velocity of publication. Publishing one blog post every week is different from publishing fifteen pieces of content at the same time. For the content pillar strategy, publishing a large quantity of articles all at once is the better option. An immense upload of content catches search engines' attention.
For a real-world example of a content pillar success story, check out this article on how DemandJump and Metonymy Media won the term "content marketing" on Google in less than five months.
How important is a content pillar in content marketing?
Creating content pillars is the best tactic to quickly rise in the ranks of search engines. This is a long-lasting approach to content marketing that won't become outdated. Since this is not a method to game or cheat the system, algorithm updates are unlikely to break it.
Search engines want content that is valuable, well organized and has a user-friendly experience for the reader. By organizing content in the pillar approach, you'll be telling search engines that you care about the reader and want them to have a good experience with the content. In the end, they'll reward you by placing your content at the top of their pages, leading to organic search engine rankings and increased website traffic, resulting in more leads.
Build your content pillar with DemandJump
Building effective content pillars that outrank competition and drive traffic to your brand's website can be challenging. But the hardest part is knowing precisely what your target audience is searching and what sub-pillars to create and the exact blogs to write. Or, it was the hardest part. DemandJump has automated the hard part, taking care of the strategy and keyword research, saving you over 50% of your time when creating content.
Don't take our word for it, try it yourself for free and see just how easy it can be to take organic search share from your competitors.
Get Your Free Content Marketing Strategy Report