Customer Acquisition: Comprehensive Guide
May 10, 2019 •Jordan Ehrlich
What is customer acquisition?
Customer acquisition refers to bringing in new customers - or convincing people to buy your products. It is a process used to bring consumers down the marketing funnel from brand awareness to point of purchase.
In this resource, you'll find all you need to start acquiring customers better than your competition.
Jump to:
How do you acquire customers?
You can acquire customers through a variety of marketing tactics, digital channels, and strategies (both on or offline). It often involves a mix of cross-channel marketing campaigns, which could include:
Display Advertising
Social Media Marketing
Search Marketing
Content Marketing
Affiliate Marketing
Email Marketing
Or any mix of marketing initiatives
Understand Your Target Market
But before you start leveraging these acquisition channels, you'll want to understand your target audience. Ask yourself, where does my audience live (digitally)? What social networks do they navigate? What blogs, websites, influencers do they keep up with? If you already have a following on social media, look at your current follower-base to understand what kinds of individuals are already attracted to your brand.
Once you feel you have a good understanding of your target market, you'll be able to promote your content more efficiently as you've whittled out the irrelevant places for your brand to show up. For example, if your target audience is more tech savvy and keeps up with trends in this space, you could focus your social media promotions to followers of TechInsider, TechCrunch, or similar publications. You could also run display advertisements on similar publications.
Competitive Intelligence
Competitive intelligence tools can help you gather a launching-off point to better understand your target market. If you have a good idea of who your competitors are, these tools can show you the sites that drive substantial traffic to your competitors' websites - and can help you identify the digital behavior of consumers you'd also like to attract.
What is the customer acquisition funnel?
The customer acquisition funnel is a construct that helps marketing & sales teams understand the progress they've made to acquire new customers. It also helps to measure the effectiveness of your customer acquisition strategy. The closer a consumer is to the bottom of the funnel, the more likely they are to buy your product or service.
One way to understand the effectiveness of your acquisition efforts is by measuring the rate at which consumers progress through the different funnel stages per unit time. You can understand funnel stage progression by tracking a variety of different actions on your site or with your advertisements.
Actions to Track:
Ad Clicks
Social Media Engagement
Newsletter/Blog Subscriptions
Email Engagement
Website & Web Page Visits
Content Form Submissions
These actions may indicate different funnel stages depending on the type of marketing collateral used, as certain emails or pieces of content may be mapped to consumers in different funnel stages.
Start With the End in Mind
When building your acquisition funnel, start with the ultimate goal in mind. Do you want people to submit a demo form on your site? Do you want people to buy a shirt on a landing page of your site? What does it take to get people here?
Once you have the end goal in mind, customer acquisition becomes a series of questions you need to answer. "What do I need to do to get people to this page?" Or what do I need to do get them to complete this action?"
Maybe the next step requires that you create a newsletter with interesting content people will offer their email address in order to get. They might not have been willing to pay for your products when they first came to your site, but because they liked your content, they're willing to stay in touch.
The further from the end result, the further up the funnel marketing actions fall.
Customer Acquisition Funnel Stages
While there are technically 6 stages of the customer acquisition funnel, it's easiest to lump these into three simple stages: Top, Middle, and Bottom of the Funnel (also referred to as TOFU, MOFU, and BOFU)

TOFU
Consumers at the Top of the Funnel (in the Awareness or Interest stage) have either never heard of your brand before, or are just now discovering you. They have recently uncovered a need that your company could solve with your product or service. But they likely don't know you can solve their problem, let alone how you would do it.
Top of funnel marketing efforts put your brand in front of new audiences. As long as you have a mechanism to stay in touch with these individuals, you can start moving them down the funnel later. These mechanisms might include running branded search campaigns for people trying to find your brand again in search engines or retargeting these audiences with display ads & social media ads.
MOFU
Consumers in the Middle of the Funnel (in the Consideration or Intent stage) know of your brand and are beginning to think more seriously about the value of your solution to them. They're just trying to decide whether it's worth paying your set price for.
These individuals might have already signed up for your newsletter or frequently come back to your site. In Hubspot and similar website analytics tools, you can create lead scoring mechanisms that assign value to contacts who revisit your site or interact with certain marketing content. These scores help to understand how engaged certain leads are with your brand - and can influence how you choose to re-market to contacts in the middle of the funnel.
BOFU
Consumers at the Bottom of the Funnel (in the Evaluation and Purchase stage) intend to buy a solution like yours to solve their problem. They're relatively informed of the different solutions out there and how they might fit their needs. They just need to pick one.
The speed at which buyers move through this funnel varies by the industry and product offered. For instance, consumers take more time to evaluate big purchases or ones that have longer-term implications. Relative to more impulsive buys, these demand more serious consideration, and often require more information to help the buyer make the best decision for them.
Customer Acquisition Strategy
Customer Acquisition Strategy refers to the approach a business takes to reach new consumers and convince them to buy their product or service.
In order for any customer acquisition strategy to be effective, it must evolve with ever-changing consumer behavior and preferences.
A good customer acquisition strategy leverages data to understand this behavior and identify marketing opportunities - then attempts to reach consumers with a coordinated series of marketing touch-points.
Advice for Customer Acquisition Strategy:
Try a mix of marketing tactics & approaches
Gather sufficient data to understand what's working
Follow the numbers & invest in your most influential efforts
Try New Marketing Mixes
While you should always research as much as possible to find out the best approach for your business, you'll never know what will work until you try something new. So it's okay to cast a net as long as you have a hypothesis of what might work. You may start with any mix of the marketing tactics highlighted above without knowing which audience or targeting method will work best. In this phase, just make sure you can benchmark performance with control groups in order to understand which changes to your efforts resulted in increased engagement.
Gather Sufficient Data
In your net-casting phase, keep an eye on engagement metrics such as ad impressions, email opens, clicks, and page visits that you can correlate with your marketing efforts. Here, simply ensure that your reporting mechanisms are set up to make sense of all your customer acquisition trials.
Follow the numbers
Always keep your efforts dynamic, and react to what's working. As you've gathered data around engagement, continually iterate and act upon what these metrics tell you. If you see a lot of site traffic coming from emails or if you're gaining followers on social media platforms, dive into that. Try to figure out which posts or emails generated engagement and how one might influence the other.

It may feel like a long and tiresome process, but each failure teaches you something new about your future customer acquisition strategy.
Customer Acquisition Channels
These channel approaches may include:
Display Advertising
Display advertising refers to placing visual advertisements on websites to attract new customers. It can be done either programmatically (an automated approach in networks such as the Google Display Network) or through direct purchases of ad space from websites.
When it comes to Display Advertising, the audiences you target and the websites you place your ads on matter. Focusing on the websites that drive the greatest performance is a key component of any successful display advertising strategy.
Tip: Delivering more relevantly timed ads will help eliminate wasted ad spend and drive better performance. Advertisers often fail to consider the consumer's perspective when placing their display ads.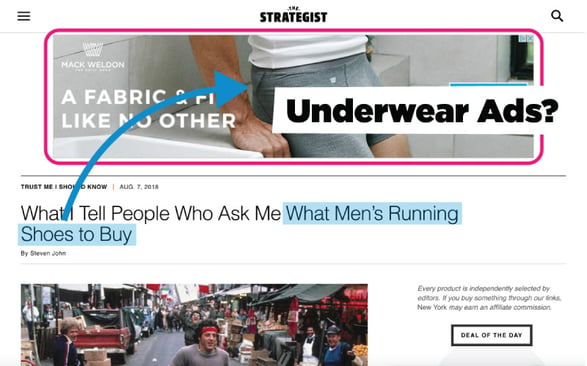 Even though this advertiser may have the audience right, this ad will likely be ignored as it has nothing to do with Men's Running Shoes. And it explains why 86% of consumers say they've developed banner blindness.
Social Media Marketing
Social media marketing has many uses as part of an overall content marketing strategy. When you're considering social media marketing, you should keep in mind there are two main methods: organic and paid.
Organic social media helps you showcase your business's voice and personality, and it gives you an outlet to share other content you're using as part of your customer acquisition strategy. "Organic social media" simply means that you're posting to the audience you've attracted and not using paid advertising to expand the audience further. Instead, you're relying on your followers to help you get your message out by liking, sharing, and engaging with your posts.
When you start to turn your posts into ads, you're looking at paid social media advertising. Paid social media advertising helps you to reach your target audience through ads on your social media network of choice. Without a doubt, your future customers are already out there hanging out on one of the main social media networks, and through targeting social media ads, you can help them learn about who you are and turn into paying customers.
Social Media Stats:
Search Marketing
Search engine marketing (SEM) is one of the easier methods to identify and target "in-market audiences". Because SEM allows you to target certain keywords, you can show up when very specific queries are entered into Google and other search engines. The key is to know what topics people are searching for at different stages of the sales process, monitoring search data as your guide.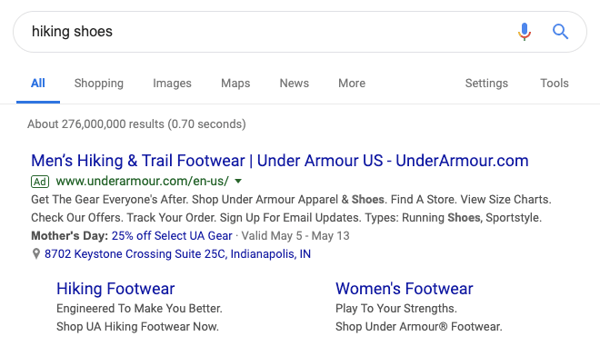 Let's say you're an outdoor retailer that sells hiking shoes. Someone who is just becoming interested in hiking might search for – beginner hiking shoes. Someone who has been looking into shoes for a while, knows exactly the type of shoe they need, and is ready to buy might search for – narrow slick-rock hiking shoes size 11.
There are two main ways you can reach these audiences: through organic search engine optimization (SEO) and through paid search marketing.
With organic SEO, there is no exact science to getting your website or content to rank first for a search term. But most best practices focus on making your content as easy as possible for search engines to read, decipher, and index. So if you were that outdoor retailer, you might create a page dedicated to "Beginner Hiking Shoes" and use techniques like including that phrase into the title, adding alt-text to your images, and linking internally to other related pages on your website to help boost your organic SEO
With paid search marketing (also known as pay-per-click or PPC), you target keywords and your paid ad shows up alongside other organic search results. One of the keys to success in PPC advertising is to ensure your ads and content have a high quality score in Google. This enables your ads to hold a better position and lowers your cost of search advertising.
You can gather trends in aggregated search behavior with Google's Keyword Planner, Google Trends, or Neil Patel's UberSuggest. You can also find a more granular view of the search terms bringing visitors to your site by checking Google Analytics. To find this, navigate to Acquisition > Search Console > Queries.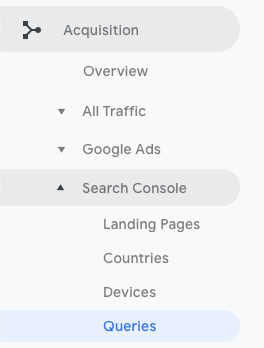 Content Marketing
Content marketing helps expand your reach through a few ways. It allows your website to show up in a variety of search engine results related to your business, and offers pieces of content that can be shared through social networks by your followers - allowing your brand to hold a presence in a variety of conversations.
When you're creating a content marketing strategy, you'll want to focus on two things. First, make sure that every type of content you're creating provides valuable, helpful information to your audience. Second, focus on topics help your business show up in relevant search queries. This provides organic pathways for consumers to discover your company.
Some of the most popular types of content marketing formats include blogs, e-books, guides, templates, quizzes, and videos.
Content Stats:
Companies that publish 16+ blog posts per month generated 4.5x more leads than companies publishing 0-4 monthly. (Source:

HubSpot

)

On average, companies with blogs produce 67% more leads per month than those without (Source:

DemandMetric)
47% of B2B buyers read 3-5 blog posts or content pieces prior to talking with a salesperson (Source:

DemandGenReport)
The top 3 blogging success metrics today are page views, shares/likes, and time spent on page (Source:

Curata)
57% of business bloggers outsourced blog posts from contributed or guest posts (Source:

Curata)
59% of B2B marketers consider blogs the most valuable channel (Source:

DemandMetric)
Whitepapers, infographics, and webinars are the top content pieces shared by B2B buyers (Source:

DemandGen).
Stats were aggregated by Codeless. To see the full list, click here.
Affiliate Marketing
With affiliate marketing, you offer compensation to a partner when they generate traffic, leads, sales (whatever you decide) on your behalf. Affiliate partners can range from large blogs to influencers to discount websites. Your ideal affiliate partner may differ depending on your buyer's behavior and where they are in your sales process.
Affiliate marketing can work as part of your customer acquisition strategy by helping individuals move through your sales process. As we mentioned, this could be by paying affiliates to give you leads, who you can then convert into customers through an email follow-up strategy.
Email Marketing
Email marketing has been around for awhile, and there's a reason. It's a direct line of communication to consumers and a valuable component of any customer acquisition strategy.
The first step in email marketing is to get the qualified individual's email address and information. You can do this in a variety of ways. You could:
Create helpful content that requires an email form submission
Offer a discount to anyone who signs up for your email list
Host a giveaway on social media gated by an email capture form
Once you have someone's email, congrats! You now know that they are interested in your company. As long as you follow US CAN-SPAM laws, you can market directly to them by sharing content and information about new products. Through email marketing, you'll also be able to learn more about these individuals' interests by monitoring click-through rates on different email components.
Even negative responses (unsubscribes) offer valuable information to your email strategy. By understanding which content resulted in what response, you'll continually improve your own customer acquisition strategy for better future performance. Just make sure you're keeping track of these numbers.
Email Marketing Stats:
Emailing content marketing pieces generates a 38x return for every $1 spent (Source:

Campaign Monitor)
Emails with personalized subject lines are 26% more likely to be opened (Source:

Experian)
Online Marketplaces
Online marketplaces such as Amazon and other eCommerce retailers can help you acquire customers in a couple ways. Not only can you sell your products where consumers are already shopping, you can also leverage opportunities to advertise and generate awareness where you might not have before.
Many businesses fear selling on Amazon out of concern that lower margins will cannibalize their overall revenue. While a valid concern, the insights you generate from Amazon search behavior and your Amazon ad performance can helpfully influence the ways you advertise in Google Search as well. By understanding how your customers buy on Amazon, you can more informedly run ads in other channels that drive consumers to your site and allow your own eCommerce site to play nicely with these online marketplaces.
Customer Acquisition Cost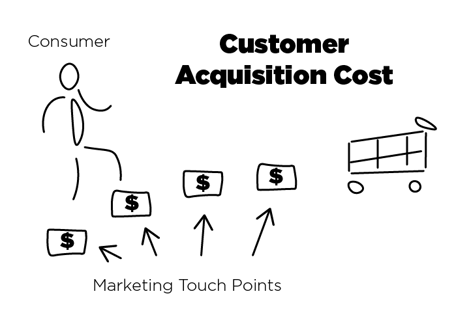 Customer Acquisition Cost refers to the cost of acquiring one new customer. A Good Customer Acquisition Cost varies by the industry and tactics used. But a good way to benchmark your CAC is by comparing it to Customer Lifetime Value (also known as CLV). It is said that an ideal CLV to CAC ratio is 3:1.
Why compare CAC to CLV?
Understanding how your CAC compares to CLV allows you to identify new opportunities to grow your business.
If your CAC is high compared to CLV, you might have a few key takeaways.
Your marketing tactics should be adjusted to increase efficiency
You should extract more value out of your existing customers
The customers you're targeting aren't worth as much as you'd hoped, and you should identify a more valuable target market
If your CAC is low relative to CLV, that's great. But it may indicate opportunity to increase your acquisition efforts to get more of those valuable customers. With this, you could re-allocate budget to test new acquisition efforts, or further feed your existing ones.
How to Determine Customer Acquisition Cost
You can determine your customer acquisition cost by adding all costs associated with your customer acquisition efforts (marketing costs) and dividing that by the number of new customers you acquired as a result.
Depending on your reporting needs, you may calculate overall customer acquisition cost at a high level or dive into your channel costs or campaign costs to bring in new customers. Below, we offer a few templates and resources to better understand your own customer acquisition costs, including:
Customer Acquisition Cost Formulas
Basic CAC Formula
At its most basic level, the customer acquisition cost formula looks like this:
Marketing Costs (MC) / Number of Customers Acquired (CA) = Customer Acquisition Cost (CAC)
or
MC / CA = CAC
For example, say you want to check how effective your PPC advertising has been over the past week. Let's say you spent $300.00 and acquired 8 new customers. Your customer acquisition cost would be calculated as follows:
$300.00 / 8 = $37.50
Your CAC for this campaign would then be $37.50.
But when you start to look at larger marketing campaigns or at your entire marketing efforts for a given period of time, you need a formula that accounts for more detailed expenditures.
More Detailed CAC Formula
This larger formula takes more specific expenses into account including: wages for sales and marketing staff, and marketing & sales software used.
(Marketing Costs (MC) + Wages (W) + Software (S) + Outsourced Services(OS) + Overhead for Marketing & Sales (OH)) / Number of Customers Acquired = Customer Acquisition Cost (CAC)
or
(MC + W + S + OS + OH) / CA = (CAC)
Let's say you want to figure out your CAC for January, and during January your expenses looked like this:
| | |
| --- | --- |
| CAC Component | Value |
| Marketing Costs (MC) | $5,500.00 |
| Wages (W) | $6,500.00 |
| Software (S) | $125.00 |
| Outsourced Services (OS) | $250.00 |
| Overhead (OH) | $750.00 |
| Total | $13,125.00 |
| New Customers Acquired During January (CA) | 1,235 |
| Customer Acquisition Cost | $10.63 |
$13,125.00/1,235 = $10.63 Customer Acquisition Cost
Breaking Down Your Costs
Unless you already have all your marketing and sales expenses accounted for and separated into these different categories, calculating your CAC can be tricky. To help you think about what you should include in the calculation, here is a breakdown of the different expenses you should account for.
Marketing Costs
Advertising Costs for Digital Marketing
Search Engine Marketing
Social Media Marketing
Affiliate Marketing
Display Advertising
Native Advertising
Advertising Costs for Traditional Marketing
Magazines Television
Television
Radio
Newspaper
Brochures
Flyers
Event Marketing Costs
Wages for Marketing & Sales
This one is pretty straightforward, and includes all staff members involved in the marketing and sales process.
Software
Consider the different software and platforms you use for your digital marketing and sales process such as:
Customer Relationship Management (CRM) Software like HubSpot
Email Management Software like MailChimp
Marketing Automation Software like InfusionSoft
Marketing Analytics Software
Outsourced Services
This includes the different contractors or consultants your team might use, such as:
Graphic Designers
Copywriters
Photographers
Influencer Marketers
Digital Strategists
Overhead Costs for Marketing & Sales
Other overhead costs to include for marketing and sales teams might include:
Travel costs
Entertainment and meal costs
Office equipment and supplies
Customer Acquisition Cost Calculator
Here we've provided an easy-to-use template for you to calculate customer acquisition cost using the inputs discussed above. In order to use it, you'll need to click File -> Make a Copy, and then you'll be free to edit it as you wish!
Customer Acquisition Cost by Industry
Here are a few CACs benchmarked across a variety of industries. (Source: Propeller)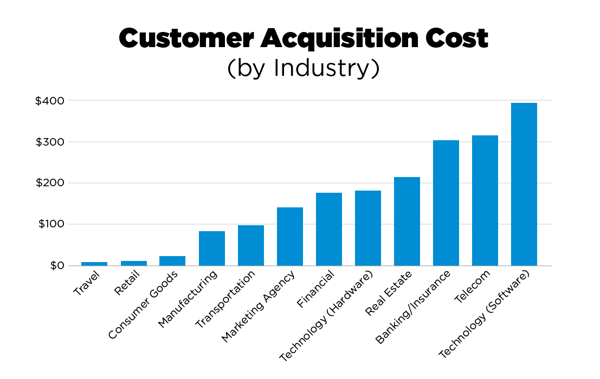 Travel: $7
Retail: $10
Consumer Goods: $22
Manufacturing: $83
Transportation: $98
Marketing Agency: $141
Financial: $175
Technology (Hardware): $182
Real Estate: $213
Banking/Insurance: $303
Telecom: $315
Technology (Software): $395
Average Customer Acquisition Cost by Channel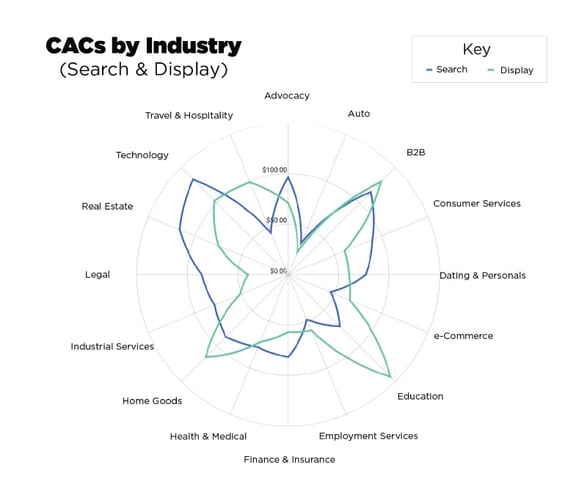 Paid Search - Average CAC by Industry (2018)
Below are the median costs per acquisition within Google Paid Search Campaigns in 2018. Note: medians were calculated to omit campaigns that exclusively bid on branded terms or had unnaturally high/low CACs. (Source: ChatterBuzz)
Across All Industries: $49.86
Advocacy: $96.55
Auto: $33.52
B2B: $116.13
Consumer Services: $90.70
Dating & Personals: $76.76
e-Commerce: $45.27
Education: $72.70
Employment Services: $48.04
Finance & Insurance: $81.93
Health & Medical: $78.09
Home Goods: $87.13
Industrial Services: $79.28
Legal: $86.02
Real Estate: $116.61
Technology: $133.52
Travel & Hospitality: $44.73
Display Advertising - Average CAC by Industry (2018)
Below are the median costs per acquisition within the Google Display Network (GDN) in 2018. Note: medians were calculated to omit campaigns with unnaturally high/low CACs. (Source: ChatterBuzz)
Across All Industries: $75.51
Advocacy: $70.69
Auto: $23.68
B2B: $130.36
Consumer Services: $60.48
Dating & Personals: $60.23
e-Commerce: $65.80
Education: $143.36
Employment Services: $59.47
Finance & Insurance: $56.76
Health & Medical: $72.58
Home Goods: $116.17
Industrial Services: $51.58
Legal: $39.52
Real Estate: $74.79
Technology: $103.60
Travel & Hospitality: $99.13
Customer Lifetime Value
Your Customer Lifetime Value is the average value your customer will spend on your business over their customer lifetime. This lifetime starts with their first purchase and ends when they stop being a customer.
The calculation for this can be trickier, and you'll find a variety of methods for calculating CLV across the internet. But here is one basic method:
CLV = (Annual Revenue per Customer * Customer Relationship in Years) - Customer Acquisition Cost
This method is useful for subscription-based business with relatively stable sources of revenue.
Another, more traditional way of calculating CLV is by:
CLV = Average gross margin per customer lifespan * (Retention rate / [1 + Rate of discount - Retention rate]
Optimizing Your Customer Acquisition
Focus & Test
Customer Acquisition is a lot like the Shel Silverstein poem about Melinda Mae eating a whale. How did she do it? Bite by bite. Optimizing your customer acquisition funnel is done with the same focus. It comes down to identifying key actions along the customer journey (such as landing page conversion rates, ad click-through rates, new subscriber rates), and testing these funnel stages with different approaches see what changes resulted in improved engagement metrics.
Landing Page Optimization
If you notice your landing pages have a relatively low conversion rate. You'll be able to start tweaking landing page elements to speed up this segment of the customer journey. To do so, you should:
Include attention grabbing images
Include attention grabbing headlines
Provide social proof
Make your pages easy to understand
The best way to understand which of these landing page components could be improved is to conduct some kind of test. Just make make sure you have clear control groups to understand which change resulted in what result. So, run a/b tests with different images, headlines, or page contents (testing one at a time) to see which landing page performs better. Then use this as your guide to improve landing page conversion rates.
Ad Click-Through Rates
When targeting your display or search ads, the current mindset of the consumer is king. Likelihood of engagement with your ads all depends on the current intentions of the consumer, and whether you've aligned to them. Always ask yourself, does my ad offer something that could benefit the consumer at this moment? If it's not, it likely won't get clicked. As mentioned above, if your display ad is totally irrelevant to the content it is displayed alongside, it becomes more ignorable.
When running search advertisements, make sure you're utilizing negative keywords to avoid showing up in irrelevant searches. For example, if you're using broad match keywords for "athletic store", you probably don't want to target someone searching for "athletic store jobs" - unless you're hiring. If you are hiring, you'll want to run another campaign that drives people to a specific hiring landing page with more focus on this topic to keep your quality score high, and pay less for your PPC ads.
Growing & Optimizing Your Email List
Growing your email list offers a direct line of communication to your target audience and allows you to better understand who you're marketing to. By tracking engagement with your emails, you can segment contacts by interest based on what email content they clicked on. With this segmentation, you can send them more tailored content and more effectively nurture them down the funnel.
Here are a few tips to grow your email list:
Add a link to your employees' signatures
Create a new lead-gen offer such as a webinar or ebook
Create a free online tool or quiz
Add engagement features to your youtube channel
Create a blog that readers can subscribe to
Co-host marketing efforts with a partner
For more tips to grow your email list, see Hubspot's resource here.
Quantify Marketing Performance
Regardless of how you do it, always quantify the value of each of your campaigns with data that helps you decide what to do next. That may include tracking ad impressions and clicks, landing page conversion rates, pages viewed per session, time spent on site, the list goes on. In today's digital world, it is both easier and more important than ever to track performance and correctly attribute value to your marketing efforts. Businesses that can figure out what's working, what's not, and act upon these insights are the ones that will stay in business tomorrow.
By making sense of engagement with your marketing content and website pages, you can better analyze consumers' progression through the funnel and know what areas of marketing you need to focus on to get the most out of your limited resources.
Attribution
A common difficulty marketers face is understanding what efforts drove what performance, or attributing value to certain marketing efforts. There are a variety of ways to model attribution in your marketing analytics platforms. These may include last-click, first-click, linear, time-decay, or position-based.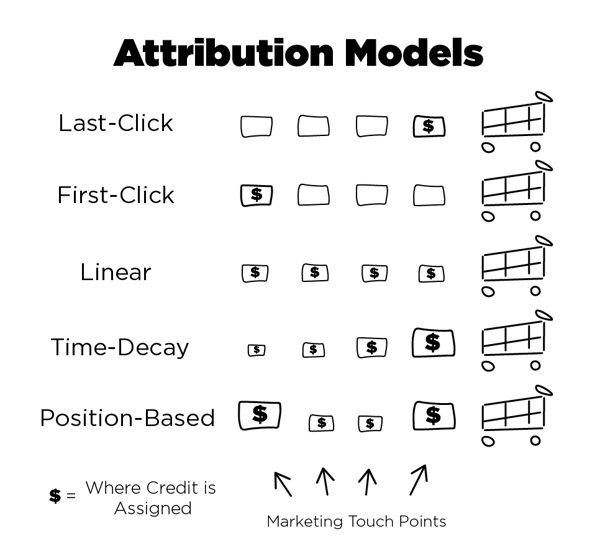 Last-click attribution gives credit to the last ad or marketing touch that directly caused an individual to convert - or buy your product.
First-click attribution gives credit to the first marketing touchpoint that brought an individual to your site and eventually convert.
Linear attribution assigns credit equally to each marketing touchpoint made along the path to purchase.
Time-decay attribution assigns more credit to the more recent marketing interactions made along the path to purchase.
Position-based attribution gives more credit (40%) to the first and last touches along the path to purchase while offering only 20% of the credit to the interactions in the middle.
Importance of Cross-Channel Acquisition Analytics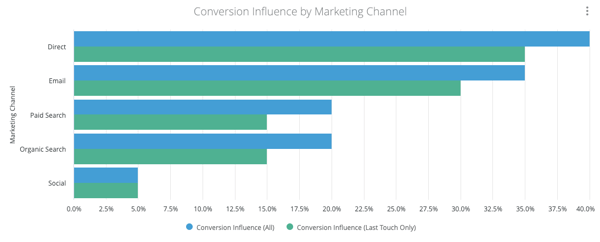 While the attribution models listed above are all helpful to understand the influence of marketing touches, they often report on siloed channel touch points. For example, you'll often see attribution for your display ads in a separate place than the attribution for email marketing or website activity.
Without stitching together identities across these channels, it is difficult to gather a comprehensive snapshot of the customer journey. So, many marketers reach a roadblock when it comes to seeing their customer acquisition efforts holistically - or how one consumer interacted with your brand across a variety of marketing channels.
Because consumers navigate a variety of social networks and digital channels along their path to purchase (moving from email to social networks to search engines to websites), it is important to combine your marketing analytics across all channels as well.
Even if one marketing effort didn't immediately trigger someone to buy, it may have influenced them to engage with your brand in another channel.
Want a clearer picture of which customer acquisition efforts are working and which aren't? DemandJump's Traffic Cloud® helps you quickly analyze cross-channel marketing performance, discover gaps & opportunities, and optimize your marketing spend with prioritized recommendations.