How Do Marketers Use Data to Identify Goals?
March 23, 2020 •DJ Team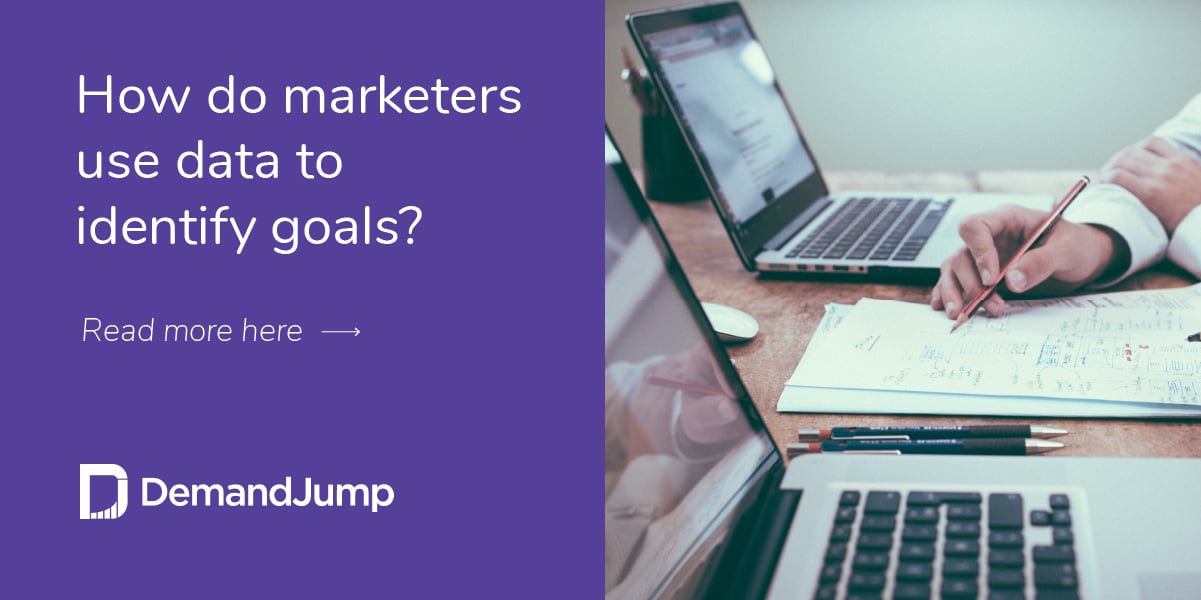 68% of marketing professionals say that improving the measurability of their ROI is their top goal. If you can't measure it, you can't improve it, and you won't know if you're going in the right direction. So our business goals must be measurable. And how do you measure goals? By collecting and analyzing data.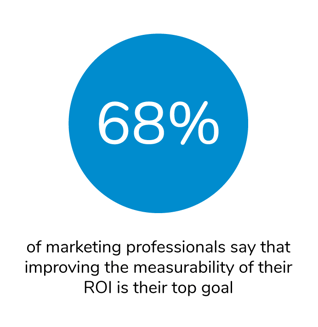 Where does data come from?
Because almost everything on the internet can be tracked, digital data can be created from a wide variety of online sources. Some of these sources include:
Review websites
Your website
Google Trends
One example of using data to identify goals would be this hypothetical situation:
Let's say this month your team wrote a blog that you shared on Facebook. This blog brought 100 visitors to your website. Both Google Analytics and Facebook Analytics can show you metrics of engagement on your website and within the social media platform, respectively, related to this blog. From Google Analytics, you might find that 60 of your visitors came from organic search, while 40 came from social media. On Facebook you might see that your blog got 10 shares.
Knowing these numbers now, you have a benchmark to create your goals for future posts. If you are to improve performance by 10%, you'd want to find a way to get more shares on Facebook. This might include making more catchy headlines or creating better images to go with the blog that's shared on Facebook to entice more clicks. In order to increase your organic traffic to the blog, you might need to write longer blogs to cover the topic you're hoping to rank for more comprehensively. This might include hiring another writer onto your team. Do your budgetary or time confinements allow for this kind of action? Is this goal therefore possible?
When you consider what it might take to achieve certain goals, it becomes more clear how attainable your goals are. But it all comes down to assessing current performance using the data at your disposal, and making your best guess at what you think is possible in the future.
Click here to see how DemandJump's solutions can help better set goals and analyze your marketing performance.
How do marketers collect data?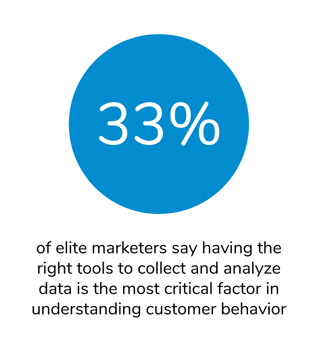 33% of elite marketers say that having the right tools to collect and analyze data is the most critical factor in understanding their customers' behavior. Why do customers buy? Why do customers leave our online store? What makes them buy more and buy more frequently?
The answers are only as good as the data.
Marketers employ one or more advanced analytics tools to:
Gather relevant data
Collect data from the many sources above (cross-channel)
Analyze the cross-channel data
Present data in a visual and easily understandable format
When analytics tools do that, you can make confident, data-driven decisions.
Importance of data in marketing
51% of marketers say that basing their decisions on data is their most crucial objective. It outranks acquiring customers, cross-channel integration, segmenting and even generating revenues.
How can anything be more important than revenue?
While success is important, knowing how you achieved that success is what really matters. If you don't know how you brought in revenue in the first place, how can you expect to replicate that process and do it again?
The benefits of data driven marketing include:
Expanding reach
Generating leads
Converting leads
Increasing Average Order Value
Increasing Customer Lifetime Value
Generating more revenue
When you take a data-driven approach, you do it all more efficiently. And that means saving money to increase your ROI.
How does a data-driven marketing approach achieve this? It enables you to:
Target the right customers (those who want what you sell, buy quickly, and buy more)
Send the right messages at the right time in the right place
Shorten the sales cycle
Know whether campaigns are working or not
Cut waste on the ineffective projects
Realign with goals, as needed
Outsmart the competition rather than just outspend them
Marketing analytics
When we talk about data today, we're not speaking small data sets like those you could keep in a spreadsheet. Those days are over. Today, we have big data analytics. And it's more data than any human could make sense of in a lifetime.
So we use tools that can translate raw data into something meaningful. Let's look at a small piece of what analytics gathers.
A tool may tell you that 1000 people visited your website this week. And that's 10% higher than last week. That's good to know. But it's only scratching the surface. Big data digs deeper. It can tell you:
Where the traffic came from
What those visitors have in common
What devices they use
Visitors from which source spent the most money
If visitors who visit your site from Facebook spend the most money, then putting more marketing energy into Facebook may be a smart, data-driven decision.
But you'll need to dig deeper still:
What's the competitive landscape like?
How much money will I have to spend to grow my presence there?
Is it worth it?
Data driven marketing strategy
As you can see in the Facebook example above, analytics helps you develop data-driven marketing strategies. You know how and where you should be spending your marketing budget. And you can better see how the multiple channels in which you have a presence work together to deliver business results.
Data-driven marketing careers
Given the importance of data to marketing, Marketing analytics jobs are exploding. You could be a:
Marketing analyst, focusing specifically on the analytics and guiding the decisions of a team or organization. The average US marketing analyst salary is around $63,000, but this can vary significantly based on the cost of living.
If you love analytics and all have leadership skills, you might want to consider working your way up to the marketing manager. The typical marketing manager salary is $123,000
Setting data-driven goals
The goals you set determine the direction of your strategies and the company as a whole. Shouldn't they be data-driven? To find out how we can help you set more data-driven goals, schedule a demo with us to better understand your target audience today.