How to increase website traffic like REI
by Jordan Ehrlich, on July 10, 2018
[This blog is inspired by an eBook we published called "Drive Traffic like REI" - for more insights and takeaways, download the ebook here.]
As a marketer, how do you differentiate between essential and non-essential digital marketing decisions without simply guessing and learning from mistakes?
Seeing where your online competitors generate substantial traffic from is one way to determine the vital few digital marketing efforts to invest in. Quantifying competitors' successes through these channels paints an even more informed picture.
This said, let's take a look at some of DemandJump's insights to learn a lesson from a Sports & Outdoor industry leader REI.
REI knows what keywords drive traffic to their competitive space
REI currently dominates the Sports & Outdoor keyword market. It has 24% keyword coverage within this space - meaning of all the keywords driving traffic to REI and their competitors, REI is capturing traffic from 24% of them (both Paid and Organic).
The company does this by understanding the market's search patterns in detail, through data, and building Organic and Paid keyword strategies around that information.
REI doesn't waste money on the wrong keywords
Understanding where and how your consumers are searching for your brand is critical to effective marketing.
Too often, we see eCommerce sellers in Sports & Outdoors listing products based on manufacturer specification or how the seller thinks its customers are searching.
This causes them to waste money bidding on keywords that customers aren't actually using to find their products.
REI diversifies its traffic portfolio with powerful affiliates
Looking into affiliate traffic to REI's site, we see the company gets 18% of its total affiliate traffic from CleverHiker.com. Their nearest competitor for this influencer's real estate is BackCountry.com who only receives 4% of their total affiliate traffic from CleverHiker.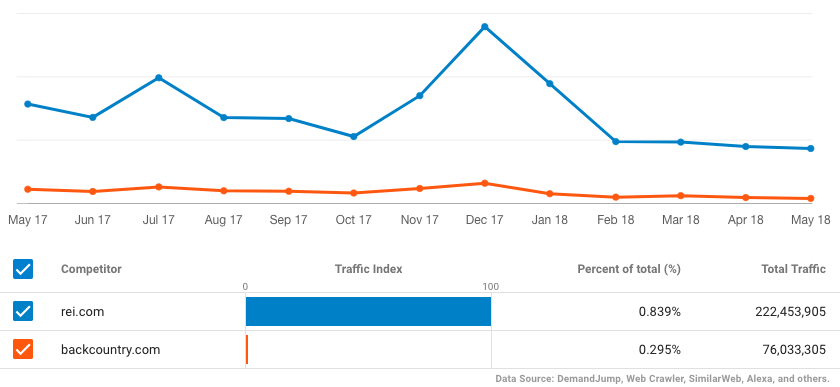 Source: DemandJump
Taking this insight a step further, if BackCountry wanted to position itself to steal CleverHiker traffic from REI, it could monitor the site's traffic to REI in DemandJump's platform through time, wait for a downward trend, and focus efforts on the affiliate during that time to more efficiently utilize digital resources.
REI separates the noise from what's actually adding value to its digital strategy - what's essential. At DemandJump, we find that having vision into your competitive ecosystem is key to winning your industry. Being able to benchmark yourself against competitors gives the insights necessary to make sound, data-driven business decisions - and never fall behind.
If you're interested in this topic, be sure to download our full REI eBook for more specific insights and a taste of the DemandJump platform.