How to Write for SEO in 2023 and Beyond
April 18, 2023 •Josh Daugherty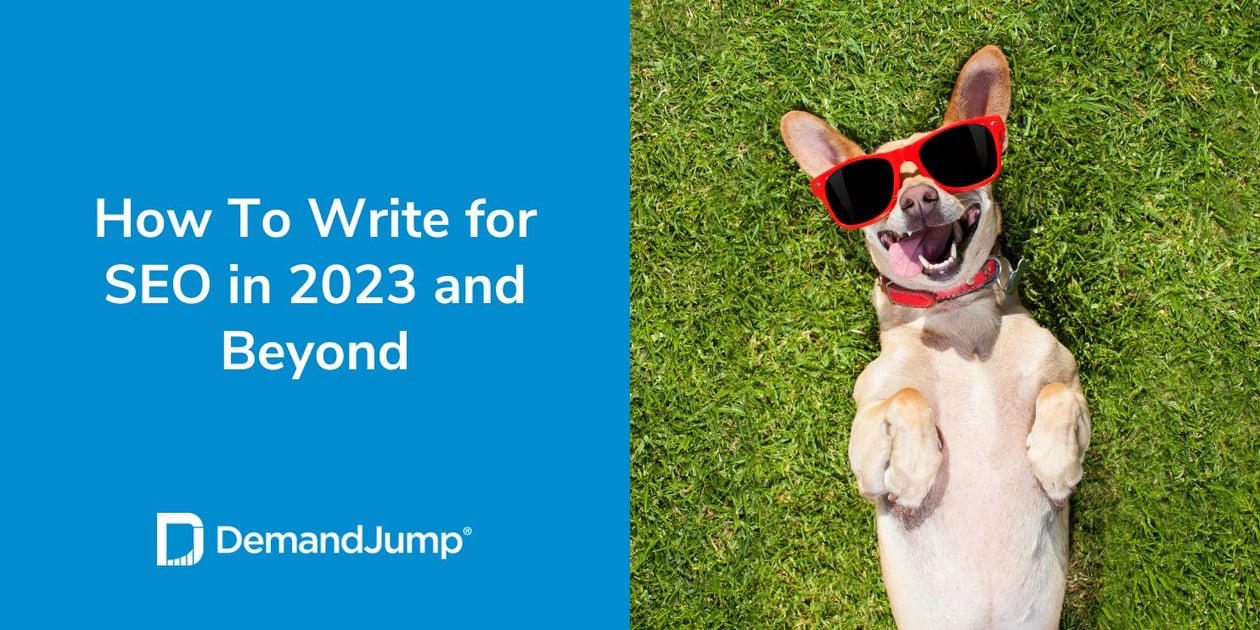 While the acronym SEO—or search engine optimization—first appeared back in the 90s, yesterday's SEO is not today's SEO. If your business is still using the strategies and techniques from an earlier era of SEO, there's a good chance you're not getting nearly the results you want. That's because SEO is competitive, and the digital marketers that are the most in tune with the latest and emerging SEO trends are the ones most likely to succeed.
If you've been working with SEO for a while, it's important to keep up with the strategies that work now—not what worked yesterday. In other words, the proverbial "old dogs" of SEO probably need to learn some new tricks. When it comes to the objectives of a modern SEO strategy, digital marketers usually wonder one thing above all else:
How can I improve my SEO ranking in 2023?
If that's you, you're in the right place. In this blog we're going to look at how to get the most out of your SEO strategy this year—and beyond. That way, you'll know how to create your own repeatable SEO plan template free of outdated, obsolete strategies. If nothing else, 2023 can be the year you stop spinning your wheels and start making real gains! First, though, we'll address the elephant in the room…
Is SEO Becoming Obsolete, or Is SEO Still Relevant in 2023?
Rumors of SEO's demise have been greatly exaggerated! If you've heard otherwise, let us be clear in restating that SEO is not, in fact, dead—but certain SEO tactics are. Search Engine Journal has collected some of these practices if you're looking for what not to do. These include choosing the wrong keywords, targeting the wrong audience, and writing for robots instead of humans.

Why Is SEO Important in 2023?
If you're at all uncertain about SEO's relevance in 2023 and beyond, think about this: Do you Google? Do you turn to it (or another search engine) on a regular—if not daily—basis when you're looking to solve a problem or find important information about something? If you're like most people, the answer is probably yes—and that's exactly why SEO still matters, and will matter for the foreseeable future.

After all, SEO's main aim is to improve where an organization's web pages rank in organic search results. If you found this blog because you were looking for information about whether SEO still matters or not, and you wound up on this page, then you're living proof that SEO works! By using SEO strategies to improve your search rankings, you stand a much better chance of attracting and engaging your ideal customers.
It's also worth considering the Google SEO updates from 2023—which included, most notably, the "helpful content" update. This update is meant to "ensure people see more original, helpful content written by people, for people, in search results." This underscores the importance of using SEO strategies that prioritize human understanding over trying to "read the mind" of search algorithms. The good news is that once you understand how SEO works in digital marketing, you'll be empowered to design innovative and impactful strategies for growing your business.
How Do I Develop an SEO Strategy for 2023 and Beyond?
Here's a basic process that outlines how to do SEO for your website step-by-step:
Step 1: Decide who to target, and set measurable objectives.
Step 2: Plan, write, and publish excellent content.
Step 3: Supplement content marketing with paid strategies.
Step 4: Monitor how your SEO is performing.
Step 5: Continue to evolve.
Let's take a closer look at each of these steps and why they're so important.

Because marketing budgets are not unlimited, the first step toward better SEO is identifying your ideal, target audience. To get started, ask yourself questions like:
Who are my ideal customers?
What are their main challenges or pain points?
How does my company's product/service offerings help with those challenges?
Then, you can decide what you really want your strategy to accomplish. For the best results, you'll want to set objectives that are SMART, or specific, measurable, achievable, relevant, and time-based.

Once you've decided who you want to target and what you want your audience to think or do, you can start building a content marketing strategy. Content marketing is a highly-effective method for increasing your brand's visibility within search results. Pillar-Based Marketing, or PBM, is the newest evolution in SEO. The basic concept of PBM is to create an interconnected network of content related to a group of keywords or questions your ideal customers are searching.
Creating a PBM strategy centers around a few key steps:
Performing keyword research to discover exactly what your customers are looking for.
Writing Pillar Pages, Sub-Pillars, and Supporting Blogs that focus on answering the precise questions your customers are asking.
Interlinking these pieces to publish a network of content that signals to search engines that your company is an authority on the topic and that your content is relevant and useful—thereby ranking well.
Promoting published content via social media in order to further increase the amount of exposure it receives.
You can learn more in our ultimate guide to PBM or by exploring DemandJump's innovative SEO writing tools for keyword research and SEO strategy development.
While content marketing—especially PBM—can do a lot of the heavy lifting of an SEO strategy, it shouldn't be your only SEO strategy. You can extend your reach and connect with different customers at different points in their buying journeys through additional strategies like:
Location-based SEO techniques
Pay-per-click (PPC) ads
Outbound email campaigns

As you begin publishing SEO content, it's important to measure its performance over time. That way, you can gain actionable insights into what's working, what's not, and where the best opportunities to strengthen your strategies might lie. For a well-rounded view into how your SEO strategy is working, a few top key performance indicator (KPI) categories include…
User Behavior KPIs, like pageviews, new and returning users, and time on page.
Engagement KPIs, like upvotes, content shares, comments, and mentions.
SEO KPIs, like keyword rankings and organic traffic rates.
Revenue KPIs, like new leads, conversions, and cost per acquisition.

Publishing high-quality content and monitoring its performance is important, especially because the better you understand what content performs well the easier it will be to develop effective strategies moving forward. You can often take your results to the next level by doing things like:
Revisiting published content to ensure it's up-to-date and performing well.
Watching how your search rankings trend over time, and how your performance compares to your competitors'.
Keeping up with the latest SEO and content writing trends, by reading industry publications or subscribing to SEO-related media—like DemandJump's own

Page One or Bust!

podcast.
DemandJump's podcast, Page One or Bust!, discusses in great detail this methodology called Pillar-Based Marketing and how it is shifting the way people think about how to target their ideal customers where they are in their search journey. Check out the below clip from a previous episode, or listen to the full episode at this link.
Want Best-In-Show SEO? You Need DemandJump!
DemandJump empowers digital marketers with the full range of tools they need to develop dynamic and future-proof SEO strategies. Whether you're looking to expand your reach, increase interest in new product or service offerings, or simply overtake your competitors in organic search, DemandJump is the ideal starting point.
Don't just take our word for it, though. Click the button below to give it a try for free!