How Vonage Saw a 400% Increase in Page One Rankings
July 31, 2023 •Drew Detzler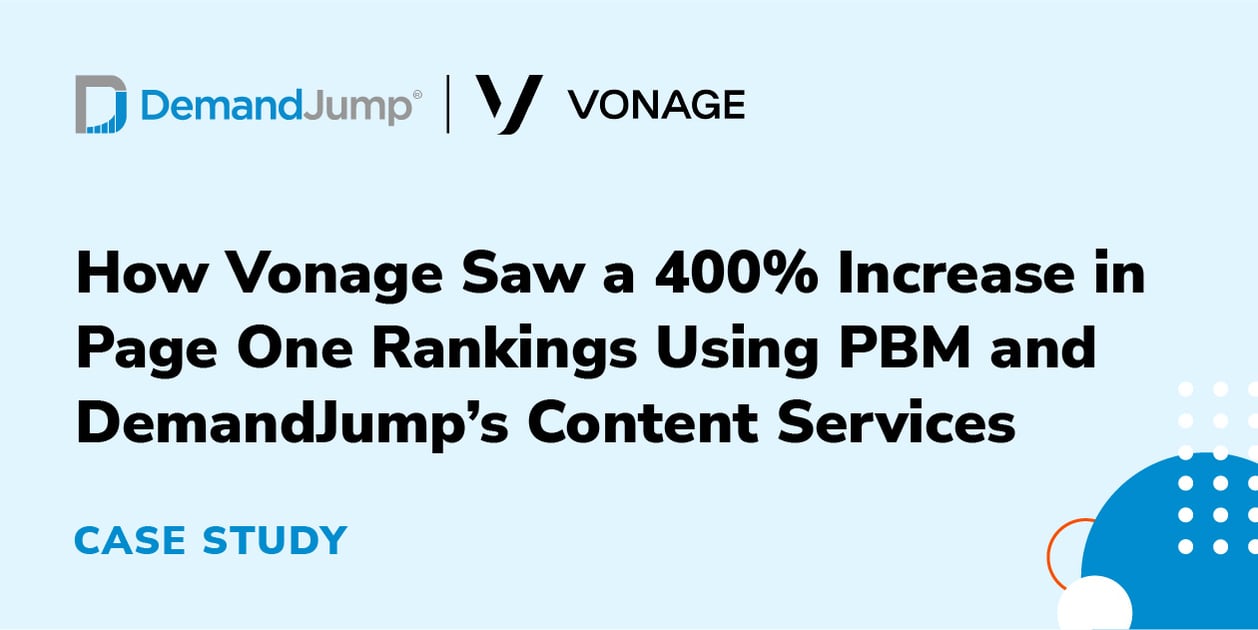 While DemandJump is primarily an SEO platform, the company also offers professional content writing services. By pairing DemandJump's SEO keyword research and content planning tools with content writing, cloud-based communications provider Vonage was able to increase their Page One rankings by a whopping 400%.
The secret? Pillar Based Marketing (PBM), a content marketing strategy fueled by innovation and backed by data." In short, PBM provides a framework for unlocking vital insights into consumer search behavior and then producing a network of informative, engaging content designed to attract the right kind of leads at the right time.
This is the story of how it all came together.
The Approach
When Vonage linked up with DemandJump, they were plotting an organizational shift, pivoting away from a purely B2B focus to focusing on B2C. From a content perspective, this meant a few things needed to happen:
Retiring old content that was either outdated or too focused on B2B topics.
Updating some existing content to incorporate more B2B perspectives.
Creating new content for current offerings to bring organic B2C traffic to their website.
Interlinking and publishing content in a way that expresses credibility within their industry—to both Google and consumers.
In order to achieve the results they were after, DemandJump and Vonage worked together to identify the topics to write about, mapping out what their Pillar Page, Sub-Pillars, and Supporting Blogs would be titled. These form the "content network," which is the heart of PBM—and the key to reaching Page One.
In total, a PBM content strategy requires 16 pieces of content:
One (1) 3,000-word Pillar Page, which incorporates a minimum of 20 high-value keywords.
Three (3) 2,000-word Sub-Pillars, each of which uses at least 15 high-value keywords and contains a link to the Pillar Page.
Twelve (12) Supporting Blogs, each of which uses at least 7-8 high-value keywords, and

3 of which link back to the first Sub-Pillar, as well as the Pillar Page.
3 of which link back to the second Sub-Pillar, as well as the Pillar Page.
3 of which link back to the third Sub-Pillar, as well as the Pillar Page.
3 of which link back to the Pillar Page only.
The linking strategy ultimately looks like this: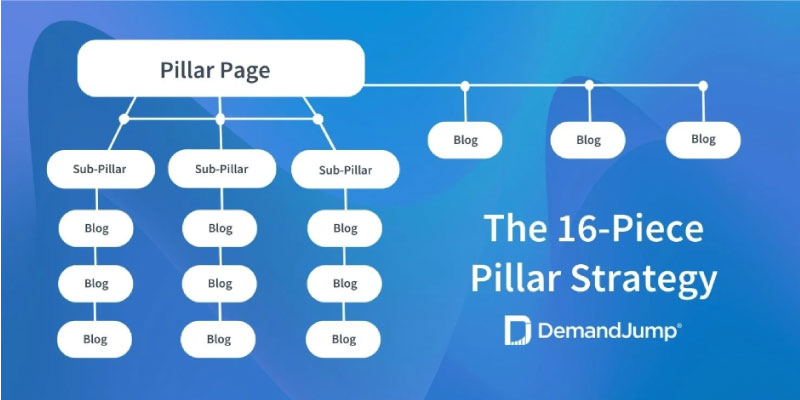 At a glance, here's what the team came up with for Vonage's topics:
The Pillar Topic was set as Small Business Phone Systems, and a 3,000 word Pillar (titled "Small Business Phone Systems") was written on the subject. The Pillar Page's main objective was to offer a comprehensive and informative overview of small business phone systems, answering as many frequently-asked questions as possible.
For each of the 3 Sub-Pillar topics, a 2,000-word piece of content was written, each expanding on an individual sub-topic of the Pillar Page. The Sub-Pillars were:

"Virtual Phone System for Business"
"Multi-Line Phone Systems for Small Business"
"Different Types of Phone Systems for Business"
Finally, 12 individual Supporting Blogs were written. Each of these was geared toward answering a specific search query that was uncovered by the DemandJump platform.
Once the strategy was set, the Content Services team spent the next few weeks writing and workshopping the entire Pillar Strategy's content. Once the entire 16-piece Pillar Topic Network was ready, it was time to publish the content and wait to see what develops. They didn't have to wait long…
The Results
Even within the first week of publishing the content, Vonage started to reap the rewards. Here are some of the outcomes of the campaign at a glance:
As a result of PBM implementation, Vonage went from ranking for 160 keywords (but none on Page One), to ranking for 700 keywords (with nearly 40 being Page One results).
Vonage went from 0 to 334 "Top 100" rankings.
Vonage saw an overall Page One increase of 400%.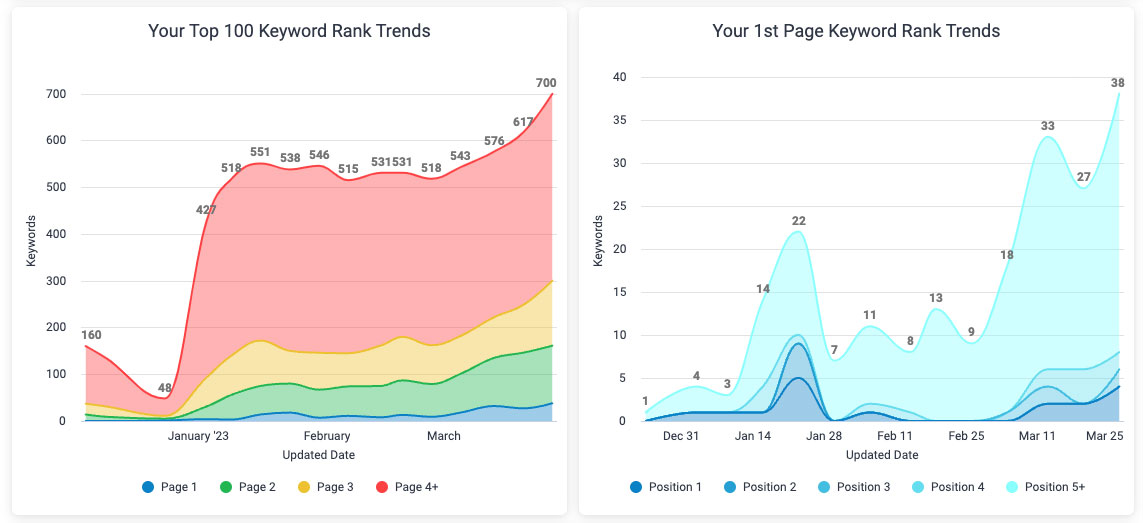 These results powered a significant increase in leads—as well as lead quality. By publishing a network of content engineered to engage and inform readers while also ranking well among search engine algorithms, Vonage was able to increase their brand's visibility and establish themselves as an authority within the cloud-based B2C communications industry.
Want a taste of the platform in action? Get started for free today!
Get Your Free Pillar Strategy Preview!