iOS14 Changes for Facebook Advertising: What you need to know
March 24, 2021 •Maddie Clapp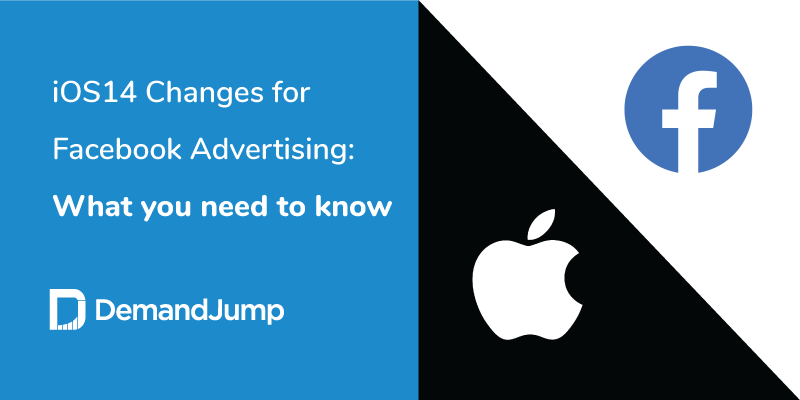 Apple is taking large measures to protect user's data and activity in light of increasing privacy concerns. Users are becoming more protective of their data and how their activity is tracked and utilized. Even though Facebook and Apple themselves do not violate any privacy laws, they are still making large moves to protect users' data. So what exactly is changing?
What are the changes?
Each and every app in the Apple store will begin asking users to opt-in or opt-out of tracking. Once users begin to download the new iOS14 update, they will notice these pop-up messages on each app asking for this information. If app developers do not comply, the app will be removed from the app store. This opt-in or opt-out process gives users the ability to decide whether they want their activity tracked.
To be clear, users' app data is being tracked in its current state and used to create tailored ad and feed experiences for each user. Facebook is not selling personal data or using it in any way but to offer a tailored experience on its app. If a user chooses to opt-out, their feed will no longer be tailored to their previous activity, meaning the Facebook Ad content they see will not be personalized.
This effort is one step Apple is taking to protect users' data if they choose to opt-out. In the future, most web browsers will no longer support cookies, and this type of tracking will no longer be used. Apple is taking a large step toward that with these changes.
When cookie-tracking is no longer used by advertising platforms, it will be even more important to understand where to meet your consumers. Content marketing is going to become even more lucrative to your marketing plans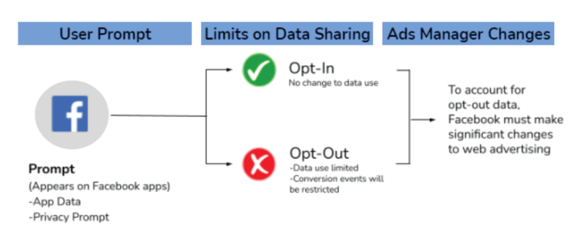 How does this affect me?
As an advertiser or a general user of Facebook, these changes are going to affect your experience with Facebook. For users, your Facebook experience will no longer be tailored to your interests, but only if you opt-out. For advertisers, there are much larger implications on your business and advertising goals that you should know about.
Facebook Business Set Up:
Each business that uses Facebook ads will need to verify their domain through Facebook Events Manager. Facebook is requiring this to ensure that the entity advertising for a certain business does, in fact, own the website domain as well. This is to prevent phony advertisers on their platform.
In current-state, Facebook advertisers are allowed to optimize their campaigns toward a number of different conversion events, including any custom conversions the advertiser has created. With these new changes, advertisers are now limited to 8 conversion events per domain for campaign optimization. They will no longer have the option to pick from 20+ conversion events as a campaign objective. More on that to come...
Ad Delivery and Targeting:
Currently, advertisers are able to choose their attribution-window, which is the amount of time that conversions/interactions can be credited to your ads. For example, if your attribution-window is set to 28-click, this means if the user clicked on your ad in the past 28 days and converted sometime in that timeframe, it will be credited to your ads.
This is going to change, as advertisers will no longer be able to choose their attribution-window. The standard default attribution-window is moving to 7-day click through only. This means someone would have to convert within 7 days of their click for your ad to be credited that conversion. Advertisers should expect delivery to be less efficient compared to current performance because of this change.
With a smaller, more limited attribution window, conversions counted from Facebook are likely to decrease, showing less revenue coming from Facebook ads in general. Additionally, website custom audiences and remarketing audiences sizes will be smaller, due to many users opting-out of tracking. These audiences will only be able to count users who opted-in to tracking.
Performance Measurement:
As mentioned before, you can expect your ad performance to decrease overall, as you are not getting the full story. You are only able to see actions from users who have opted-in to tracking. Because of this, campaign reporting will be delayed, aggregated, and limited.

What do I need to do?
If you are a Facebook user in any capacity, you will need to opt-in or opt-out to tracking once the iOS14 update is rolled out and downloaded on your Apple device. If you opt-in, your ad and content will be tailored to your interests and previous activity. If you opt-out, this will no longer be the case.
As an advertiser, there are a few more steps you need to take to ensure your ads continue running.
Verify your domain in Facebook Manager - Do this ASAP:
In Facebook Business Manager, go to Business Settings
Click Brand Safety - Domains
If your primary domain is not listed, click Add
Enter your domain, click Add Domain
Choose which verification method to use: DNS Verification, Meta Tags, or HTML File Upload (this may take some developer time, make sure to plan for this if you are not sure how to do it yourself. Additional resources here: https://developers.facebook.com/docs/sharing/domain-verification/verifying-your-domain)
The next step will be done after you've already verified your domain. You will not be able to configure events without first verifying.
Set up event configuration for your domain in Events Manager:
Go to Events Manager in Facebook Ads
Scroll to the bottom and click Aggregated Event Measurement
Click Configure Web Events
Click on Manage Events next to your domain
Decide your priority conversion and 7 others to track across campaigns
If you do not go in and configure your top 8 events manually, every domain with existing pixel events will be auto-configured with the top 8 web events based on past campaign spend once iOS14 is rolled out. If a user opts-out of tracking, only the top prioritized conversion event will be reported on. It is important to choose your top objective or business goal as your number one, priority conversion event.
Once you have both verified your domain and configured your events, you'll want to go through your active ad sets and check what each is optimized for. If the objective is conversions, you might need to make a few adjustments.
Check all active ad sets:
Review each ad set that uses unavailable conversion events - these will be flagged in Ads Manager
If a campaign is set up to optimize for an unavailable event, edit the ad set by choosing one of the 8 events to optimize for instead
Note: If an ad set optimizes for an event outside of the 8, Facebook will begin automatically pausing those ad sets. You do not want your ads to be paused without notice, so each of these steps is important.
You may have more questions surrounding this topic, but we've compiled a list of the top asked questions about this topic below. If you still have questions, Facebook Business Manager has great resources to help you ensure you are ready for these changes. You can also reach out to a DemandJump advisor with any questions.
FAQ
Can we see how many people opted in or out? - Facebook doesn't know yet - this functionality hasn't been built. Apple is blocking this information from platforms like Facebook at this time
Does Facebook predict most users will opt-in or opt-out? - Facebook predictions show that most users will opt out due to the messaging of the pop-up
What targeting capabilities will be affected? - Custom audiences using website data will be smaller, as they will only track those who have opted-in to tracking.
Can I choose custom conversions as one of my 8 events? Yes, your 8 conversions can consist of custom or standard events. Pageviews will automatically be counted, so no need to choose that as one of the 8 conversions.
How are my 8 conversions tracked? If the user opts-in, we will see conversion data for all 8 possible events for that user. If the user opts-out, we will only see conversion data for the top, priority conversion. As usual, conversions will only be reported if that event action is taken by the user.
If I have more than one domain, will I need to choose 8 for each? Yes, for each primary domain you need to choose 8 conversion events.
Get Your Free Content Marketing Strategy Report