Nordstrom's digital strategy: lessons from DemandJump's platform
by Jordan Ehrlich, on August 15, 2018
[This blog is inspired by an eBook we published analyzing Nordstrom's online holiday strategy - for more insights and takeaways, download the ebook here.]
Why are we so excited about Nordstrom's ranking on the Top 1000 internet retailer list?
Looking into these eCommerce all-stars, we find Nordstrom ranked 16th - competing with stores like Amazon, eBay, and...
Who is Nordstrom's biggest competitor? Macy's.
Macy's is huge.
Just comparing 2017 revenue's, Macy's almost doubled Nordstrom's sales - earning $25.76billion compared to $14.76billion, respectively.
In 2017 Macy's had 630 full-line stores. Nordstrom had 361 - Nordstrom Racks and full-line combined. So how does Nordstrom compete online?
Well, we loaded their domain into the DemandJump platform to see what we could find. Unless mentioned otherwise, all further insights were gathered with the DemandJump platform - a platform built to give marketers the whole story when navigating their marketing strategy.
Today, we'll look into three channels: Paid Search, Email, and Organic Search - to see just how Nordstrom brings the heat online.
Starting with paid search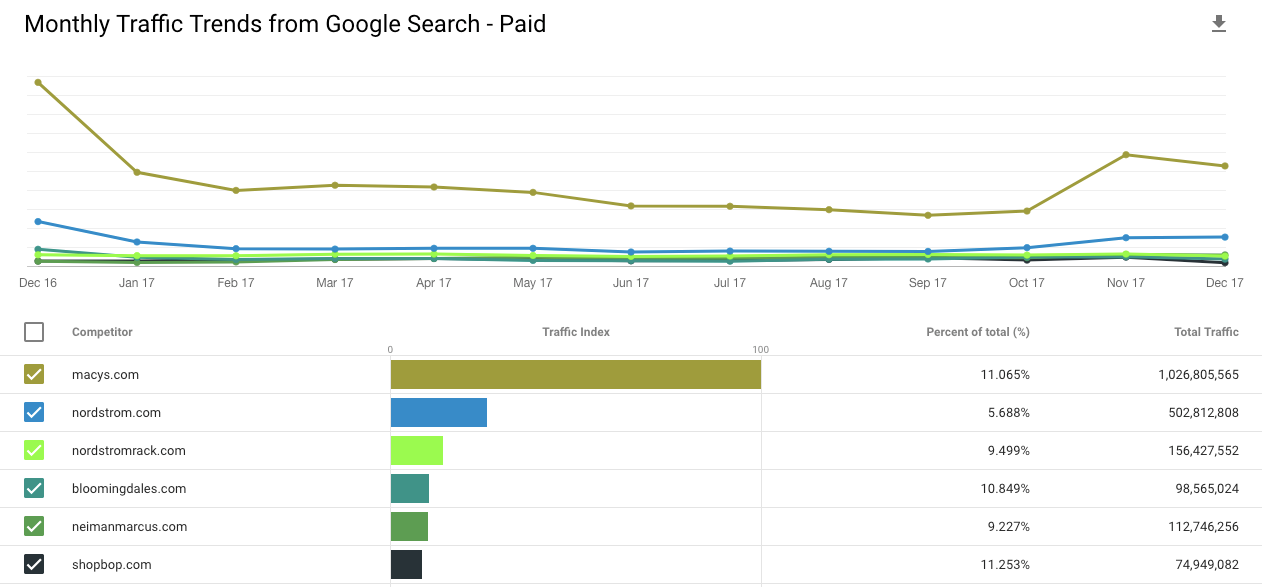 Surprisingly, Nordstrom doesn't seem to be doing all that well in terms of traffic from paid search. Macy's is clearly throwing more money to lure website visitors through this channel. They're bringing in 11% of website traffic from paid search. Meanwhile Nordstrom only brings in 6%. So where is the traffic coming from?
Nordstrom's email campaigns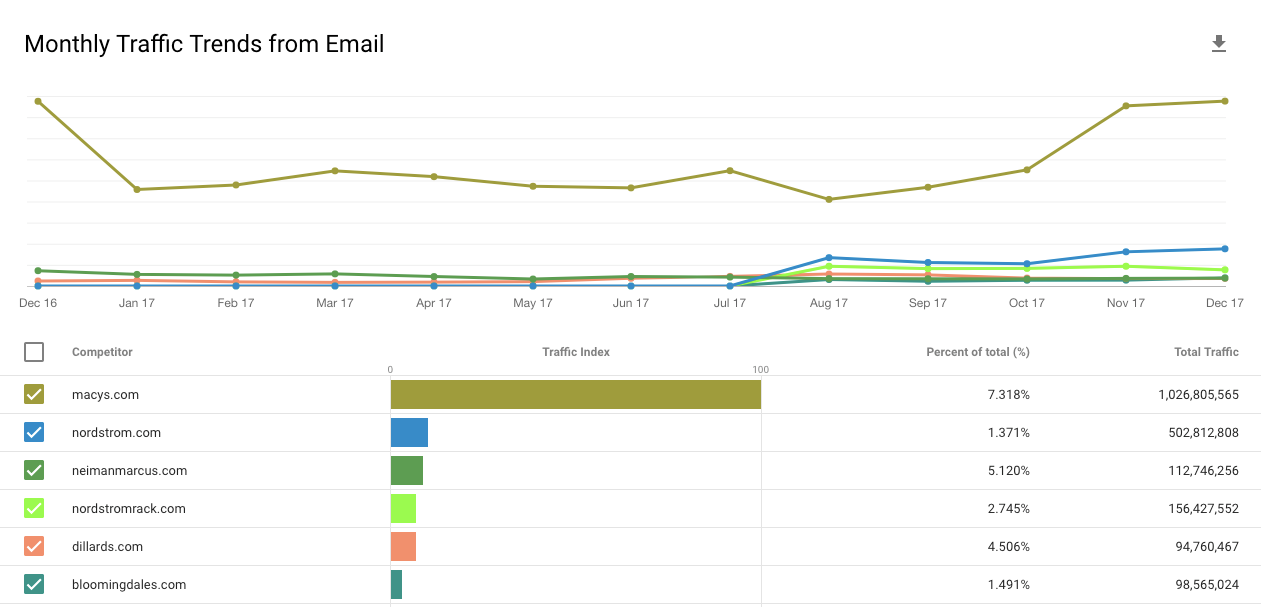 Well... Nordstrom's glory doesn't seem to be coming from email either. Macy's brings 7.3% of their total website traffic from this channel while Nordstrom only generates 1.4%. On Nordstrom's behalf, this could be an opportunity to leverage the channel as a more direct source of website traffic.
Is this underperformance in email and paid search a shortcoming? Or is this an insight into their strategy? Let's peek into organic search to see the full story.
Organic search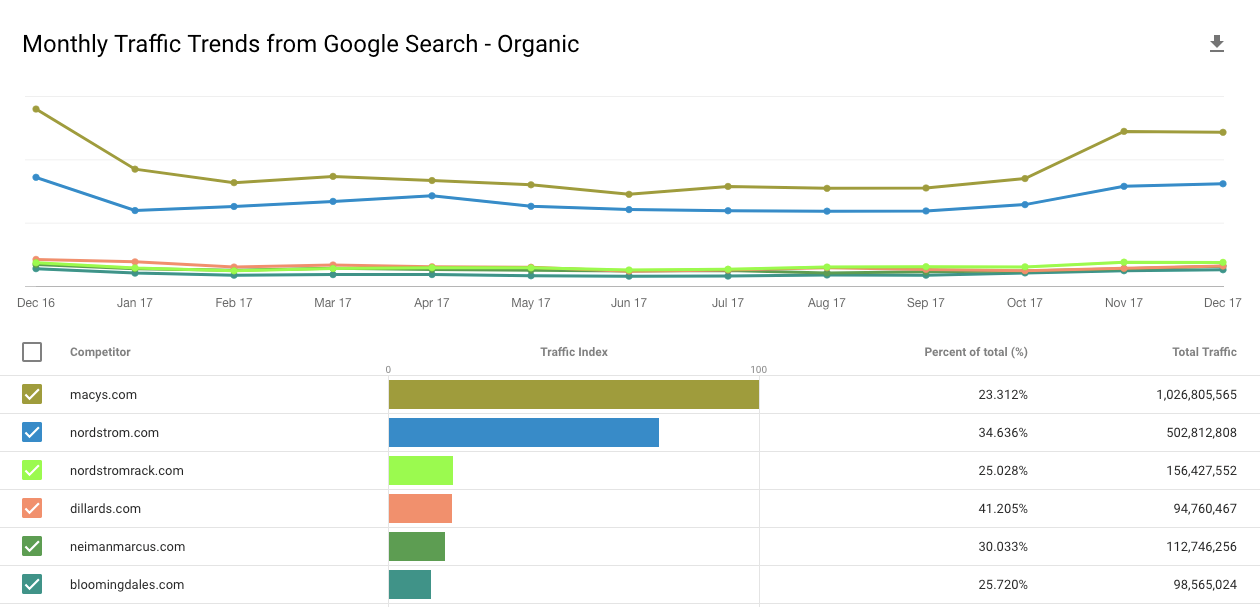 And there it is. Nordstrom's breadwinner - organic search.
Although total traffic is lower, Nordstrom gets 34% of its website traffic from organic search, while Macy's only gets 23%. Beyond this, Nordstrom gets hundreds of thousands more website visitors through this channel than Dillards and Neiman Marcus combined.
Keep in mind that Nordstrom is half the size of Macy's in both revenue and number of stores when viewing these trends.
In this context, the amount of traffic they're getting from organic search is awesome. And what's most powerful is Nordstrom's ability to flex SEO to cut ad spend.
Our takeaways
One of the hardest things for digital marketers is aligning branded efforts, how the company wants to be perceived, with how people are actually searching online. This is a problem we see a lot of our customers facing before using DemandJump. Their desire to creatively express their brand clouds their ability to be seen online - because their online copy doesn't match the words people are actually using to find products like theirs.
Nordstrom, however, aligns these two sides of the conversation very well.
They understand the search queries people are using to find them, and they're not wasting any time beating around the bush. With organic search, they're jumping right in and meeting people where they are - something marketers have been talking about for years, yet few do very well to this day.
Using tools like ghostery and builtwith, we've observed Nordstrom to be extremely advanced in the data and analytics department. And considering their organic search success, they have a clear knowledge of internet behavior, and are leveraging it to guide organic traffic to toward them.
If you're interested in seeing more of Nordstrom's digital strategy, be sure to download our full eBook for more specific insights and a taste of the DemandJump platform.
If decreasing wasted ad spend and capturing internet traffic where it matters is what interests you, reach out and let's chat. Until then, read more about DemandJump here.