Predict Industry Trends with Real-Time Consumer Insights
April 8, 2020 •DJ Team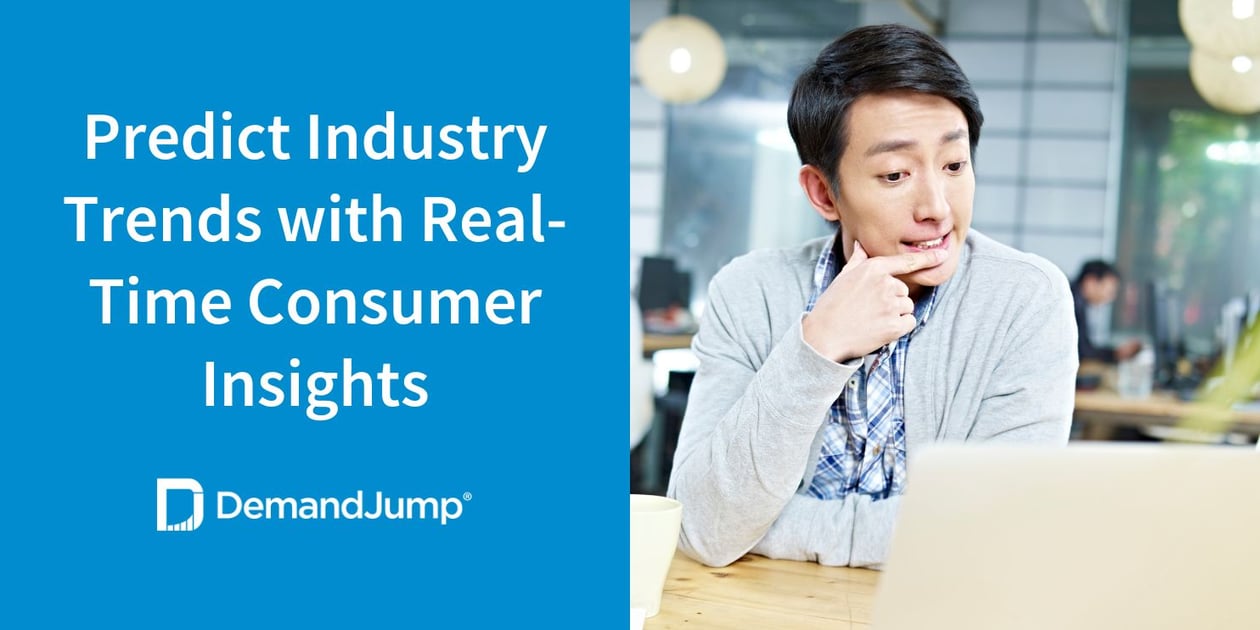 Gain a competitive edge by analyzing real-time data to predict future consumer buying behavior and trends.
If it feels like your company constantly plays catch-up when it comes to identifying and responding to consumer trends, it's time to add advanced analytics to your business blueprint for 2020.
Consumer insights can not only help shape and align your company's content and digital marketing strategies, they can also help your teams identify the most popular merchandise to stock next season or which trending services to start offering.
By giving you a snapshot of all the searches and questions that matter most, these consumer insights often identify products your target audience is searching for that you didn't know they wanted, but that you can provide them.
To work your way to the top of search results, plan promotional strategies and incentives around a hot item trending online, and distribute super relevant content on social media and your website.
Data-Driven Technology Solves Talent Gap
Capturing consumer data from one or two sources and organizing those statistics into a simple spreadsheet isn't enough to stay ahead of upcoming trends. Multiple marketing research studies show that while most businesses rank consumer data analytics as critical to operations, they don't staff the right team or invest in tools to put those analytics into action.
According to IBM, as much as 85% of a data scientist's time is spent cleaning, shaping and moving data, which leaves little time devoted to the important job of identifying trends, making predictions and interpreting the results.
That's where technology comes in. IBM cites a Gartner Research study predicting that by 2025 50% of a data scientist's activities will be augmented by artificial intelligence to ease the acute talent shortage. Bridging that gap in the meantime — and even when/if that prediction becomes a reality — requires a healthy balance of human ingenuity and quality data-driven AI tools.
What are Upcoming Consumer Trends Your Data Can Forecast?
To get ahead of what's trending among consumers, it's important to study data gathered at the top of the sales funnel, where most people or businesses begin shopping around for any new product or service — through an organic search online, by clicking a digital ad or on social media.
What questions are consumers asking on search engines?
Is what they search for or how they search for it changing? Do they include location, the year 2020, or any other subtle search indicators you should include in your digital marketing?
Which keywords do they use to find your company or your competition?
Who's paying for digital advertising related to your top keyword phrases?
Review search data to track trending keywords with high traffic but low competition, and spot any new vernacular sneaking into search queries based on societal trends or current events. See where you rank in the search results to identify ideal opportunities to increase SEO ranking as well as leads and conversion rate.
Content Marketing Planning
Creating content to highlight upcoming consumer trends remains a steadfast way to gain traction as an industry leader, attract new leads, push existing leads further down the sales funnel, and provide helpful information to existing customers. By producing a volume of online content narrowly targeted to trending search engine queries, your company will appear in search results one way or another.
See a big trend blooming this Spring or does your data predict a new trending topic will drop into the digital landscape in the Fall? Plan a content marketing strategy around your exclusive consumer insights that includes blogs, videos, infographics, social media posts, eBooks or more-technical white papers to show off your expertise.
(Click here to automate your content marketing strategy with consumer insights.)
Improve SEO and Digital Ads
You can also use those consumer behavior trends and trending keywords to tweak existing website copy, add new landing pages to the website, and create digital advertising around trending topics. Gather detailed consumer behavior data to narrow the focus of your target market for digital advertising.
Natural Language Processing
With millions of homes now depending on a smart speaker to place an order on Amazon, search Google or control their smart home functions, it's more important than ever to stay ahead of how consumers talk to these AI-powered devices. Shoppers also use smartphones to verbally ask for locations "near me" and search for directions, and find instructional YouTube videos on "how to" do something.
The newly released book The Language Effect: Why AI-Powered Copywriting Is A Marketer's (New) Best Friend predicts marketing copy will soon become much more data-driven as AI platforms devise ways to better process the natural language consumers use to speak to computers. Get ahead of the trend by carefully studying the words your customers choose to communicate.
Predictive Analysis Trends for 2020
A 2020 Forbes article 5 AI And Analytics Trends Marketers And Brands Should Be Investing In, focuses on ways businesses can take data analytics to the next level and create true value for their companies and customers.
"As we head into the next decade, I believe the greatest value of analytics will come in the form of clear, fast decision-making, predictive trends, and ROI (which, again, will lead to better decisions)," writes Forbes CMO Network Contributor Daniel Newman. Here's a rundown of the top 5 trends he notes "can help grow and improve your company this year."
Recognizing Baseline Data is Not Enough
Know the Great Value Comes in Prediction, Not Description
Invest in Data Visualization and Graph Analytics
Use Analytics for Lifecycle Management
Natural Language Processing
Creativity ranks as one of the most important skills when making a marketing hire for 50% of companies surveyed for the Martech: 2020 and Beyond report by WARC, a global marketing intelligence firm focused on advertising and media effectiveness. The study found North American marketers now invest 30% of their budgets on marketing technology — up 25% from the year before.
While it's important to hire the right leader to head up your company's data efforts and deliver predictive analysis, their output directly correlates to the quality of customer insight tools provided. Without access to the right marketing analytics tools, your investment in a data expert will mainly go toward expensive data clean-up.
Consumer Insights Data Platform Delivers Industry Predictions

Leading digital marketers rely on predictive analysis to transform data into consumer insights that help companies predict which trends will dominate their digital arena in the months ahead and years to come. Using a combination of omni-channel performance data, competitive intelligence and consumer behavior data, companies can preemptively plan to meet the future needs of customers and optimize marketing channel performance.
If your business, like many others, lacks a trained staff of data scientists to digest consumer behavior data and deliver insightful predictions, consider investing instead in an cross-channel analytics platform that can do the messy data clean-up work for you and send your team automated, real-time recommendations on what you should do next.
Learn more about how DemandJump gives our forward-thinking clients a glimpse into the future through data analytics and marketing attribution tools. Get a free assessment today to improve tomorrow's results.
Get Free Consumer Insights Today!