What Are Lead Sources?
September 14, 2020 •DJ Team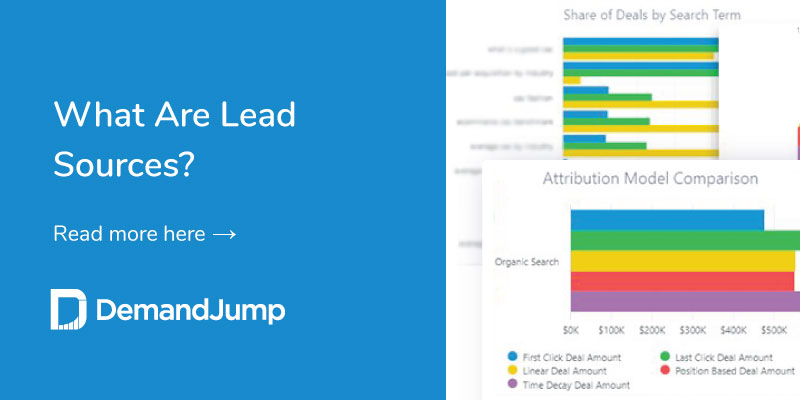 Generating leads is at the heart of any successful sales and marketing operation. Ensuring that those leads are driving revenue and that you are spending in the right places is the job of a good
marketing attribution
model. That's why so many organizations rely on lead generation software to provide a robust supply of leads and attribution software to ensure budget is allocated efficiently.
Choosing a lead generation product can be a dizzying task, as you consider what your organization needs and how automated lead generation software integrates with other strategies and products.
B2C and B2B Lead Generation Tools and Channels
No matter what your business, lead generation is essential. It's the marketing practices that stir up interest in your product or service. Whether it's B2C or B2B, lead generation tools are the way to develop a sales pipeline and nurture sales prospects through the pipeline.
When it comes to deciding how to generate leads for small business, companies have ample channels to choose from. Some of these are more appropriate B2B lead generation channels but can apply to the B2C sector as well. They include:
Digital advertising
Inbound marketing
Promotions
Cold calling
Business events such as conventions, conferences and trade shows
Sponsorships
Showrooms and storefronts
Third-party services
Each of these methods has advantages and drawbacks, and many businesses deploy a mix of these tools to broaden the leads pool.
The Value of Lead Generation Software
Automated lead generation software helps to attract, inform and nurture leads using tools that in the past were handled exclusively by in-person interactions. Today, artificial intelligence and automation technologies have transformed the way that sales operations function, allowing for more efficient sales processes, more connections and more sales conversions.
While products will differ, most lead generation tools include the following:
A database that helps you track, tag, attribute, score and segment leads as they come into the system
Content management for the information (e.g., blogs, e-books, catalogs, videos) provided for each of your channels, including the ability to track how leads reacted to content provided
Analytics tools to track returns and understand how much you're spending for each lead
Using lead generation software helps you attract customers in the channels they're using to buy today. That means having a presence in mobile technology, in social media and across devices.
It also reflects how customers shop today – by requesting information, doing research, assessing brands and their reputations and feeling valued.
Creating a Lead Generation Plan
Before purchasing lead generation software, your business needs to create a lead generation plan. It's important that the plan for how to generate leads for small business companies, mid-sized businesses or enterprise organizations achieve the following results:
A steady stream of new, quality leads
More time for your sales team to focus on high-potential sales
Positioning of your company as a problem-solver with expertise for a target audience
Front-of-mind presence
Measurable impact
Integration with existing sales and marketing technology
Creating your lead generation plan involves several steps, including:
Establish your goals
Determine your target audience
Identify your ideal client persona
Build collateral (white papers, blogs, e-books, videos) to provide to your leads
Create your landing pages
Create a system to score your leads based on the steps a lead takes (e.g. points for leaving an email, asking for more information, signing up for a newsletter)
Determine the channels and messages for each
Develop a response mechanism for each engagement
With your plan in place, the question becomes, how do you find enough leads to go through the sales funnel?
Finding the Right Lead Generation Tools
Lead generation tools come in many different sizes and shapes. Knowing what's right depends on a clear lead generation plan. Your company also needs to understand what industry-specific characteristics, information and personas are necessary.
Let's look at some lead generation examples. Insurance lead generation software is likely to include features very different than those for manufacturing lead generation products. The insurance lead generation software will need to track leads for multiple coverage options, lifestyles and customer preferences. The software ideally would also provide competitor analysis, customization based on a leads' identified interests, multiproduct follow-up and collection of personal information to provide accurate quotes. Manufacturing lead generation software may need to include more capability to handle multiple product lines or processes.
Coordinating your lead generation with other strategies is critical. For example, many marketers ponder how to create Facebook lead ads for market research, customer feedback or more conversions. Strategies exist for how to use Twitter, Instagram, LinkedIn and other social platforms for new business.
When looking at lead generation tools, there are several items to consider:
Does the system help you solve your most critical lead challenges? Whether you need more leads, more quality leads or different types of leads, be sure your solution can address your greatest needs.
Are your leads nurtured? Lead generation software needs to move leads throughout the sales funnel, providing high-value content and answering questions so that leads convert to sales.
Can it calculate a return on investment? You need a lead generation software tool that can demonstrate a positive return on investment, responding to customers' ever-evolving demands and modes of purchasing.
What does it look like? Ask for lead generation examples for each product, check references and review samples. Without
Does it integrate? Your lead generation software needs to work seamlessly with other components of your martech solution. Can it answer the question of how to create Facebook lead ads or align with your social media strategy? Without those integrations, you'll spend too much time and money making technology work for you.
Lead generation software lets you save money by automating many of your key marketing processes and reallocate resources to the most critical potential customers. It also should drive more and better leads and sales. Knowing how to find the most effective lead generation software for your business results in better prospects and more profits.
Not sure where to start? DemandJump's easy to use integrations and consumer insights and attribution products will take the guesswork out of deciding what to do next. Automated in-platform recommendations give you a to-do list of items ordered by highest estimated revenue impact. Try it free for 7 days. You will get daily recommendations on what changes to make to campaigns, what content to create, and what keywords to use in paid campaigns as well as organic content to increase leads.
Get Your Free Content Marketing Strategy Report