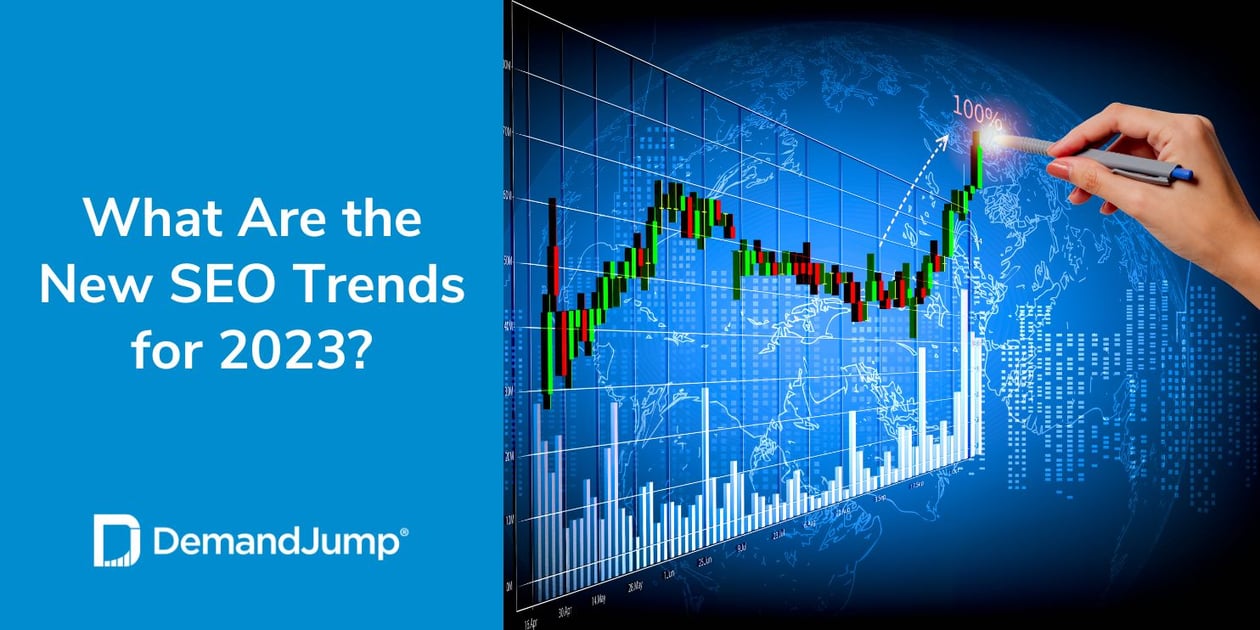 What Are the New SEO Trends for 2023?
Whether you are new to search engine optimization (SEO) or a seasoned veteran in the field, you're probably reading this blog because you've heard having an SEO strategy is important to boost organic traffic to your website. No matter how familiar you are with SEO, you should make it a point to keep up with the latest trends to ensure that your SEO strategy for 2023 and beyond meets search engines' standards. Appeal to the search engines, be found by your target audience, keep your target audience on your website, and you'll see your organic traffic go way up.
Is SEO Still Relevant in 2023?
Yes, SEO is still relevant in 2023, and it will be for the foreseeable future. That's because SEO is what helps search engines crawl and categorize your website so that it can better rank web pages when users type in a search query. Search engines like Google aim to help users find answers to their questions. Using the right SEO marketing strategies indicates to search engines that your pages can answer their users' queries. It also helps your target audience find you when they use the same keywords in your content to find answers to their solutions. So as long as people use search engines, it's a safe bet that the future of SEO in 2023 and beyond is bright.
That's not to say that SEO should steer your entire content creation process. Rather, you should include it in your content as an extra boost for findability. You should place most of your focus on creating helpful content, which the latest Google algorithm prioritizes.
What Is the Latest Google Algorithm?
The latest Google algorithm update, based on when this article was written in early February of 2023, was the link spam update of December 2022-January 2023. Google uses their AI tool called SpamBrain to rank pages with link spam, such as those created merely to boost a page's ranking in Google, will be ranked lower in search results. This update prevents companies from cheating the SEO system.
Another recent Google update to note when thinking about SEO trends in 2023 is the helpful content update released in August 2022. The update works to rank helpful content written by humans (an important detail we'll discuss later) higher to improve the search results of Google users.
To understand why Google creates these algorithm updates, you have to understand their mission: "to organize the world's information and make it universally accessible and useful." Google was created to help people find useful information. If your strategy solely focuses on SEO for SEO's sake, your website won't succeed in the long run. Instead, your strategy should center around search engine marketing trends that guide your team in creating educational, useful content that people want to read.

What Is Trending in SEO in 2023?
Writing helpful content is trending in 2023. We know we're repeating ourselves, but it's important because it differs a lot from the SEO trends of the past. Hiding text, keyword stuffing, copying others' content—those won't work anymore. If you want to rank higher on Google, you have to put some work into it.
And despite all the hullabaloo about AI tools writing content for you, it's not there yet. They can't create original content, only scraping what it can find on the internet. Most can't even dive deep enough to get a high enough word count for some content. Often, too, the information they pull is a few years old, so the content it generates could be outdated and irrelevant. Relying on these tools for content creation won't improve your rankings in search engines.
If you want to boost your SEO, try these practices instead:

Use relevant keywords. No, we're not condoning keyword stuffing right after saying it's a bad practice. What we mean is using keywords that your business knows something about in your content. Make sure they're relevant to what your business does and that you don't repeat the same ones over and over throughout your pieces of content. Also make sure to use keywords that your target audience is actually searching for.
Create webs of content. At DemandJump, our web strategy is called Pillar-Based Marketing. It entails at least 16 pieces of original content that centers around one broad topic. That's not to say all your pieces should be about the same thing. You still need to diversify. Rather, it means that each piece of content will focus on a different part of that broad topic in different levels of specificity. When you're done, your audience will find a whole heap of content about a particular topic that they can read through to learn more.
Utilize SEO AI tools to improve your content. While you shouldn't rely on AI tools to write content for you, you can use them to help you write your own. For example, tools like Grammarly check for plagiarism and grammatical errors. And AI tools like DemandJump help you find the right keywords to use in your content.
Improve your technical SEO. Check load speeds and indexing, for example, to make sure readers can quickly and easily navigate through your website.
Link to useful, trustworthy sources. It's okay to link to outside sources. In fact, it can back up what you're writing and prove to both search engines and readers that you are trustworthy and want to help readers find the answers to their questions.
Keep Up With the Latest SEO Trends Using DemandJump
Google makes it their mission to put helpful content in front of their users. DemandJump aims to help businesses create that helpful content. When you put a topic you want to rank for in our Topic Insights search bar, we will provide you with the top keywords and questions surrounding that topic that you can then turn into a pillar strategy. We will provide you with a breakdown of every part of a Pillar-Based Marketing strategy, from titles to keywords for each title, so you can more easily create the helpful content that both search engines and readers are looking for.
What's more, DemandJump has a podcast and webinars to keep you up to date with marketing trends and all there is to know about SEO. To learn more and to discover an easier way to keep up with SEO trends while writing helpful content, give our platform a whirl.