What Is an Example of Digital Transformation?
January 24, 2020 •DJ Team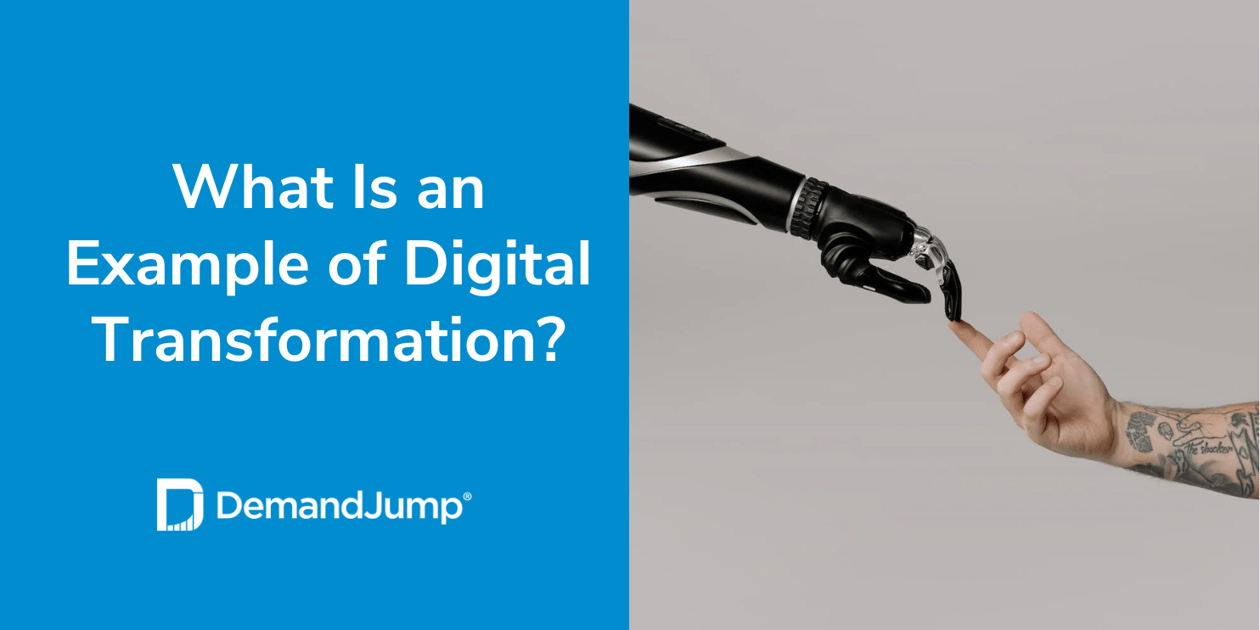 Definition of Digital Transformation:
Digital Transformation refers to a business's adoption of technology and innovation to improve the efficiency and effectiveness of their business operations. It can be a difficult task for many, as the term is frequently associated with the initiatives of large enterprises, where big changes to operations can involve many stakeholders.
Many have defined digital transformation in recent years, and some complain that the term has become overused, muddled and perhaps even meaningless as a result. Here, we'll take a look at it from a marketing perspective — which essentially means that we'll be thinking of customers first and foremost.
To review what others have said, here are a few popular definitions.
From Gartner: "Digital transformation can refer to anything from IT modernization (for example, cloud computing), to digital optimization, to the invention of new digital business models."According to Gartner, simply adding cloud computing or software defined networking to an IT organization can be classified as digital transformation. A better name for such an effort is "modernization," but that's not what we're discussing here.
From Forrester: "Digital transformation is not just about technology. It's the necessary but challenging journey of operating digital-first with the speed and nimbleness to change rapidly, exploit technology to create lean operations, and free people to do more complex tasks." Indeed, there are two sides to digital transformation. One of them looks at the impact on the company and its employees, as in this definition; the other on customers.
From IDC: "Digital transformation means applying new technologies to radically change processes, customer experience, and value. It allows organizations to support innovation and digital disruption rather than enhancing existing technologies and models."This offers a good description of what the company must do, and it does allude to the customer experience.
Ever-changing consumer behavior is what's driving the need for enterprises to undergo digital transformations. It is becoming evermore important to derive consumer insights from these behaviors.
At DemandJump, we see digital transformation as an ongoing process (not a one-time project) that aims to improve business outcomes by redesigning business processes with digital technologies. To effectively navigate a digital transformation, the onboarding of new datasets often helps businesses make sense of the new landscape and make better decisions.

An Example of Digital Transformation
For years, Domino's Pizza played second fiddle to Pizza Hut, but in November 2018, industry watcher Pizza Today announced that Dominos had surpassed Pizza Hut as the #1 pizza company based on its $12.3 billion global sales.
Dominos had launched a pizza tracker app in 2008, revamped its recipes in 2010 and dropped the image of a pizza from its logo in 2012. But while these contributed to the company's growth, their digital transformation spawned a cultural shift within the company that delighted customers and earned Dominos the crown as the "largest pizza company in the world."
That change didn't come quickly or easily, but once management made the decision to engage customers through digital means, they sought funding approval from their Board of Directors. The CEO and Chief Digital Officer pitched the idea that Dominos employees should think of themselves as an "e-commerce company that happens to sell pizza."
Next, the team developed its roadmap for transformation, then dedicated itself to measuring which new initiatives worked and which did not. With a top-notch analytics team and financial support from the Board, the company put virtually all its new digital efforts through A/B testing to positively identify which initiatives produced the desired results. This led to another round of funding.
During this process, the company also reached out to customers, asking them to brainstorm and suggest improvements the company could make. Customers responded to that "Think Oven" campaign via Facebook. It was essentially a crowd-sourcing effort looking for new ideas and perspectives — a clever move in itself. The company even invited some Think Oven participants to visit headquarters where they held in depth discussions with the most engaged customers.
From a technology standpoint, Dominos refocused its advertising and its sales into digital channels. With mobile web inquiries already surpassing those from fixed PCs all across the web, management decided to rewrite their mobile app to make ordering as simple and engaging as it could be.
The company updated its website, too, most notably with the Dom chatbot that leads customers through the ordering process. To further facilitate ordering, the company created Dominos Anyware — which gives customers the ability to order from Google Home, Alexa and just about any Internet-connected device they might be using.

Conclusion
Digital transformation is notoriously difficult to achieve. The key to success lies in planning and setting objectives that solve specific problems rather than buying the latest new tech in hopes it will fix what's broken.
Companies that cannot adjust to the digital world are bound to fail, eventually. With the ever-accelerating pace of technology, coupled with increased marketing focus on the customer and customer satisfaction, many have already failed. For instance, in 1958 the average lifespan of S&P 500 companies was 61 years. Today, it's just 20 years — largely as a result of digital disruption.
DemandJump can help you decide what to do next as you step into the rapids of digital transformation.