Why Marketing Attribution Matters in a Recession
April 28, 2020 •DJ Team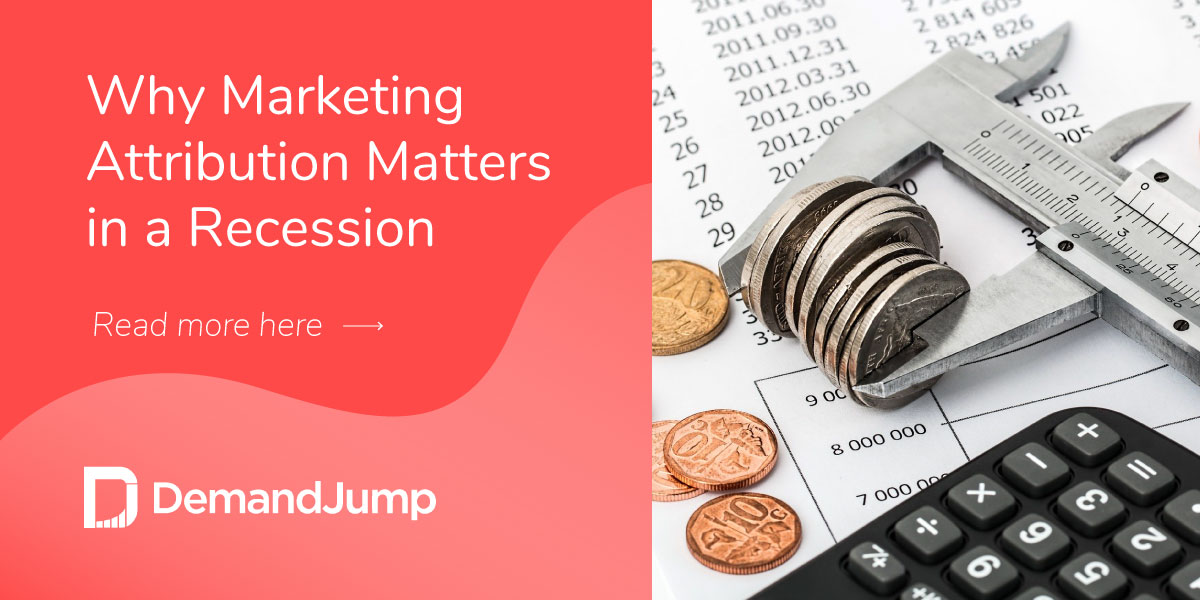 With talks of a recession looming on the horizon, businesses everywhere should be planning ahead. For many, this may mean reallocating money—or slashing budgets. That means different departments will be competing for less and doing whatever they can to make the most impact for the good of the business. So, how do you measure the worth of your marketing strategy?
Marketing attribution is the most reliable way to not only understand your customers, but to figure what is working best for you. No longer can we simply launch a campaign, wait for results, and then build the next one based on some arbitrary analytics. The cause and effect relationship in digital marketing is far more nuanced than that. Customers come to find you in a variety of different ways, and by measuring these different touchpoints we can more accurately predict their behavior and then design our budgets to reflect those areas of success.
Marketing Budgets During a Recession
When economic downturns spiral and turn into actual recessions, it's difficult to not get caught up in a state of panic. Companies and consumers alike may have the urge to slam on the breaks and start making extreme budget cuts. And while a recession certainly puts a damper on the overall economy, the fact is that the companies that have succeeded the most during previous recessions were the same ones that either maintained or increased their marketing spend. Following the 2008 housing crisis recession, marketers still spent 14% more on online advertising. Why? Because it works. According to Harvard Business School, "brands that increase advertising during a downturn can improve market share and return on investment."
Unfortunately, not everyone may be so convinced. If you're a digital marketer, you may not be directly in charge of your own budget. However, if you're able to provide a clear plan of attack and demonstrate your department's value through measurable and impactful data, it's more likely that your ad spend will remain unaffected. That's exactly why marketing attribution models are the only way to go.
While the recession is still theoretical and may be debated among some, the experts seem certain there's nothing theoretical about it. Bloomberg Economics created a model in 2019 to calculate the chance of an upcoming recession. As of April 8th, it currently says there is a 100% chance of a recession. With that in mind, there's never been a better time, nor will there be, to take advantage of marketing attribution reports.
What Is Marketing Attribution and Its Impact on Strategy and Budget?
Marketing is at its core an investment. You are spending cash in order to communicate with customers and hopefully improve sales. This is nothing earth-shattering, and is about as basic as an explanation can get. But when folks are hesitant to move toward marketing attribution and measuring the impact of different channels through multi touch attribution, the idea of spending more to learn about their own efforts seems unthinkable.
At this point, marketing attribution has become a leading force in advertising, as 66% of companies reported using some form of attribution modeling. Attribution is not the way of the future, but the present. When you invest in truly understanding how to credit your different tactics with moving leads along or converting them, it's easier to focus on the marketing tactics that have the most impact. Studies have shown that using attribution in digital marketing increases marketing efficiency by 15-30%.
In a sense, marketing budgets are a reflection of the calculated ROI on ad spend and strategy. In fact, that same calculation should truly be reflected in the strategy itself. Why spend more on marketing channels that deliver less? The truth is that 43% of marketing teams find that proving or establish ROI of their work to be their biggest challenges. If you're not already using some form of marketing attribution, I'll let you in on a little secret: This is how you calculate ROI.
DemandJump Makes Marketing Attribution Work For You
During recessions, marketing budgets can easily be cut left and right as a way to save money and resources. When stakeholders don't see a clear and demonstrated value, it's difficult to convey or measure the impact of your efforts. But with marketing attribution, it's much easier to safeguard your budget by staying efficient. Knowing which channels produce the most conversions, as well which ones don't, is a product of great attribution. Nothing gets left to chance, and there's no great mystery shrouding your strategy. The result is the ability to make the right decisions and maximize customer engagement, all with inarguable data that proves your point.
With DemandJump's attribution platform, you're able to study and examine every element of online customer interaction. We gather and present easy-to-digest marketing attribution data, like conversion tracking and influence, impression tracking, and path to purchase models, so you can understand what's working, what's not, and why - with pricing fit to your needs.