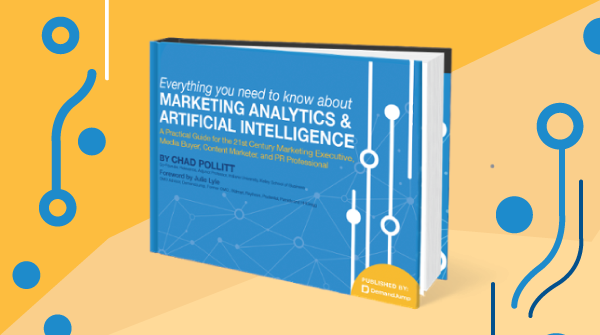 A Practical Guide for the 21st Century Marketing Executive, Media Buyer, Content Marketer, and PR Professional.
In this book, Chad Pollitt explains how artificial intelligence will impact all aspects of marketing. Not just its future use, either. The technology exists today to fundamentally disrupt all media channels and marketing. He does a deep dive into how all of these channels are impacted by the introduction of AI in one of our most fundamental tools – analytics. Former Walmart CMO, Julie Lyle, contributes the foreword.
The book explores:
How AI is disrupting marketing

The benefits of AI-powered analytics

Prescriptive attribution & content intelligence

AI's impact on earned, owned & paid media
It was written to be the only resource needed to understand how AI is and will fundamentally disrupt marketing, analytics, earned, owned and paid media.


Testimonials from top marketing and artificial intelligence experts!


"This book is a must-read for marketers who want to best position themselves for the future of analytics, attribution, and artificial intelligence. Pollitt expertly blends first-hand industry perspective with actionable takeaways to make this a truly useful guide. Download this one and take notes, folks! You won't regret it."

- Mark Schaefer, Keynote speaker, executive branding coach, marketing strategist. Podcaster, author of 6 books including KNOWN.
"Pollitt delivers practical, jargon-free insights into the current and future potential of artificial intelligence to impact earned, owned and paid media, as well as analytics. This is a great resource on AI for marketers!"

Paul Roetzer, Founder, Marketing Artificial Intelligence Institute