By embracing DemandJump's approach to SEO, we have been able to increase our organic rankings within just 2 weeks of implementing recommendations. This helped us see a 22% increase in organic search month-over-month.
DemandJump has become a crucial extension of our marketing team, providing game changing insights to fuel and propel all aspects of our digital marketing efforts. The DemandJump platform is a must have, we are seriously impressed.
We used to spend hours looking for insights in dozens of tools and reports. Now we log into one place to find out what customers are doing and how to meet them where it matters most.
We use DemandJump recommendations as our digital to-do list. We love going in and seeing the recommendations and knowing what to do next.
Trusted by Brands Around the World


Integrate with your Marketing Tools
DemandJump's full suite of integrations empowers your teams to understand the true effect of your marketing dollars across all channels.
Compare performance across platforms
Visualize cross-channel impact
Eliminate guesswork and save time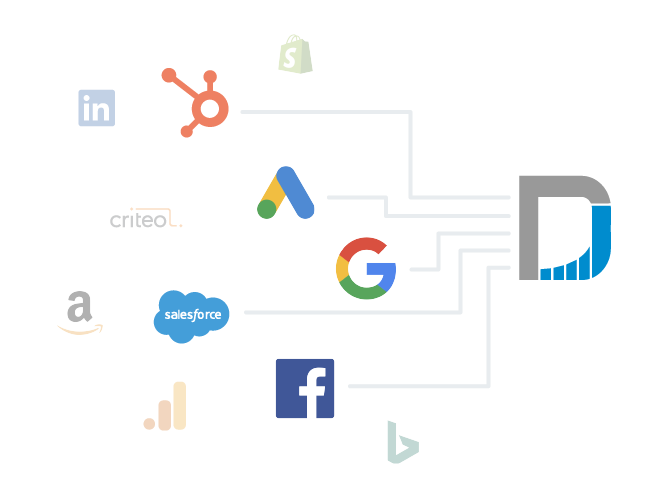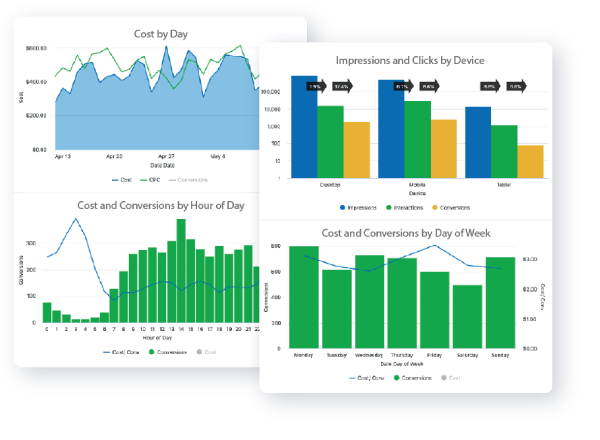 How can I measure my marketing performance?
You can measure your marketing performance by analyzing the data and metrics from all of your efforts. View reports, visualizations, and models that tell the whole story on your overall performance.
Customizable Reporting
Data Visualization
Performance Metrics
Data Modeling
How do I track the most important actions and events on my site?
Track the actions that make the most impact to your business. Once you know which events inspire consumers to buy, then you can scale your efforts in the right direction.
Event Tracking
Conversion Tracking
Website Analytics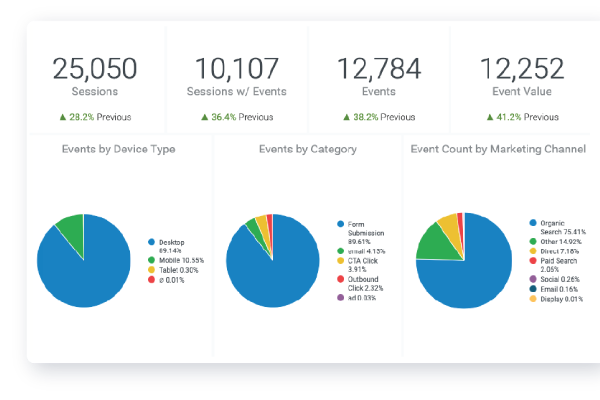 Get Free Consumer Insights Now
Cross-channel analytics gather, analyze, and visualize data from a variety of marketing channels in one place. By doing so, you can get the whole story of your customer's journey with your business. This is because consumer behavior doesn't happen in one siloed digital location. Before buying, consumers likely engage with your brand on social media sites, click on your display ads, navigate through your website, read and click on your emails, the list goes on. It often takes the help of more complex analytics tools to make sense of this behavior. That's where cross-channel analytics comes in to play.

This transforms raw data into business intelligence you can actually use with confidence. That's because you now envision how everything you do is interconnected in the eyes of the customers. And as a result, you now know what you do will further business goals.
Digital Analytics
To better understand cross-channel analytics, let's first explore some concepts:
What is analysis vs. analytics? An analysis involves separating a whole into its individual pieces. When you do that, you understand how those pieces work together. Furthermore, you can hypothesize how changing one of those components can alter the outcome like changing a variable in an equation.
On the other hand, analytics are the methods and tools you use to accomplish analysis.
That leads us to a digital analytics definition. Digital analytics are business activities that involve analysis of both quantitative and qualitative data in the digital realm. In most cases, it's the analysis of data collected from things that happen online (digitally).
Some digital analytics examples include:
Customer service analytics
Customer experience analytics
Digital marketing analytics
Sales analytics
Digital analytics in these and other areas support innovation, business growth, optimization and cost-savings because it allows your leadership team to make data-driven decisions to meet business goals.
Each digital analysis example answers important questions and guides your next-steps. However, one of the ongoing challenges with digital analytics has been the following quandary: The average business collects what some estimate to be 7.5 septillion gigabytes of data per day. But only a minuscule fraction of that data is used.
Gartner calls this dark data, "The information assets organizations collect, process and store during regular business activities, but generally fail to use for other purposes (for example, analytics, business relationships and direct monetizing.)
As a business leader, you may collect it in various tools and spreadsheets. Many departments collect different data and those departments may not be talking with each other. It's impossible to use wisely because no one sees the whole story.
Cross-channel analytics seeks to answer this dark data quandary by developing systems that do more than pull all of this data together, which would still take an eternity for one person to review. They make sense of it all, finding the connections, the overlap, and the redundancy so that you can work smarter in less time.
Now, you can actually use the data you collect. You have a clearer direction based on business truths.
Why Data Analytics Is Important
The data you collect can come from your consumer interactions. Sometimes they give you data directly like a name and email address. Other times, this is data you collect with permission per your privacy policy. This might include things such as search and order history for a specific person so that you can show them "items they may also like".
Yet other data sets are anonymous and/or collective. Some examples here would be the number of visits to your website, how much traffic you receive from Facebook, what time of day people are most likely to click your ads as well as demographics like age range, gender, city, and general interests.
Without data analytics, businesses are working blind. They end up making decisions based on "hunches" or "gut-feelings" that are built around perceptions, and even though perception is reality in many ways, it's not a sure thing to rely on.
Whenever you're making moves that are based on perceptions, you could be leading your company in the wrong direction. It's hard to turn a business, even a small business, around once it sets its course.
Data analytics ensures that you're basing your actions on reality. This generates the many benefits of data analytics, which include:
Clearer direction for the company
Less financial/time waste on bad decisions
Faster reassurance that you're on the right path through early indicators
Quicker course correction if you're not
Predictive capabilities
Faster growth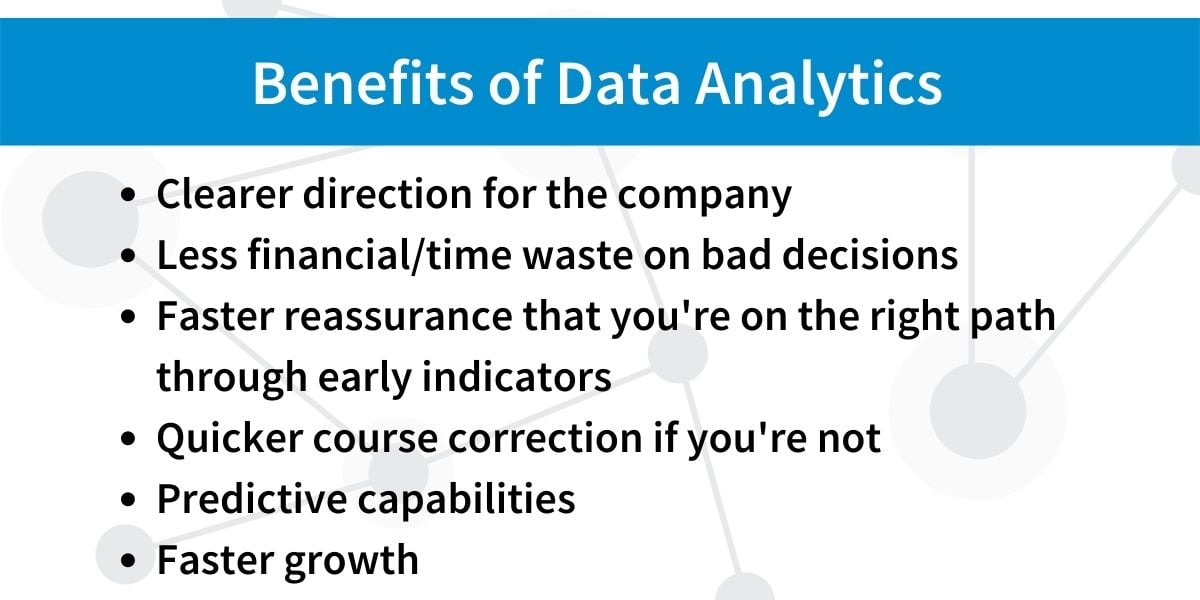 Let's look at a data analysis example.
Data Analytics Example
Imagine that your business has a three-star rating with 1,000's of reviews. You're losing customers as soon as they see that rating, they run for the hills.
You need to analyze what's leading to receiving bad reviews in order to improve your reputation. Relationship management analytics tools would focus on commonalities. In this example, they tell you that most people are complaining about shipping time.
Your first thought may be "Hey we might need to ship faster." But acting on that assumption would cause you to unnecessarily spend time and money to speed up shipping. Your data analysis is not complete.
Why are people complaining about shipping? You do a deeper data analysis and determine that:
It takes 6 hours to prepare an order, faster than the industry standard.
Your average delivery arrives in 3 days. That's not too bad.
Now, you know shipping time may not be the actual issue. But customers are complaining for some reason. You find that your website says "free next day delivery". Now unless you're overnighting every package, you've set an unrealistic expectation. Customers are reviewing you based on the fact that you're not meeting the standard you set.
That's easy to fix, and it will cost you a lot less than trying to speed up shipping when it's already running like a well-oiled machine.
Data Analytics in Digital Marketing
Data analytics are most important in digital marketing. That's because the role of digital marketing is to:
Target the right customers with the right messages at the right time with the right frequency in the right place (channel)
Increase brand awareness
Shape how customers see your brand
Shorten the sales cycle
Increase order value and frequency
Make customers feel connected to the brand
Deliver an outstanding customer experience
Understand the competition and outmaneuver them
Retain customers to increase the customer lifetime value
But how do you obtain data for analytics to meet business goals in these areas? You need the right analytics tools and systems in place to use that data. In order to do that, you need to build a strong cross channel analytics pillar within your company. A pillar holds everything up. It's the framework on which you can build a strong marketing strategy and company.
Digital Marketing
The average person spends over 6 hours a day online. If you want to reach your customers, online is the place to do it. The role of digital marketing is to reach your target customers online to meet business goals. Whether you're an eCommerce business or a brick-and-mortar, the average person now researches any company they plan to buy from online before buying.
What they find online is essential.
So what is digital marketing? It's the tools, strategies and marketing assets that a marketer uses to manage a business' online presence to spread brand awareness, generate leads, drive sales, and retain customers.
Digital marketing differs from traditional marketing in many ways. But one of the most vital is this: Digital marketing is the only kind of marketing that allows you to collect customer data, analyze it, and often act on it in real-time through advanced analytics techniques and digital automation tools.
When optimized, this gives you perfect timing to make more sales and delight customers.
Imagine trying to do that with a TV commercial or flyer. You don't have that level of control over who sees it, when, and what they do afterwards. Often you don't even know which advertisement led to the sale. It's all a guessing game.
But digital marketing that uses analytics isn't.
Social media marketing, email marketing, search marketing, content marketing...these are all subcategories of digital marketing.
Each of these, in their own ways, employs digital marketing analytics techniques to meet digital marketing metrics and ultimately, meaningful business goals.
For example, in content marketing, analytics help you understand which type of content:
Resonates with customers
Earns the most engagement
Generates the most leads
Leads to the most sales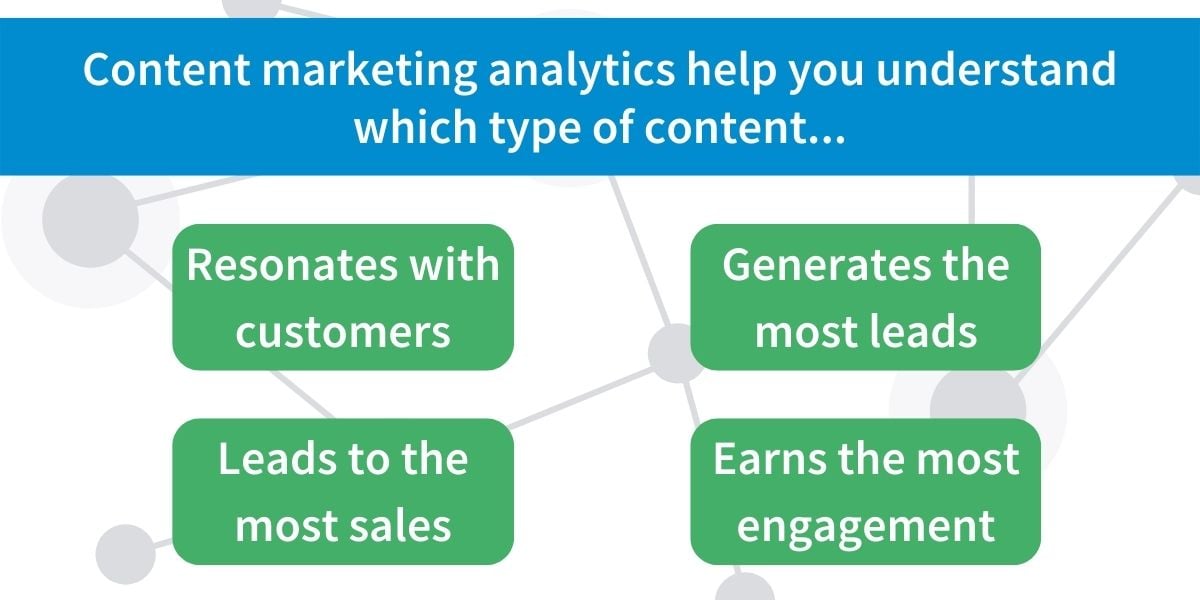 Now, we come full circle to cross-channel analytics. This content isn't all in one place. It's on various channels such as Instagram, your website, Pinterest, Influencer's blogs, emails, review sites and more.
You need a way to track content performance across all channels to get the whole story of how customers interact with your brand. You need to be able to attribute sales to specific marketing initiatives. Because a customer may interact with content on many channels before they buy something. But you need a unified way to see the whole picture at a glance.
That's what cross channel analytics delivers, and that's what leads us to big data.
Big Data
Big data refers to data sets that are so large or complex that they cannot be analyzed with traditional forms of analysis. These data sets often require the help of machine learning or artificial intelligence to draw any meaningful insights from.
Now we're working with 7 septillion gigabytes of data a day.
That's big data. It's more than a room full of humans could ever analyze in a lifetime. Data has gotten so big that the only way to actually make use of it is by developing big data analytics to do the work.
Data Analytics Tools
If you've never used data analytics tools, it's hard to imagine what's possible with big data. You really have to see some of these tools yourself. But we can share some basics you can do with digital marketing tools like these.
Some marketing analytics tools are free. Free data analysis tools include tools like:
Google Analytics
Tools provided by the various social media platforms
SmallSEOTools
Data analytics tools for digital marketing that have free versions but get much better if you buy them include:
Moz
Hootsuite
Buffer Analyze
Sprout Social
Let's take a closer look at how tools like these may inform your marketing strategies through big data.
Google Analytics
Google Analytics helps you understand things like where your website traffic comes from, what kinds of people visit your site, and what they do while they're there. You can also set up clearly defined marketing funnels in Google Analytics to track a specific key page's conversion rate.
Use these insights to:
Attract more of your target audience to the website
Improve the user experience on your website
Create more high-performing content
Build your presence of channels that direct the most traffic to your site
Fix leaks in your sales funnels
Buffer Analyze
This social media analyzer helps you make better social media marketing decisions. Track social media metrics to understand how people are engaging with your content, what kinds of people engage, and how frequently they participate.
Gain insights into how your social media efforts drive website traffic, brand affinity, and sales.
Not only does it gather data, as an advanced analytics tool, it makes actionable suggestions for improvement based upon what it uncovers.
It tracks your growth over time.
Moz Tools
Moz has a whole suite of useful Search Engine Optimization (SEO) tools to help you improve your visibility in search engines like Google. These tools analyze:
The health of your website and make actionable suggestions for improvement
Your online presence and present you with opportunities to expand it
The competitive landscape to understand how to reach more customers through search
Like many advanced tools, data is presented in the form of easy to understand charts.
Predictive Analytics
Predictive analytics involves gathering massive amounts of data that allow the tool to make predictions. Through predictive analytics, you can anticipate and proactively adapt to future:
Seasonal volume
Style preference changes (extremely important in fashion)
Changing customer preferences
Fraud and theft trends
Revenue attributable to today's marketing
Let's take a closer look at the last of these predictive analytics examples. Predictive analytics marketing can tell us the following about a revenue-generating ad:
How many people will see your online ad (impressions)
What percent will click the ad? (click-through rate CTR)
Of those, what percent will buy? (conversion rate)
What are they most likely to buy? (SKUs)
What's the average order size? (average order value AOV)
Now, here comes the predictive part. Since we know these things, we can anticipate:
How many new customers we'll generate if we generate X number of impressions
How much revenue those ads generate
How much and what we need to keep in stock to prepare for the predicted sales volume
How we need to staff customer care and other departments to manage those orders and shipments
Predictive analytics can also work in reverse. If you need to generate $XXX,XXX monthly revenues, you now know how many ad impressions you need to earn that.
Data Analytics Jobs
Because of the importance of data analytics to business, data analytics jobs are exploding. The Bureau of Labor Statistics (BLS) says that marketing analyst jobs are growing at a much faster rate than the job market as a whole.
These days nearly anyone in a marketing role needs to grasp analytics from the social media specialist to the content writer. But businesses also invest in business and marketing analysts.
Marketing data analyst qualifications generally include a bachelor's degree in marketing data analytics. But an MBA is definitely desirable.
For those interested in analytics but not ready to commit to going back to school, there are many online courses and certifications in various components of analytics. Some of these courses are free.
For example, Google offers several data analytics courses and certifications for website analytics, and HubSpot offers certification courses in social media, content marketing analytics in addition to dozens of useful classes. You'll find a digital marketing course for you out there.
Digital Analyst
What does a digital analyst do? Let's look at a digital analyst job description. Digital analysts use analytics techniques and tools to study marketing conditions, competitive landscape, consumer behavior, and business performance to help businesses meet their business goals like improving sales and customer experience.
The digital analyst salary with just a bachelor's degree is $63,120. Most digital analysts work full-time as employees rather than contract. To become a digital analyst, you need to have a specialization in digital marketing analytics tools and techniques.
Marketing Analyst
A marketing analyst may be responsible for both digital and traditional marketing analysis. Traditional marketing efforts might include TV ads, special events, in-store promotions, and focus groups. Then digital marketing would consist of social media, website, reviews, etc. By analyzing all of this data, a marketing analyst can help the digital and traditional marketing teams work together to meet shared goals.
In smaller companies, a marketing analyst job description may include leading a team of marketing professionals. In larger companies, it may be a stand-alone position that reports directly to a marketing director or CMO. You would then partner with a marketing manager who you would advise as they lead their team.
A marketing analyst salary is similar to that of a data analyst. However, because a marketing analyst has a broader scope than a digital analyst, they may be able to advance further in a company that invests heavily in both digital and traditional marketing. That means higher pay potential.
As a marketing analyst in a medium to large company, you may have a digital marketing analyst reporting to you.
Learning how to become a marketing analyst is the next step. You need a strong background and hopefully real-world experience in marketing and analytics.
Social Media Analyst
A social media analyst is a further specialization of a digital analyst. So a social media analyst job description would be a digital analyst who specializes in social media analytics. You review a social media analytics report produced by analytics tools. You then determine the direction your social media efforts need to take.
As a social media analyst, you might be on the same level as a search engine optimization (SEO) analyst and other specialized analysts.
In a smaller company, a social media manager and analyst may be the same person. But in a larger company, social media analyst jobs are likely to be an independent role, and you would advise the social media manager or social media specialists. You may report directly to the marketing director, CMO, or, in some cases, the Marketing Manager.
The social media analyst salary is similar to that of a digital analyst. To become a social media analyst, you need to understand social media inside and out.
When it comes to social media, you should ideally use social media personally to understand how different types of people, generations, lifestyles, etc. use social media. In addition, you need formal education that may involve a degree or certification courses.
Why Is Cross-Channel Analytics So Important?
A cross-channel analytics platform supports all of your digital marketing efforts. With it, you understand the customer's journey and the competitive landscape. You see what works and what doesn't, and you can work smarter to optimize and maximize your ROI.
You can compete in even the most saturated markets and set yourself apart in the digital world to generate more customers, more sales and more loyalty.
When you see the whole story, you make more data-driven decisions. You can set the course for more profits and continued business growth. DemandJump has designed a cross-channel analytics platform that brings all of your digital analytics into one place. You see the whole picture. Our tool provides you with actionable business intelligence. It takes the guesswork out of digital marketing so you can know exactly what to do next.
Contact us to request a demo. We'd love to show you a holistic view of your cross-channel marketing data.