Chief Scientist Tyler Foxworthy selected to TechPoint's Tech 25
by Brennan Walker, on August 4, 2016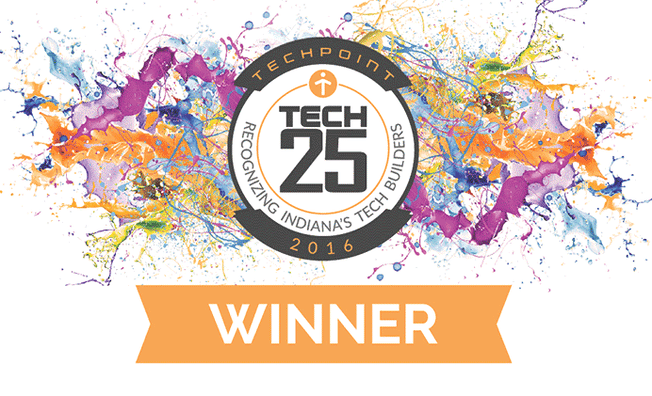 Since our Chief Scientist Tyler Foxworthy is being honored at TechPoint's Tech 25 tomorrow night we wanted to share a little feature on him. You can check it below.
Tyler Foxworthy does not have hobbies, he has professions. An acclaimed mathematician and data scientist, he is equally at ease performing Bach for solo violin or piano as he is with molecular gastronomy and other culinary fascinations. He is drawn to hard problems, in equal measure for the challenge and the aesthetics of an elegant solution.
Tyler is a native of Indianapolis and graduate of Purdue University, where he studied applied mathematics with a concentration in neuroscience and biomedical engineering under the prestigious full-tuition Bepko Scholarship. Following postgraduate research in neuroscience at the Indiana University School of Medicine, Tyler worked for two years as a research scientist at Indigo Biosystems where he developed novel algorithms for automated clinical diagnostics. At 24, he parlayed that experience to become both Chief Data Scientist and practice director at Katz, Sapper & Miller, the youngest to ever hold such a position.
Over the course of his career, Tyler has tackled problems in domains ranging from brain mapping and mass spectrometry to fraud detection and algorithmic stock trading. It's his latest move, however, that he is most excited about.
Owing to both its complexity and scale, the internet shares many functional and structural analogous to the human brain. When approached by veteran entrepreneurs Christopher Day and Shawn Schwegman to lead research and development at digital marketing technology software company DemandJump, he leaped at the opportunity.
According to Tyler, "Marketing is a directed process played out on the graph of the internet. Pattern formation, competitive dynamics, artificial intelligence… outside of neuroscience, digital marketing is once of the biggest playgrounds an applied mathematician could dream of. New and fascinating problems are arising literally every day."
At DemandJump, Tyler leads a team of data scientists and engineers in developing artificially intelligent systems for conquering the biggest problems in digital marketing using a novel mixture of graph theory, algebraic topology, and cutting edge machine learning techniques. The algorithms he and his team have developed are at the heart of every major product feature in DemandJump's platform, something unique among software companies at any scale, and resulted in a big win at the 2016 Mira Awards for Innovation of the Year.
"I think the biggest differentiator for us is that we do very fundamental research to understand the underlying phenomena in the data and find elegant solutions to problems in the general case. We only develop unsupervised algorithms, those not needing any human training or intervention. That is the only way to scale these systems to a level capable of providing value to all our clients," says Tyler.
A dedicated researcher at heart, Tyler regularly presents his work at international scientific conferences. He recently gave two talks this year before the Society for Industrial and Applied Mathematics annual conference in Boston.
As for what's next, " I want to continue to learn, and ultimately build systems that learn better than me on their own. It's an exciting road ahead."