Does DemandJump Offer PBM Certification?
June 14, 2022 •Allison Black
We do! DemandJump offers the first comprehensive PBM certification course through DemandJump University. But hold up—first, what does PBM training stand for? PBM is an acronym for Pillar-Based Marketing—a marketing strategy that's delivering incredible results and outcomes.
If you've been searching for PBM certification courses, you've come to the right place. Let's talk PBM, what it can do for you, and what you stand to gain from PBM certification.
What Is Meant by Pillar-Based Marketing?
Imagine a group of interconnected web content that helps you achieve more first page search engine rankings by answering your audience's most pressing questions—this is Pillar-Based Marketing. If you take away anything from that mouthful, the most important part of PBM is focusing on the needs of your audience.
This is done by publishing content that is based on keyword research relevant to your customers' needs. There are tons of ways to research keywords, but using our DemandJump platform is by far the easiest. With just a few clicks, you can pull complete Insight Reports that show where you rank in search engine results on any topic. And as a bonus, you can also see where your competitors are ranking for these same keywords, giving you a competitive edge.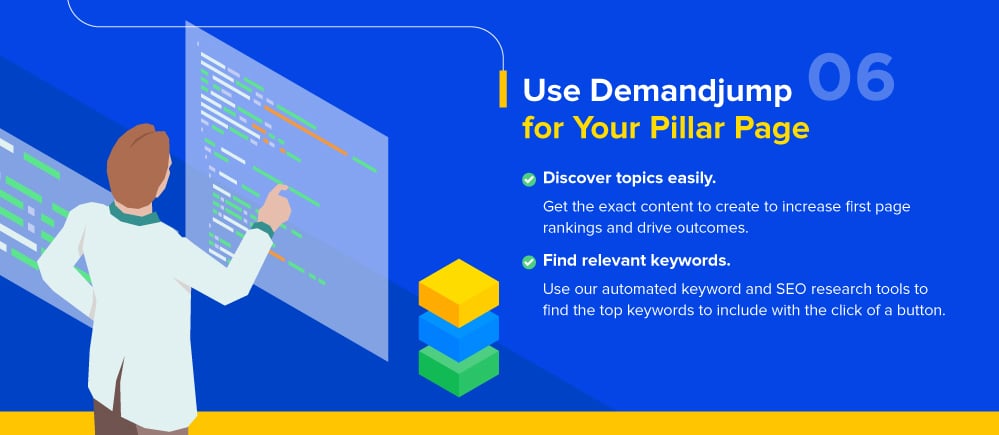 The "pillar" part of PBM comes into play with the types of content—pillar pages, sub-pillars, and supporting blogs.
A Pillar page will cover a broad topic in 3,000+ words. If you were writing a pillar page about PBM, for example, your pillar page might simply be "Pillar-Based Marketing." Pillar pages should also include 15-20 high value keywords.
Sub-pillars delve into a slightly more specific topic within the pillar page umbrella. These are 2,000+ word pieces with around 15 keywords. An example of a PBM sub-pillar might be "PBM Strategy Examples" or "PBM Marketing Strategy."
Supporting blogs are the shortest type of PBM content (around 750-1,000 words with 7-8 keywords), but they cover the most detailed topics and keyword questions that relate to the pillar. An example of a supporting blog topic would be "How Do I Start PBM?" or this supporting blog you're reading right now!
This is just the beginning of understanding PBM. Such a powerful tool has quite a few particulars to grasp, but we strive to make it easy for anyone to learn through DemandJump University's PBM certification.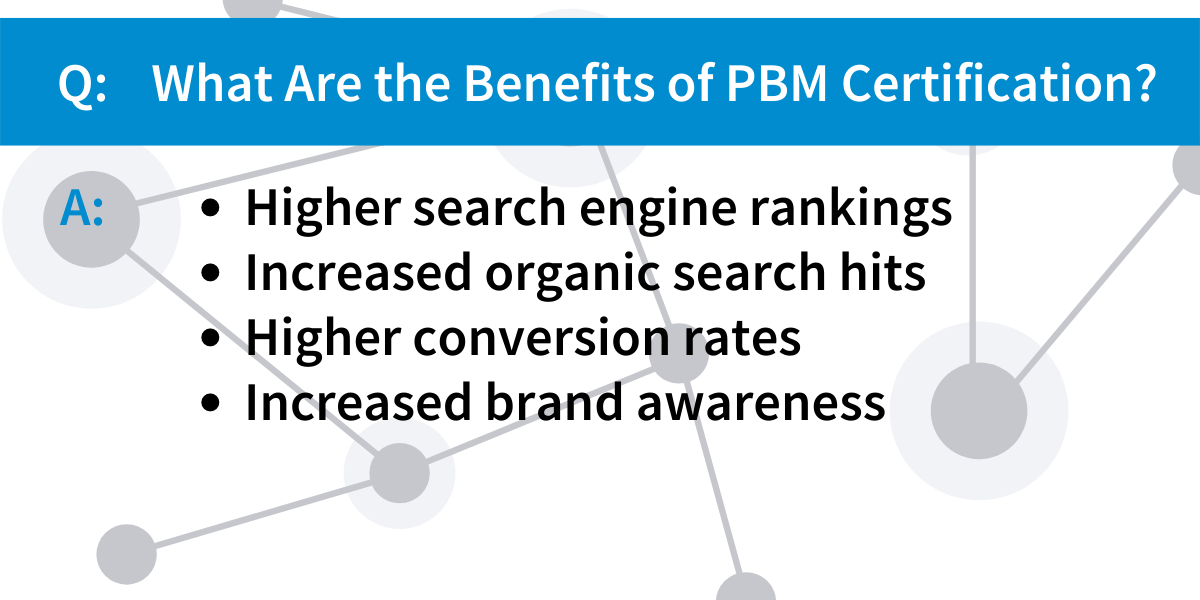 What Are the Benefits of PBM Certification?
The rewards of Pillar-Based Marketing certification are numerous. After learning how to properly wield a PBM strategy through a certification course, you can see benefits like—
Higher search engine rankings
Stronger customer relationships built on trust
Increased organic search hits
Higher conversion rates
The opportunity to become an expert on the issues that matter most to you and your audience
Increased brand awareness
We could go on. How does a successful PBM strategy accomplish all of this? By injecting human value back into sales. PBM is less about what you're trying to sell—although that's still important, of course—and more about what your customer wants to know.
What do we mean by adding human value? Consider this—pretend, for a moment, that you just woke up from a wild dream about battling an army of anthropomorphic donuts (hey, no judgment here, we've dreamt stranger things). Maybe you turn to your side, grab your phone, and sleepily Google "What is the meaning of a dream where I battle an army of donuts?" As the search results populate, you keep thinking about how weird that dream was, and you hope there's some kind of psychological explanation.
Yet as you peruse the first page of Google results—no one has answered your question. The first hit is about "What does it mean to dream about a donut?" That gives you a little information, but it still doesn't answer your question. You keep scrolling…"Top 8 Dreams About a Donut"...nothing specific there…"11 Soldier Dream Interpretations"...a little about battles, but how do donuts relate? You want to know why the donuts looked like humans, and why they had enough beef with you to start a battle.
Although we're using a very…unique question to make a point, this is a common search engine pet peeve. We have a particular question and need, but no one on the internet has answered the question. Or they kind of answered a semi-related question, but it still didn't meet our needs. Or, even worse, they sucked us in with a headline that looked like they would answer our question, but then the content is all about them and contains nothing of value to us whatsoever.
Now imagine your company being at the end of all those search engine queries, offering intelligent, well-cited answers to potential customers on a silver platter (but about topics that matter to your target audience, not donuts—or maybe donuts?). They see your name pop up again and again. You're always there, ready to offer helpful insight and advice. And when these customers are ready to buy whatever product or service you offer—you've got yourself an easy conversion. This is the power and benefit of Pillar-Based Marketing.
How Do I Start a PBM Program?
Currently, DemandJump University is the only Pillar-Based Marketing program that teaches how to research, build, and deploy PBM strategies. To start our PBM program, visit the DemandJump University welcome page.
Curious about what you'll learn? We'll cover all things PBM, including how to:
Set up a DemandJump account, for yourself and for any of your clients who wish to use the platform
Discover the best pillar topics to inspire your content and drive desired outcomes
Build a complete pillar strategy
Develop supporting content around each of your pillar topics
Measure and analyze your pillar results, as well as continuously improve those results
Once you've completed our Pillar-Based Marketing course, you'll walk away with the knowledge to implement your very own PBM strategy—plus a nice little PBM certificate to hang on your office wall.
Ready to get started? Join the PBM revolution today!