A search engine optimization (SEO) strategy is an essential component of any content marketing campaign. 85% of Americans use the internet everyday according to Pew Research. Without a successful SEO strategy, your chances of connecting with those users is nearly non-existent.
In this blog, we'll help you reach your audience by walking through a 6 month SEO plan and what your team needs to do during each month. Ready to take your SEO marketing strategy to the next level? Let's jump in!
How Do I Create an SEO Marketing Plan?
You can create an action plan with a six-month SEO roadmap template that takes you through each step, from evaluating your current position to creating and executing your new strategy and then evaluating results. What is an action plan in SEO, and what does it include? Here's a month-by-month breakdown:
(Month 1) Site Audit and Analysis: See where your site currently stands to know what your action plan needs to accomplish. Check for essential on-page, off-page, technical, and local SEO components (which we cover in detail in the next section). Also look for things like:

Indexing errors
Content quality
Mobile-friendliness
Navigation
Duplicate content
Once you know your website's weaknesses, you can begin to address them before you get into the nitty-gritty of your campaign.
(Month 2) Keyword Research and Pillar-Based Marketing:

Pillar-Based Marketing

(PBM) provides structure for your content by prioritizing related, interlinked clusters of content. Using DemandJump, you can gain insight into which topics will best support your Pillar. You can also discover which keywords will help your content show up for the most searches.
(Month 3) Content Creation and Optimization: With your strategy and topics picked out, it's time to start writing! Make sure you answer the questions people are searching for, include exciting images, helpful infographics, and persuade readers with strong calls-to-action (CTAs).
(Month 4) On-Page and Technical Optimization: This is when you can start publishing your content! When following PBM practices, you should publish all blogs within the same Pillar together. Get the most out of your publishing process by including meta descriptions, meta-text, and condensing file sizes to improve loading speeds.
(Month 5) Off-Page Optimization: With all of your content up and running, you can look for places outside of your website to promote your content. One of the best and easiest ways to reach your audience quickly is to post your newly published content on social media. You can also distribute blogs through an email newsletter.
(Month 6) Measuring and Tracking: SEO is a data-driven process. Use web analytics tools to see which pieces of content your audience is engaging with. DemandJump's platform analytics allow you to track your page rankings for different keywords, so you can see what's working and what isn't. From there, you can edit existing content and adjust your strategy for future Pillars.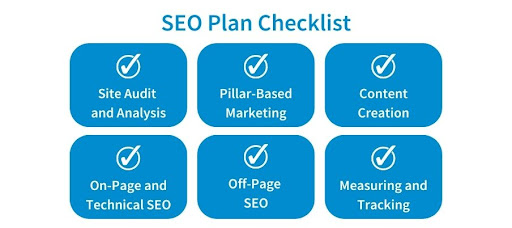 What Are the 4 Important Components in SEO Strategy?
The four aspects of SEO that every strategy should invest in are on-page, off-page, technical, and local. Here's what you need to know about each type of SEO to increase your chances for success:
On-Page SEO: This involves what's actually in your content. Including high-value keywords, internal links, and using headings and images effectively can all help your content connect with both human readers and web crawlers. Here's a hint to help get you started—use

DemandJump

to see which keywords matter most based on search volume, topic relevance, competitor rankings, and more!
Off-Page SEO: This type of SEO refers to what's going on beyond your website that impacts your rankings. Posting your content on social media, including external links to authoritative sources, and promoting your expertise through guest blogging opportunities can help you leverage off-page SEO.
Technical SEO: This is what's going on behind-the-scenes for your website. Having quick loading times, removing broken links, and reducing the number of redirect pages are all effective ways of getting technical SEO to work for you instead of against you.
Local SEO: This type of SEO helps you connect with searchers who want to find solutions in their area. Adding keywords that end with "near me" and setting up and actively managing a

Google My Business

profile can improve your local SEO.
An SEO action plan isn't complete without accounting for these essential components, so be sure to discuss them with your team to see the best results!
How Long Should an SEO Campaign Last?
An SEO campaign should last as long as you want to outrank your competitors. Why is SEO a long-term strategy? Because just like you, your competition is creating content with the intention of increasing their SERP rankings.
However, just because it's important to stay on top of your SEO strategy long-term, you shouldn't have to wait forever to start seeing results. According to Forbes, the average time it takes before you start seeing an increase in rankings is six to twelve months. At DemandJump, we've seen our customers notice significant results as early as the first week after publishing. For example, ZeroCarb LYFE, a no-carb no-gluten pizza crust producer, started seeing increased rankings in their first week and went on to experience a 126% page one ranking increase. You can read more about their recipe for SEO success here.

SEO is also a long-term strategy because you can keep seeing benefits from adding to and improving your Pillars as time goes on. In other words, SEO content is an appreciating asset. As you write more content and link it to your Pillars, you'll improve their SEO authority while attracting more readers, which will also help increase your rankings.
Jump into Action with DemandJump's SEO Plan Template!
SEO doesn't work until you do! With DemandJump, you can begin your journey toward the top of page one. Our insights and strategy planning tools show you how to map out your entire SEO content strategy. You can then use our keyword research and content brief tools to know exactly what keywords to use for each blog. Essentially, DemandJump takes the guesswork out of your SEO strategy, so you can take action.
With your DemandJump account, you'll also gain access to DemandJump University, where you can learn all about content strategy, writing best practices, and download our SEO plan template in Excel!
Get Your Free Pillar Strategy Preview!