How Do I Start a B2B Business with SaaS?
November 30, 2022 •McKenzi Moorman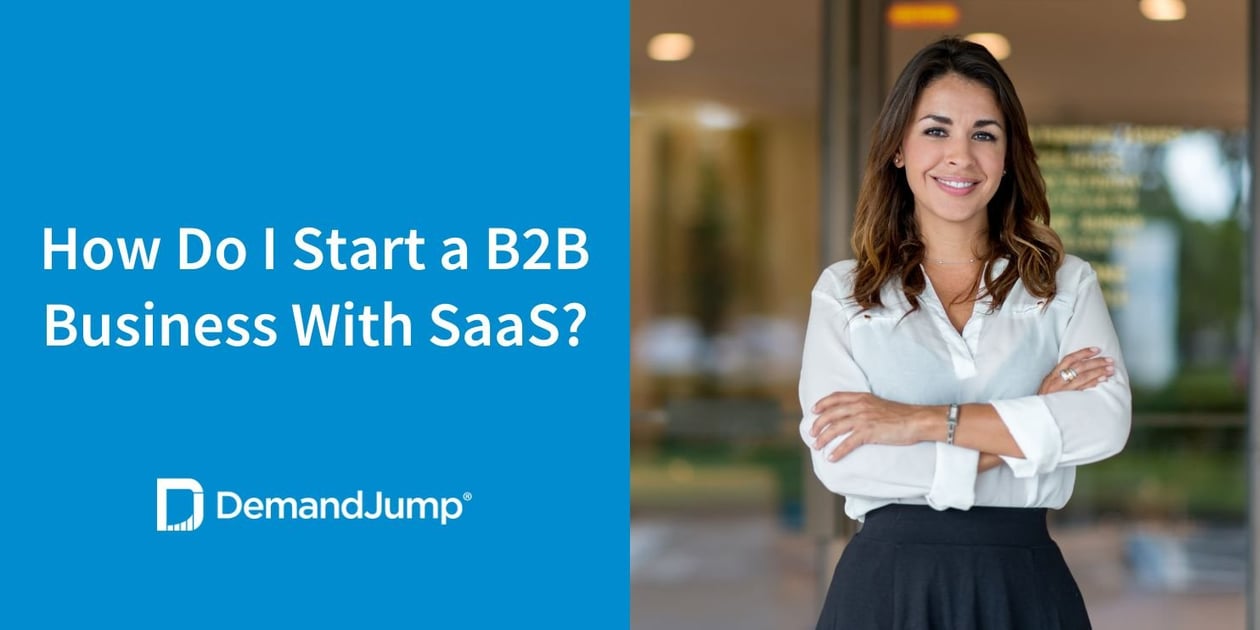 Do you have an idea for a business-to-business (B2B) Software as a Service (SaaS) company that can solve pain points in a particular industry? Great! Now it's time to actually get that business started. But where do you begin?
This blog goes through the process step by step to help you out, from possible SaaS marketing strategies to implement to ideas on what to consider when creating your B2B SaaS business model. Ready to get started? Let's go!
How Do I Create My Own SaaS B2B Business?
To create your own B2B SaaS company, you should follow these steps:
Come up with a solution. Think about what problems you've noticed in the industry you're interested in. How can you solve one of those problems? What kind of solutions are people in the industry looking for? To help guide you, talk to industry leaders about what your idea is and whether they think it would help them. Also look into potential competition. What are they doing? What could you do better? Come up with an idea for B2B SaaS software that will stand out against the competition.
Create a business plan. This is where you'll start figuring out the nitty gritty of your business. What will your business sell, and how will you sell it? Through a pay-to-use or a subscription-based method? What will you need to pay for, and how much will it cost? What steps will you take to build your business? Answering these questions will give you a solid business plan. Note that it doesn't have to be extremely lengthy at this point in the process.
Establish your brand. Your brand will not only help you differentiate yourself from the competition, but it will also allow customers to recognize you and build connections with you. It's more than just a name and logo, although that's part of it. You should also determine the tone your content will have and the values your business will stand for. These details will give your future customers a better sense of who you are.
Set up your business. It's time to make your business legal! Register your business name and create a business structure. Make sure to look into your industry's rules and regulations before you legally establish your business. Knowing these beforehand will make the process go a bit faster.
Acquire funding. To get your business off the ground, you'll need money. After all, you'll have to pay for a domain, putting together a marketing plan, developing a product from an MVP (minimum viable product), employees, etc. There are many options for you to acquire this funding, such as finding a business partner, pinning down investors, or getting a loan. Loans are available through commercial banks, credit unions,

the government

, and alternative lenders.
Build your product. When you're first building, begin with the basics. What is the bare minimum you want your product to do? Start there to get your MVP in front of customers. You can update your software once it's released. If you don't have the tech background, you'll need to hire a product engineer or some other developer to help you out. Try to keep it in-house in the beginning to stay within your budget and on your timeline.
Create a marketing strategy. Once your product is built, get it in front of your audience. Figure out who your product is for, and create advertisements and materials that they'd likely read and/or interact with. A good place to start is through organic traffic. Set up social media accounts and share information about your software there. Write blogs and eBooks that will teach—not just sell—your customers something. Comment on social media posts from other companies within the industry. Go to conferences to show off what your software can do. DemandJump is a B2B SaaS company that helps companies with creating a Pillar-Based Marketing strategy to help your customers find you.

8. Determine your KPIs. Once your business is off the ground, you'll have to decide how you'll measure success. Setting key performance indicators (KPIs) will help with that. Some common KPIs for B2B SaaS companies include churn rate, annual recurring revenue, and customer acquisition cost.
How Much Does It Cost to Start a SaaS Company?
Starting a business that does SaaS costs anywhere from $50,000 to $500,000. Costs vary from business to business, though. The average price for the bare minimum to start, such as website hosting, marketing costs, development, and design, is $12,272. Some factors that may affect how much you'll have to pay when starting a SaaS business of your own are:
Number of employees
Industry
Location
Marketing
Complexity of your software
Demand for your product
Domain name
The more customers you have, the easier it will be to manage the costs of your business. Having the right marketing strategy can attract those customers.
How Do You Market a B2B SaaS Product?
The best way to market your B2B SaaS product is to create content that your target audience would search for and find useful. And to do that, you'll need to understand what your audience is searching for. DemandJump helps with that. Our Consumer Insight Reports will show you which words and phrases your potential customers are searching for. From there, our platform recommends what kind of content to write and what keywords to include in that content to reach page one of search engine results.

You have an idea for a B2B SaaS business. Now it's time to get that business in front of people. Use DemandJump and attract the customers you're looking to help.