How Do You Cluster a Topic?
February 18, 2022 •Bret Sexton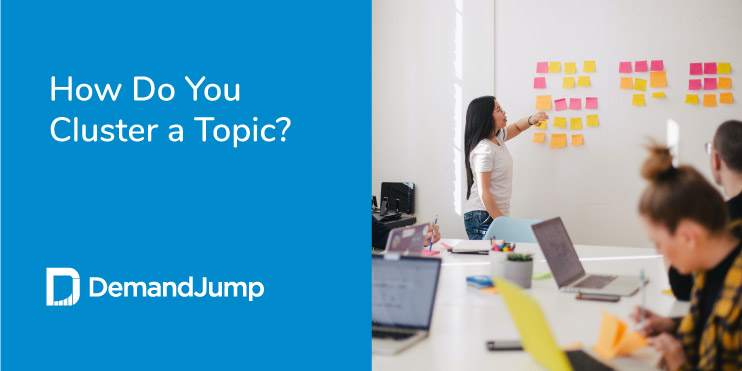 Today there is no shortage of content online. Everyone that is creating content is fighting to be the top result on the first page of Google. The first step to standing out from the crowd is conducting SEO keyword research to understand what your audience is searching for online. Once you know what keywords are ranking highly, you can start creating content clusters to outline what you will post online. The pillar to blog model is a tried and true content cluster example.
What Are Topic Clusters?
The short answer is a content cluster is a collection of related keywords that collectively links back to and covers a broad subject area. The clusters, which are a key element of the burgeoning SEO Pillar approach to content, provide context around the content pages in the same group. Without content clusters, strategy is reduced to guesswork. Collectively, content clusters work together to answer all of the questions that users may have about a specific niche or topic.
The clusters are built around a more extensive and robust pillar page that they will all link back to. These pieces will explore other common questions related to the pillar content and typically target less popular keywords. An example for topic clusters for a pillar about CRM could have a cluster about "best free CRM" or "CRM for small businesses". The clusters need to work in the pillar into their content to increase their overall search rankings.

How Do Content Clusters Strengthen SEO?
Content clusters can bolster SEO by communicating your knowledge on a subject to Google. These clusters show Google that your webpage has valuable content relevant to a specific subject. Since content clusters also target less popular keywords, your page will start to rank for topics closely related to the pillar content. This means that if someone does not Google your organization or something your organization has put out, they can still find you thanks to your content clusters. There are some clear goals that content clusters are put in place to achieve.
Build credibility on topics for Google to recognize your site as an expert in your industry
Assess the overall performance of the pillar content to find more competitive keywords
Increase search traffic for long-tail and lower volume keywords
How Do You Create an Effective Topic Cluster and Pillar Page?
Content clusters are only able to reach their full potential when they can link back to the pillar content. In order to understand how to create effective clusters, a robust pillar page or pages must be crafted.
A pillar, which is the backbone onto which topic clusters connect, and covers every aspect of the topic in one page is the foundation. While covering a large amount of information, these pages need to leave room for the content clusters to fill in the gaps. The pillar pages need to be comprehensive, which works in their favor when it comes to SEO. In September of 2021, Google announced that they now have the technology to understand how people typically explore topics. Google does not look at individual pages anymore; it now considers multiple pieces of content together.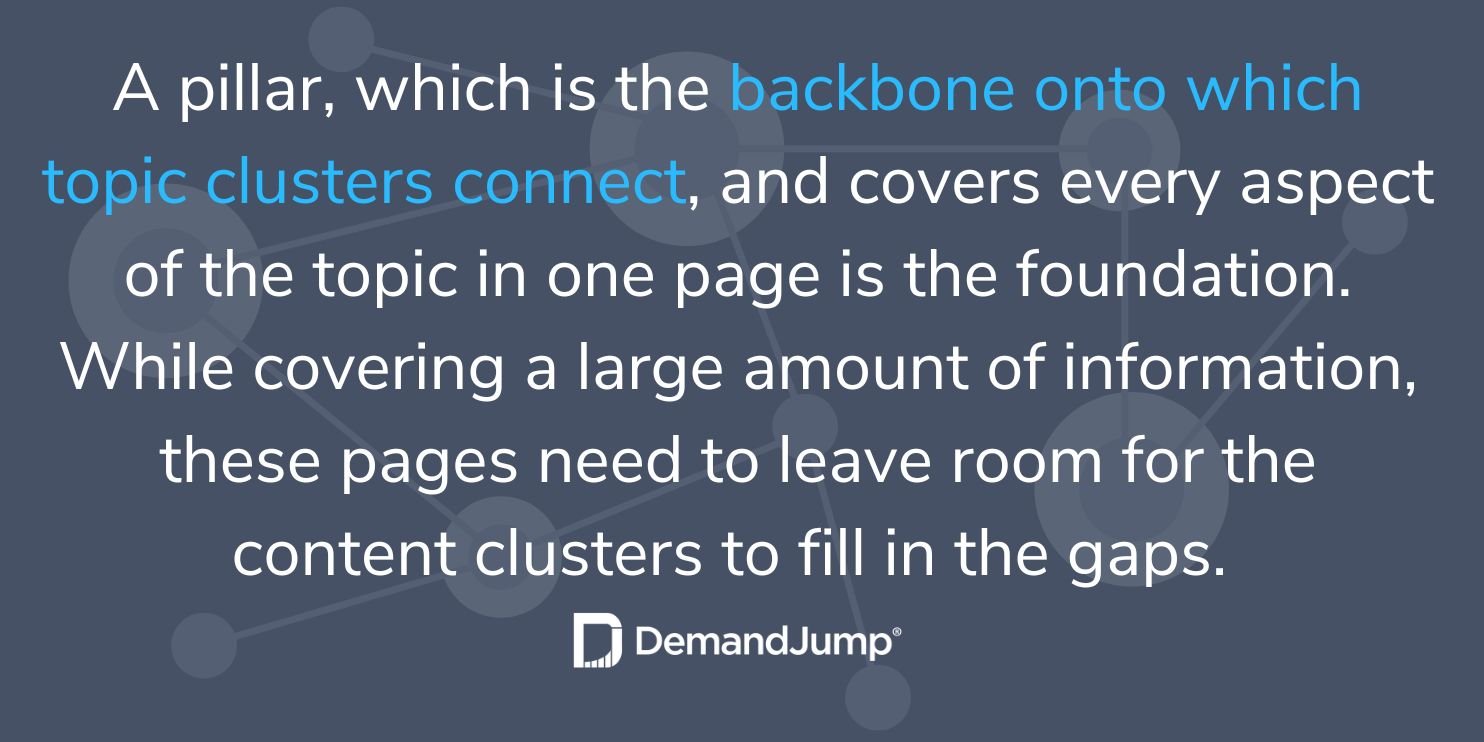 Once a core topic and pillar page or pages have been decided upon from your team's research on the topic, the work on topic clusters can begin. The first step is to perform what is called a content audit. This is done by cataloging all of the blogs, whitepapers, case studies, or any other content that you already have. Then, you will build the clusters around the common topic or theme. The next step will be to look for any gaps that your clusters do not cover and create the content necessary for that content. Now you have your pillar pages and content clusters ready to publish.
Topic Cluster Tool
There are many tools available to help with SEO, topic clusters, and pillar content today. However, we would be remiss if we did not mention the proven effectiveness our platform offers. DemandJump offers an SEO content strategy template that can provide you with a prioritized list of all the content you need to create in order to rank at the top of Google search results.
Dominate The Web With DemandJump
By partnering with DemandJump, you will be able to rocket to the top of Google search results in just three simple ways:
Our technology eliminates the guesswork for creating your content strategy.
Our automated SEO keyword research will provide you with what you should include in every piece of content you write.
You write and post content based on our research and watch your search traffic start to climb.
Get started creating content that ranks today!
Get Your Free Content Marketing Strategy Report