How Do You Create a Marketing Strategy for SaaS?
November 2, 2022 •Shannon Elward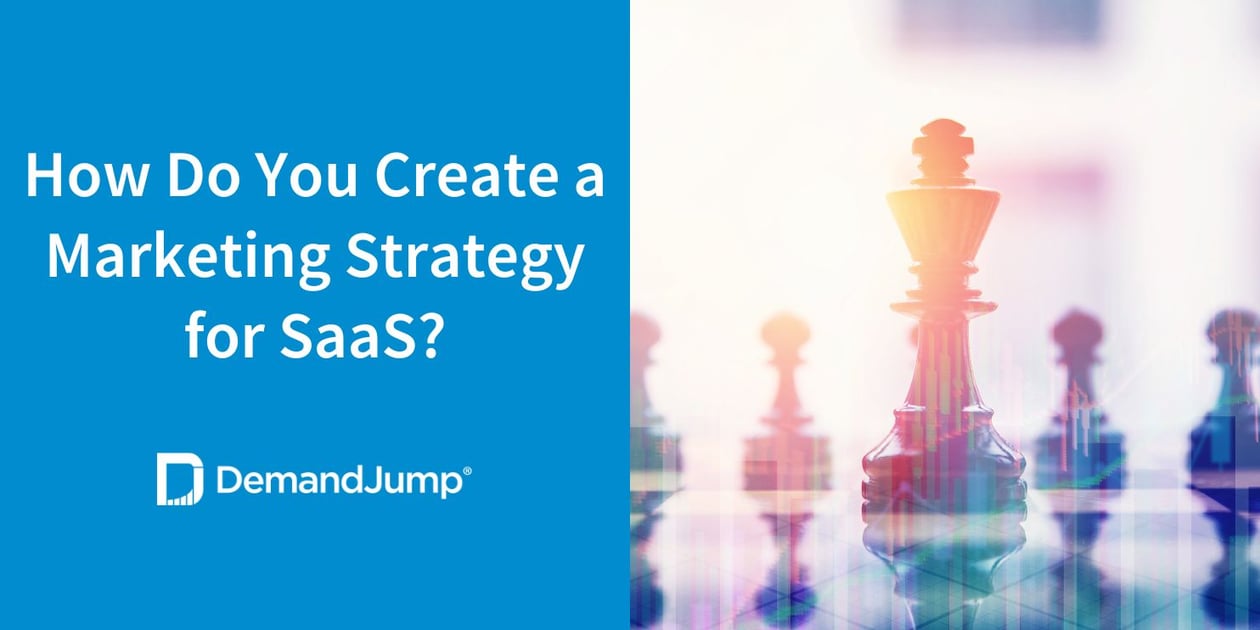 Marketing is a lot. From paid and organic social media to search ads to writing and developing effective images—you've got a lot on your plate. For Software as a Service, or SaaS marketing, you also have to consider the whole customer journey, from prospects to existing customers. Afterall, your objectives likely include boosting leads and keeping current customers engaged in your platform. What's the best way to keep track of it all? With a SaaS marketing strategy that acts as a guide, showing you everything you need to know to create effective campaigns that meet your goals and objectives.
In this blog, we've put together a SaaS marketing strategy example so you can stop asking, "How do I create a SaaS marketing plan?" and get started building your own.
What Is a SaaS Marketing Strategy?
At a high level, a SaaS marketing strategy is like any other marketing strategy: it's a plan of action for how to promote your product to your target customers across the full customer journey. It tells you who your ideal customers are, where to market to them, what kinds of campaigns to run, and how to differentiate your product from your competitors. All of this is true whether you're marketing SaaS products, tangible goods, unique services, or anything else you could think to sell.
However, for a B2C or B2B SaaS marketing strategy, that's not the full picture. SaaS marketing is a different beast, and you've got to understand why and how it's unique to develop an effective marketing plan. SaaS products aren't tangible, so selling them requires a certain level of education for your prospects.
What's more, SaaS products aren't just intangible, they're also digital. That means they're almost exclusively marketed online. Embracing the myriad of digital channels available, along with things like content marketing, is a critical component of meeting your prospects where they are.
What Are the 6 Parts of a Marketing Plan for SaaS?
Developing a SaaS marketing strategy for 2022 and beyond will be different for every company. Your target customers are different, your products are different, and all of that should inform your marketing plan. But at a high level, your strategy should follow six basic steps.
1. Define Your KPIs
Any good marketing plan includes SMART goals—those that are specific, measurable, attainable, relevant, and time-bound. Before doing anything else, it's important to define your key performance indicators (KPIs) and objectives. Is your goal to boost marketing qualified leads (MQLs) by 20% year over year? Are you looking to reduce your churn rate by 5% for existing customers? Define clear goals that allow you to better measure success.

2. Know Your Customers
Take a deep dive into your prospects and target customers. Who are your ideal customers? Where do they spend time online? What are their pain points? What are decision makers' job titles? Uncover as much information as you can about your prospects. Resources like buyer personas and ideal customer profiles are invaluable here, but so are your sales and customer success teams. They interact with prospects or current customers daily and they likely have insights to share.
3. Understand Your Differentiators and Your Competition
Define what makes your platform unique. What key features does your platform have that your competitors don't have? What pain points are you solving? How is your competition marketing their product, and how does that inform your own strategies? With thousands of other SaaS platforms, your ability to stand out from the crowd could be a game changer.
4. Choose Your Distribution Channels
Next, you need to decide where you'll run your campaigns. Most B2C and B2B SaaS marketing plans include posting content on their own website—like blogs, white papers, or webinars. But you also need to consider inbound and outbound marketing channels like social media, email marketing, paid search, and more. For social media marketing in particular, it's crucial to consider where your audience spends their time online. The best B2B SaaS marketing campaigns often include LinkedIn. But B2C businesses targeting younger audiences may have better luck on TikTok. In short: take your marketing to your audience and use several different channels to get the word out.

5. Explore Different Types of Marketing
Once you've chosen your channels, you need to consider what tactics you'll use. Of course search engine optimization (SEO) is key to improving your rankings on Google. Content marketing and Pillar-Based Marketing are essential parts of ensuring your website and blogs are optimized for your audience. For SaaS companies, freemium subscriptions are also a great strategy. Getting users in the door and using your platform is an excellent way to show them just how valuable it is. And, you can use email drip campaigns to keep them engaged once they've signed up. Understand how your marketing tactics inform one another to build out campaigns along the full customer journey.
6. Choose Your Tools
Finally, you've got to choose your tools to get started. Will you use Google Analytics to track web traffic? What email marketing platform will you use to build out robust, impactful campaigns? Or, what SEO tool will you use to ensure your content is properly optimized for the web? Take DemandJump, for example. Our platform is the number one marketing strategy platform that shows you the exact keywords and phrases to use to increase your first page rankings and drive outcomes. We automate keyword research and competitive analysis to make it easier and more efficient to take your content marketing to the next level.
DemandJump: Take the Guesswork Out of Content Marketing
At DemandJump, our platform was built by marketers, for marketers. We understand how much you're juggling, and our product is designed to make content marketing and SEO simpler. With DemandJump, you gain access to the tools you need to perform keyword research, develop pillar strategies, write great SEO-optimized content, and see how you stack up against your competitors.
If you're ready to see how DemandJump can jumpstart your marketing strategy, try it free today!