Creating a successful Software as a Service (SaaS) business model requires significant research, time, money, and hard work. Don't let that scare you off though—SaaS growth rates are quite promising, and young SaaS companies can easily reap rewards from the high demand in this market that only continues to grow.
The SaaS market, in general, is projected to have an estimated worth of $208 billion by 2023 (up from $152 billion in 2021). It's also slowly taking over the broader enterprise software sector, from 2% market share in 2009 to 23% in 2019, with more companies transitioning to SaaS every year. The world of software creation is realizing—SaaS marketing is where it's at.
Looking to take advantage of this healthy market with your own SaaS business? You'll first need to determine if you're creating a B2C or B2B SaaS business model (that is, business to consumer, or business to business). Once you've figured that out, you can move on to issues like revenue models, competitor analysis, SaaS marketing strategies, and so much more.
So, what are the different SaaS business models, exactly? And more importantly, how do SaaS companies make money? It can all be a bit overwhelming for those new to business creation and SaaS. So let's get back to the basics.
How to Build a SaaS Business Model 101
Every SaaS business model will be unique based on the pain points your solution solves and your target audience. Here are the basics steps to help get you started.
1. Define Your Mission
Why does your SaaS product matter? What does it offer to the world, who is it for, and what problems does it solve? You need to settle on a cohesive mission and vision before taking any further steps. If you're not sure where to start, try filling in the blanks on this brief exercise: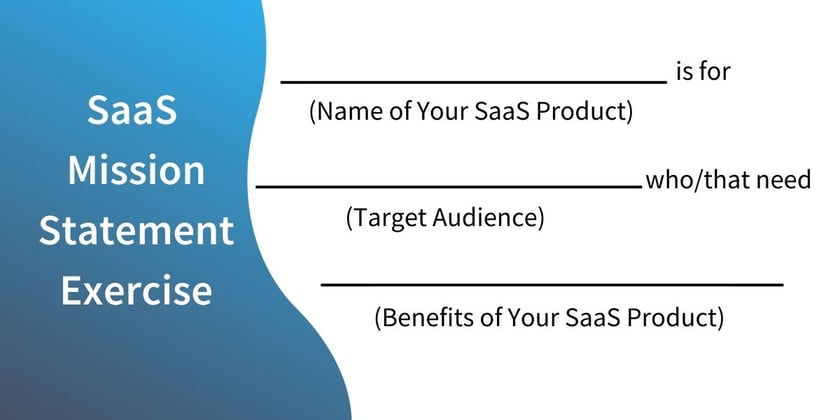 For example, if you offer a B2B email marketing SaaS application called "BlackBelt Emails," your mission statement might be something like, "BlackBelt Emails is for businesses that need to connect with prospects and customers via expert email marketing."
2. Research and Analyze
Cutting-edge SaaS relies on innovative technologies like machine learning, artificial intelligence, automation, low code/no code platforms, and many other developing trends. To make your SaaS useful in this space, you need to be well-versed in this tech and how your target audience uses it in other SaaS products.
A good place to start is checking out your competition. What do their business models look like? Consider how they serve the audience you want to reach and pinpoint their shortcomings. If your SaaS delivers in all the areas where your competitors fall short, you'll increase your chances of creating a sought-after SaaS solution.
3. Choose Your Revenue Model
Now is the time to answer the big question—how will you monetize your SaaS? Most SaaS products offer a subscription service, meaning users pay for access to the software on a regular basis (usually monthly or annually). You can also build in these other models to boost your revenue stream, like:
Freemium - This is a free version of your SaaS that gives users a taste of what your product can do for them. To make gains from this model, you must use your freemium version to incentivize customers to upgrade to a paid version with more comprehensive features.
Free Trials - Similar to a freemium model, free trials allow customers to see what your SaaS can do for them before they commit to being a subscriber. Most of the time, free trials give you all of the features to try rather than only a few like freemium would.
Free Product with Paid Services - You can make your SaaS entirely free and instead earn money from offering supporting services that use your SaaS. For example, if you offer a social media management platform for free, you could earn revenue via paid services like social media content creation or guidance on the latest trends.
4. Decide on a Cloud Provider, Tech Stack, and Integrations
This is where your SaaS product really starts to take shape. To start, you'll need to pick a cloud provider, as most SaaS is cloud-based. What is an example of a SaaS company that provides these services? Amazon Web Services (AWS), Microsoft Azure, Google Cloud Platform, and Oracle are some of the top cloud infrastructure and platform services, according to Gartner.
Next comes your tech stack. Which technologies will you use to create and support the frontend and backend of your SaaS? The software you select should offer easy scalability, quick delivery, and maintainable coding for the years to come. And for those offering B2B SaaS, your tech stack must consider third-party integrations, as most businesses want to connect their enterprise applications and tools into a seamless ecosystem of productivity.
5. Create a Minimum Viable Product (MVP)
Ideas will only take you so far in planning your business model, which is where an MVP comes into play. An MVP is an early version of your SaaS application with some of the basic features fleshed out. It's essentially a test run to see if your product will actually function and serve its intended purpose.
This is vital when creating a SaaS business model, as MVPs can help mold your concept and reveal holes in your planning. It's also the best way to prove your idea to investors, which will shape how you plan to fund your business model. Any feedback you receive from your MVP will fuel further upgrades, developments, and any necessary changes.
6. Revisit Your Business Model Often
You will inevitably face challenges and changes on your SaaS journey, which is why you must consistently revisit your business model. Perhaps a new software comes out that greatly reduces the backend costs of your SaaS. Or maybe your target audience starts to change as the years go by. Stagnant business models simply won't do in a constantly evolving world, so make sure you're updating and futureproofing your solution to get ahead in the market.
How Do I Market My SaaS Company?
Once you have a functioning product, it's time to get it out into the world. Most SaaS marketing will focus on various digital channels, like social media, emails, videos, pay-per-click, etc. The other popular method of getting your SaaS noticed is via content marketing.
Content marketing is a way to share your SaaS solution by providing relevant web content that is valuable to your audience. For example, if your SaaS is focused on supporting human resources, you can create content based on helpful topics like tracking employee work hours, automating payroll, or streamlining hiring and onboarding. Then, when your target audience is searching the web for human resources tips, your name will pop up again and again, offering answers they need and how your SaaS can help.
However—around 90% of website content is never read. So how do you get your SaaS company recognized in this content-saturated market? That's where DemandJump comes in.
DemandJump is the number one content marketing strategy platform that shows you the exact content to create to increase first page rankings and drive outcomes. We've seen many of our SaaS customers go from zero first page rankings to dozens in a matter of weeks, not months. Try it for yourself today!
Get Your Free Pillar Strategy Preview!