If you work in marketing, you know just how important search engine optimization (SEO) is. In fact, sometimes it can feel like that's what the entire world of marketing revolves around. There's a reason for that: 68% of web traffic starts with a search engine. If you want people to visit your website, you have to rank highly in search engines. SEO gives you that extra oomph you need for consumers to find you.
Creating an effective SEO strategy will make all that SEO you've learned about work for you. What is an SEO strategy? It's the plan you create to rank higher in search engine results and boost organic traffic to your website. To get you started, we at DemandJump have created this guide with more in-depth information on what one of these strategies is, what to include in one, and what an SEO marketing strategy example looks like. Let's get started.
What Are the Elements of a Good SEO Strategy?
When trying to create a successful SEO strategy for digital marketing, you'll want to include all 4 components of SEO: on-page, off-page, technical, and local. The elements of each are as follows:

On-Page SEO
This type of SEO refers to anything that people can see on your website. When you focus on on-page SEO, you'll spend most of your time working to create quality content. These pieces of content shouldn't stand alone. Rather, create a content cluster, or pillar strategy, so that you have several related pieces of content. Doing so will establish your company as an authority on that topic. Include keywords in each piece of content. These keywords should be real phrases and questions that your customers ask (with DemandJump, you can find these keywords easily). The on-page portion of your SEO strategy should also include infographics and images that grab the audience's attention and provide useful information.
Off-Page SEO
This type of SEO refers to practices that drive readers to your website from other websites. You might drive off-page SEO in a few ways. For one, you might take advantage of social media platforms. Posting about new products or services or even sharing new pieces of content in your posts can encourage people to visit your pages. You might also guest write for other blogs or publications where you can link back to your own website.
Technical SEO
This type of SEO refers to all that behind the scenes stuff on your website that makes it easier for readers to use it. Think actions like improving load speeds, making your pages mobile-friendly, and ensuring uniformity across your website. Search engines will rank user-friendly websites higher than those that aren't.
Local SEO
This type of SEO refers to strategies to boost your rankings in search results that occur in your company's geographical area. Basically, you want to make it easier for locals and travelers to your area to find you. You can start by creating and regularly updating your Google Business Profile. Include information like:
Hours of operation
Address
Web address
Customer reviews
You can also use location-driven keywords in your content, such as "restaurants in San Diego" or "pest control near me."
Now that you have an idea of what elements to include, it's time to put it all together and start creating your own strategy.
How Do You Create an Effective SEO Strategy?
To create an effective SEO strategy, you need to start by setting your goals. Doing so will give you a clear focus for the rest of your plan. Some goals you might set for your strategy include:
Increasing organic traffic to your website
Getting readers to stay on each page longer
Creating more leads
From there, you'll want to build the structure for the rest of your strategy. That means figuring out who will work on it, what they'll work on, and when you aim to complete tasks by. Note that the scope can change some as you start to implement the strategy. You may notice, for example, that part of your plan isn't working as it should or that you need more staff working on it than you thought. It's okay to make these adjustments as you go. In this part of the process, you may also decide to analyze your competitors to figure out what they're doing well that you might want to try.
After that, you'll want to make your pillar strategy. At this point, you'll want to decide exactly which pieces of content to write and what keywords to include in each. With DemandJump, you can easily create a Pillar Strategy. Simply type in the topic you want the content to center around, and then our platform will give you ideas for titles of content. Our platform will also generate content briefs chock-full of keywords you can use in each piece of content.
Then, you write, edit, and publish your content. When writing, make sure to write clearly and concisely. Stick to your brand's voice throughout each piece of content, and include images, bullets, headers, etc. to break up long chunks of text. Remember, too, that your content shouldn't be too salesy. Rather, it should work to educate your audience on a topic somewhat related to your company and what it does. You can save all that salesy stuff for the Call to Action at the end.
Don't forget to promote your content once you've published it! Then you can start the process all over again.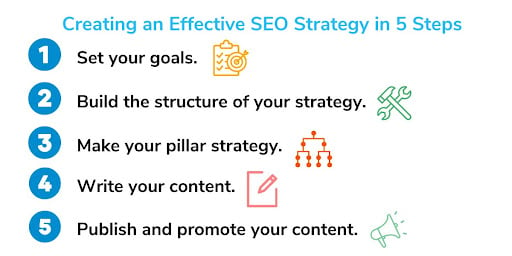 Improve SEO Strategy in 2023 With DemandJump
If you want to see how SEO can help with your digital marketing strategy, you need to start with on-page SEO. That means you need to start with creating content. DemandJump makes getting started easy. No more staring at a blank page trying to figure out what to write. When you use our platform, you'll get recommended titles and keywords to get the ball rolling. And all our data is based on real searches, which means what we suggest is what your readers are actually searching for. Sign up for an account, and get started on your SEO strategy today.
Get Your Free Pillar Strategy Preview!