How Do You Create an Effective Topic Cluster and Pillar Page?
April 26, 2022 •Clare Sheehan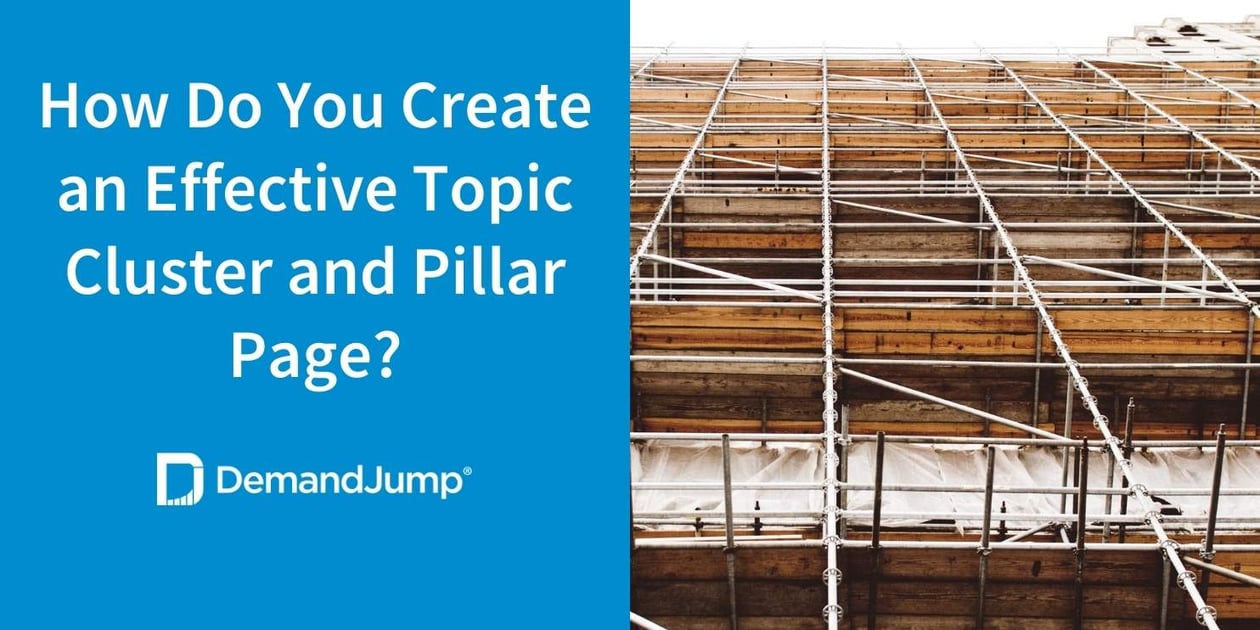 In recent years, content marketing and search engine optimization (SEO) have experienced a dramatic evolution. Google's algorithm no longer views content in isolation from the rest of your website. Instead, Google ranks sites that have established authority on specific subjects. This shift has allowed Google to deliver increasingly accurate and credible search results to its users, but it also means that businesses need to adapt.
Gone are the days of keyword stuffing and mere guesswork. To reach page one, a company's content should be organized via an internal link structure designed to establish topical authority. This is where topic clusters and pillar pages come into play.

The topic cluster and pillar page are the foundations of an SEO pillar strategy. A pillar strategy doesn't mean you simply write more content. It's about creating a network of targeted content that is perfectly aligned to actual user behavior.
In this blog, we'll discuss how you can adopt the topic cluster and pillar page SEO strategy to enhance your topical authority and jump to page one.
What Is a Topic Cluster?
A topic cluster, refers to a topical collective of content on your website that is relevant to your target audience. Each piece of content in the cluster network is hyper-linked together, indicating to Google that your site is an authority on your chosen pillar topic.
What Are the Main Components of a Topic Cluster?
The main components of a topic cluster strategy include:
Comprehensive pillar pages that broadly discusses overarching cluster topics.

Sub-pillars that discuss less-broad but still fairly general topics related to the pillar.

Blogs that cover ultra-specific topics related to the pillar and sub-pillars.
Here are a few topic cluster examples to help you visualize:
Topic: Tacos
Pillar 1: How Do You Make the Perfect Taco?
Sub-Pillar 1: How To Make the Best Taco Meat
Blog 1: Authentic Taco Recipes
Pillar 2: Taco Toppings
Sub-Pillar 2: The Best Cheese To Use on Tacos
Blog 2: What Are the Best Taco Seasonings?
Topic: Guitar History
Pillar 1: Who Makes the Best Guitars?
Sub-Pillar 1: Best Guitar Players of All Time
Blog 1: How To Tell if a Guitar Is Well-made
Pillar 2: Unique Guitar Designs
Sub-Pillar 2: Famous Guitars
Blog 2: New Guitar Design Trends
What Is a Pillar Page?
As we lightly referenced in the above section, the pillar page is the most comprehensive piece of content in the cluster. Your pillar page functions as an in-depth resource on your chosen pillar topic, and covers key points your audience wants to learn about in 3,000 words. Every piece of content in the cluster will hyper-link to the main pillar piece, creating a thriving content ecosystem.
How Do You Create an Effective Pillar Page?
Choosing the right topic and keywords are the most essential steps to get right if you want your pillar page to retrieve the best SEO results. When it comes to choosing a topic, you should narrow down exactly what you want to rank for. The process of identifying the right pillar topic looks different for everyone, but your chosen topic should always align with what your target audience is searching for. One way of determining what topics your audience is interested in is by combing through Google to see what your competitors are ranking for. Or you can sign-up for DemandJump and we'll do the work for you.
Once you have decided on your pillar topic, it's time to conduct thorough keyword research. This research will inform every part of your SEO pillar strategy. When choosing keywords for your pillar page and other content pieces, you need to:
Identify which keywords your competitors are ranking for.

Evaluate the competitiveness of your keywords.

Calculate the search-volume of each keyword.

Determine if your chosen keywords will lead to conversions.
This may seem like a lot of work, because it is. Conducting manual keyword research is extremely time-consuming and often leaves too much room for human-error. Happily, this is where we come in. Our content creation platform uncovers the exact topics and keywords that are exactly what your audience is looking for. Here are just a few examples of what DemandJump has to offer:
Generate a blog, sub-pillar, and pillar page outline for any topic.

Discover which keywords to include in each section of your content.

See exactly what your target audience is searching for.

Observe how well your content is performing and identify additional opportunities.

Benefit from direct insights into the revenue impact of your content.
DemandJump, Creating Page One Content With Ease
Using the right tools makes all the difference when it comes to creating an effective topic cluster content strategy—saving you time and generating better results. DemandJump's platform is an all-in-one content creation, keyword research, and topic cluster tool built to optimize SEO results.
In simple terms (probably too simple) our platform is designed to replicate millions of searches giving you a complete picture of what your audience is searching for, where your competitors rank, and what you can do to build greater web-authority.
DemandJump is at the forefront of the pillar strategy revolution. Ready to join us on page one?