How Do You Create Content Pillars?
February 18, 2022 •Andrew Gold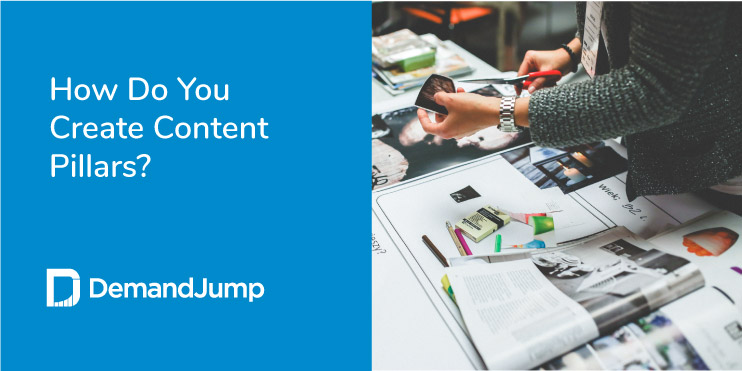 If you work in the digital space at all, you are probably familiar with the notion that "content is king!" While there is some truth to this idea, the entire truth is that not all content is created equal, and some might not be part of the royal family at all. Over 90% of all content created is never viewed. That means millions of blogs, billions of hours of work, and thousands of peoples' time is all for naught.
But what if there were a way to get your content seen? What if you could regularly achieve first-page rankings on Google? The idea of search engine optimization (SEO) has been tossed around for decades, but now at DemandJump, we have it down to a science. A central component to content that ranks on page one is the SEO Pillar (also known as a content cluster).
You see, a piece of content alone can practically never achieve a page one ranking. But, a whole bunch of content that is thoughtfully curated, and written to strategically complement other pieces, is a force to be reckoned with. That's the idea behind content pillars. In this article, we are going to define pillars a little more comprehensively, and break down how to create one.
How Do You Define Content Pillars?
Before we can get into creating a content pillar strategy, we need to understand there are two main definitions of the word pillar.
One meaning for a content pillar is simply an individual piece of content—an approximately 3000-word article that serves as the focal point of a content cluster.
The other meaning (which is the primary focus of this article) is the content pillar as a collection of pieces. A content pillar as a whole is the big picture cluster or network of content you are looking to create. It will include a 3000-word pillar, several support pillars of around 2000 words apiece, and then several blogs at 750ish words to fill out the content. Each written piece should also link back to the pillar or appropriate support pillar if you are writing a blog.
Still a little lost? Here is a content pillar template to help explain: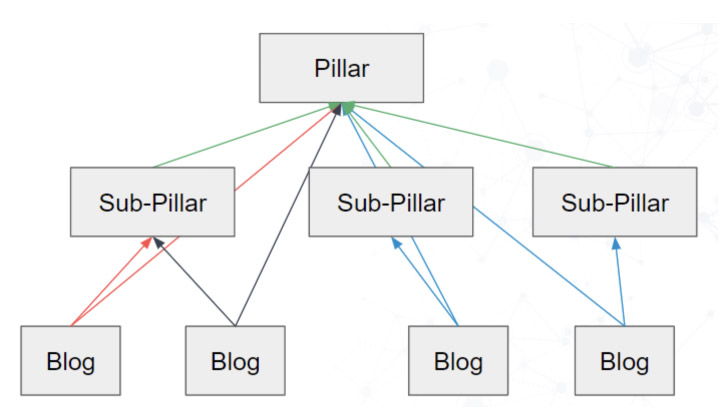 How Do You Make Content Pillars?
To make a content pillar, you will first need to identify the topic you want to focus on. The topic should be something broad enough that you can easily write several articles about it, but not so broad that it would take hundreds of pieces to flesh it all out.
The intent behind a content pillar is to become the authority on your cluster. You do this by answering the questions your audience is searching for in Google. You may initially have several content pillar ideas, but the best ones will typically be backed by data (like we provide at DemandJump) to determine what your audience is searching for. Then, once you identify your cluster of topics, it's time to start writing.

How Do You Write Content Pillars?
You should begin by writing your 3000-word pillar first. Your pillar piece should focus on covering as much information as you can and answering search queries while tying it all together. Of course, your writing should be based on research and display proper grammar, syntax, etc.
After that, your sub-pillars will pick a few topics that are still relevant to the pillar but are fairly substantial on their own and have several questions that need answers. Then, with the blogs, you should focus on answering one more specific question or query to round out your entire content pillar. It's important to note that in each article you write, you will need to include an appropriate amount of relevant keywords to boost the SEO impact of each piece and the content pillar as a whole.
Content Pillar Example
Based on the information above, let's come up with a quick and easy content pillar example. Suppose you are a healthcare provider working to promote COVID-19 testing. Your content pillar might look like this:
Pillar: COVID-19 Testing (≅18 keywords)
Support Pillars: Types of COVID-19 Tests, COVID-19 Variants, Antigen Tests for COVID-19 (≅15 keywords in each)
Blogs: 3 blogs about the different types of COVID-19 tests, 3 blogs about different COVID-19 variants, 3 blogs about Antigen tests (≅8 keywords in each)
To really create a successful content pillar, you will need to use the right data and keywords to achieve a page one ranking. That's where DemandJump comes in.
Jump to Page One with DemandJump
At DemandJump, we know content marketing is ultra-competitive and page one rankings are reserved for the few who can truly implement SEO. Fortunately, we created the tools you need to power your content. Our platform takes the guesswork out of marketing by:
Creating content clusters around topics your readers care about
Generating keyword outlines to inform your content
Developing pillar strategies to outrank your competitors
So, if you're ready to finally see your content on page one of Google, get started today!
Get Your Free Pillar Strategy Report