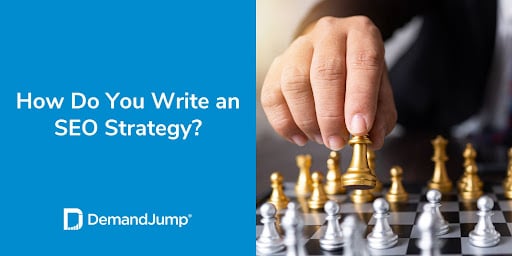 Having an effective search engine optimization (SEO) strategy is an essential component to marketing your business in the digital space. And let's face it, the divide between digital and non-digital spaces is getting smaller and smaller. If you want people to discover and trust your business, you need to show up online. SEO is the key to connecting with customers when they are most receptive to doing business: when they have a problem and want it solved.
But where do you begin? How can your business show up as the solution to people's problems? Is there an easy-to-use SEO strategy example pdf or an SEO strategy template to help me get started? We have the answers to these questions and more in this blog, which also includes a free SEO plan template. Let's get started!
What Is an SEO Strategy?
An SEO strategy is a plan for increasing your position on search engine results pages (SERPs). The primary goal of an SEO strategy is to increase visibility. The higher you rank on SERPs, the more likely it is that your target audience will engage with your content.
The secondary goals of an SEO strategy vary from business to business. What do you want your audience to do after they engage with your content? Do you want them to:
Place an order from your online storefront?
Schedule a time for a product demo?
Sign up for more educational content?
It's important to set and understand the goals for your SEO strategy because they will guide your tactics and messaging.
What Is Content Strategy in SEO?
In SEO, content strategy typically refers to how you use organic content to increase your website's SERP rankings. Organic content is any form of communication that you don't have to pay to host. Examples of organic content include:
Blogs hosted on your website
Email newsletters
Social media posts
YouTube videos
Ebooks
In contrast, paid content is any form of communication that you have to pay for in order to gain visibility. Common examples of paid content are:
Search engine ads
Retargeting ads
Social media ads
Banner ads
YouTube ads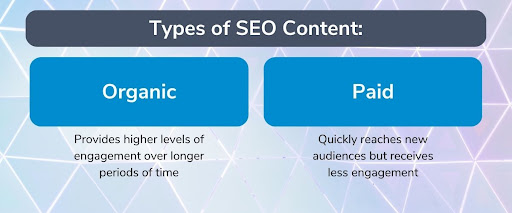 While both types of content are valuable to your overall SEO strategy, organic content has the benefit of being an appreciating asset. Once you create it, you continue to gain value from it without continued investment. Organic content tends to get higher engagement than paid ads, too. In fact, Search Engine Journal reports that the average click-through rate for Google ads is 3.17%. According to LinkedIn, the click-through rate for the top organic result is closer to 20%.
To get the most out of your organic content, your writers need to take a reader-first approach. In other words, your content should focus primarily on providing value to your audience, not algorithms. This means avoiding gimmicks that are designed to game the system, such as keyword stuffing and using backlink farm sites. Instead, focus on concisely answering the questions that your audience is searching for.
Following those SEO writing tips won't just improve your readers' experience, it can also help you rank higher. In fact, Google's helpful content update states their algorithm will reward content that shows expertise on a specific subject and is written for human readers.
What Makes a Good SEO Strategy?
A good SEO strategy leverages a combination of organic and paid content to achieve your business's specific goals. This is because each tactic excels at improving different metrics. Paid ads gain quick visibility for your brand. They can help you reach an audience quickly, and most platforms have sophisticated targeting methods to ensure your ads are placed in front of receptive viewers. On the other hand, organic content takes longer to reach your target audience. Once it does, however, people are more likely to click on and engage with your content.
By pairing paid ads with organic content, you can also promote your new content so more people read it sooner. This will help increase that content's organic rankings, which will attract even more readers to your website.
What Does an SEO Strategy Look Like?
An SEO strategy is goal-oriented and includes both organic and paid content to help your business reach those goals. At DemandJump, we see impressive SEO results from our customers who use Pillar-Based Marketing (PBM).
What exactly is PBM? It's a digital marketing method built around creating content that cares about how people search for information. When someone searches for information online, they rarely do so by typing in a single phrase. Instead, they may search for a broad topic like "Used cars." Then they might look for specific information about "How much should I spend on a used car?" The content they read may spark further searches, like "Used cars near me" or "How to buy a used car."
These related searches are part of topic clusters, or Pillars. PBM involves writing content structured around these clusters. Here's what a Pillar Strategy involving 16 pieces of content looks like:

1 Pillar that acts as an ultimate guide to your topic and is about 3,000 words long
3 Sub-Pillars that go into more detail about a specific subtopic within the Pillar and are about 2,000 words each.
12 Supporting Blogs that offer detailed answers to specific questions related to the Pillar or Sub-Pillars and are about 750 words each.
The pieces of a pillar strategy all link up. This means that Supporting Blogs link up to the Pillar or Sub-Pillar they are most related to, and Sub-Pillars link to the Pillar. This helps your entire network of content increase in rankings as readers engage with individual pieces.
When you publish your Pillar (which should include all 16 pieces at once), you can promote it through your social media and other channels for extra visibility.
How To Create a Winning SEO Strategy: DemandJump University
If you want a winning SEO strategy, start by studying what works. We've seen impressive results from our customers time and time again after they make the switch to PBM. Some have even outranked heavy-hitting brands like Microsoft. Learning how is easy, too. Head over to DemandJump University to take our strategy and SEO writing course. You'll learn how to:
Discover exactly which terms and questions your audience is searching.
Create a Pillar Strategy consisting of related topics.
Write and publish content that helps readers and wins rankings.
You can also download our SEO strategy template for 2023 to start taking action today!