How Do You Write Pillar Content?
March 23, 2022 •Andrew Gold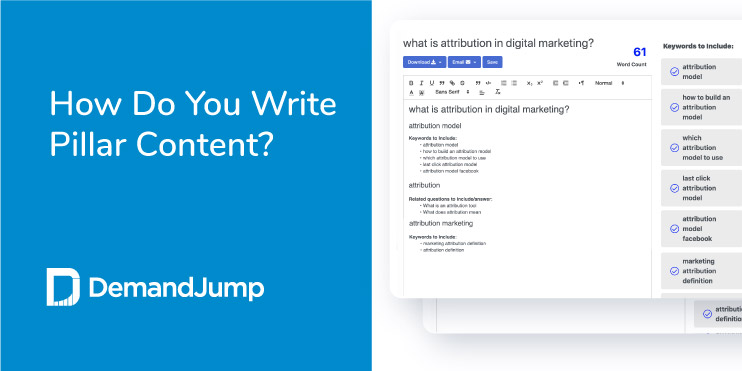 In recent times, the SEO Pillar has become a staple of content marketing strategies, and for good reason. Marketing departments used to think that just producing loads of content meant they were winning search engine rankings and generating traffic. What they didn't realize is that the majority of their content was based on guesswork about what their audience wanted to see or hear. Oh, and all that content they spent significant time and energy creating…most of that was never even seen. When the idea of the pillar strategy came along, everything they thought they knew about SEO evolved.
Content pillars took the guessing out of marketing by establishing a clear set of philosophies and practices. Find out what your audience wants to know, become the authority on it (if you aren't already), and write about it. Now of course there is more nuance to it than that, and more deliberate content creation that goes along with it, but that's the basic gist.
So, what is pillar content in SEO and how can you start making it? That is what this blog is here to help explain. In this article, we are going to look at content pillar examples, pillar content strategy, and some other pillar basics.
What Does Pillar Content Mean?
First things first, we need to establish that pillar content has two meanings. The first is the general pillar of content. This definition of pillar encompasses the main topic you are seeking to rank for and the subsequent pieces of content that go into the overall content pillar strategy: pillar pages, sub-pillars and supporting blogs.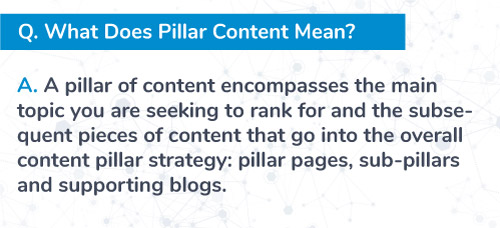 The second definition of pillar is the pillar page itself. The pillar page is the main piece of content you write about your topic. It should be around 3,000 words and cover a broad range of information and sub-topics relating to your central subject.
In addition to pillar pages, pillar content consists of roughly 2,000-word sub-pillars which provide more in-depth coverage on bigger sub-topics. Beyond sub-pillars are supporting blogs. These are around 750 words long and get in-depth on the more niche and nuanced subjects of your sub-pillar content.
Take a look at this picture to get a better understanding of how all the content stacks up.
It is also important to note that as a best practice, each pillar page should have at least three sub-pillars, and each sub-pillar should have at least three blogs. Additionally, blogs should link to the appropriate sub-pillar and pillar, and sub-pillars should link back to the pillar. This strategy (called internal linking) will help lend authority to your content and win page one rankings.
How Do You Write Content Pillars?
The best method is to map out your pillar strategy first. Break down your pillar page topic, your sub-pillar topics, and your supporting blog topics. Then, once you have an understanding of the content you are going to create and how it all connects, you can start writing. Generally speaking, it makes the most sense to start with the big pieces of content like pillar pages and sub-pillars first. That way you can get the longer pieces out of the way and establish a base of knowledge to reference for the blogs.
How Do You Write a Pillar Page?
Writing a pillar page is actually not too difficult if you follow the right steps and include some standard elements. The steps for writing a pillar page include:
Conducting keyword research to see what phrases and questions your audience uses. One great resource for this is the DemandJump Keyword Research tool. It aggregates all of the searches and phrases relating to your topic and tells you exactly which ones to include to win SEO rankings.
Researching your topic so you can write accurate and informative content that your readers can trust.
Outlining and organizing your keywords so you have a rough understanding for you will work them in throughout the pillar page.
Start writing.
In addition to these process steps, there are some components that contribute to the success of a pillar page as well. These include:
An introduction setting up the piece as a whole
Headers (using keywords if you can) help make a piece more skimmable and also add SEO value to a pillar page
Internal links to other content like sub-pillars and supporting blogs (the best internal linking strategy is still up for debate)
External links to sources, resources, or subject matter experts
A call to action urging the reader to visit a product page, subscribe, or contact your company
A high-level of readability…keep it interesting, engaging, easy to understand, and flowing smoothly from start to finish
How Do You Write Sub-Pillars and Supporting Blogs?
Truthfully, writing the other content in a pillar strategy is very similar to the above process. You will want to follow all of the same steps and include the same elements. The only real difference is the word count, the potential amount of time it will take to write, and the possible linking strategy.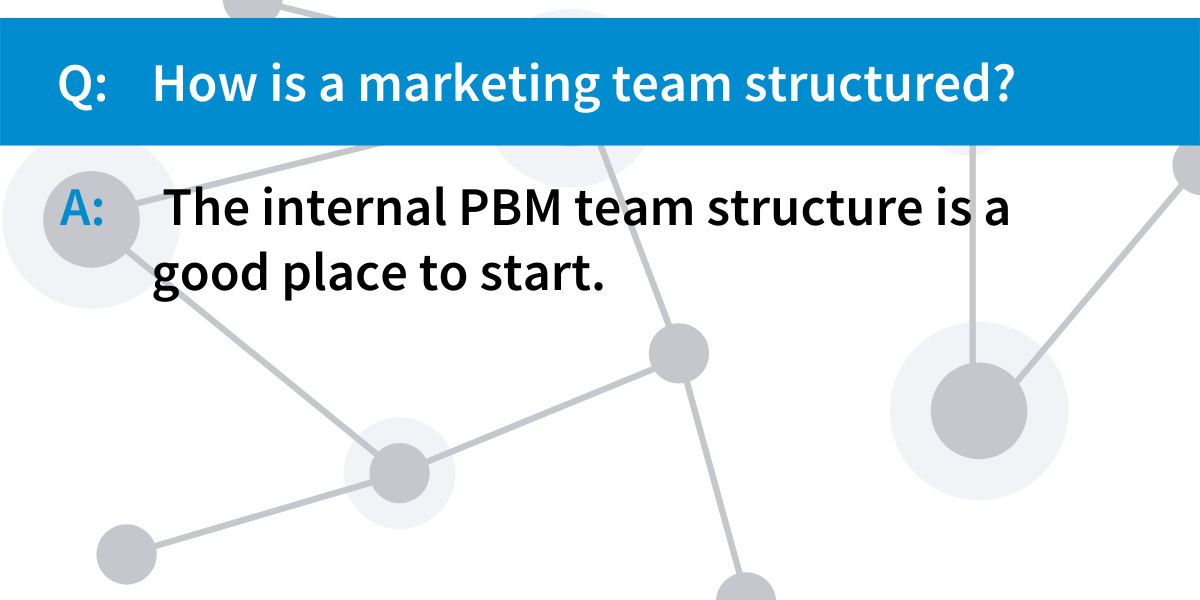 DemandJump…Powering Powerful Pillar Producers
At DemandJump, we get that the world of SEO is ultra-competitive. There are only so many spots on page one. That's why we have created the tools and services you need to create meaningful content and win page one rankings. Our keyword research tool tells you what to include in your content, our pillar planning tools help you pick content pillar strategies, and our content experts can help you marry the data with the writing. Start writing powerful content today, get started for free!