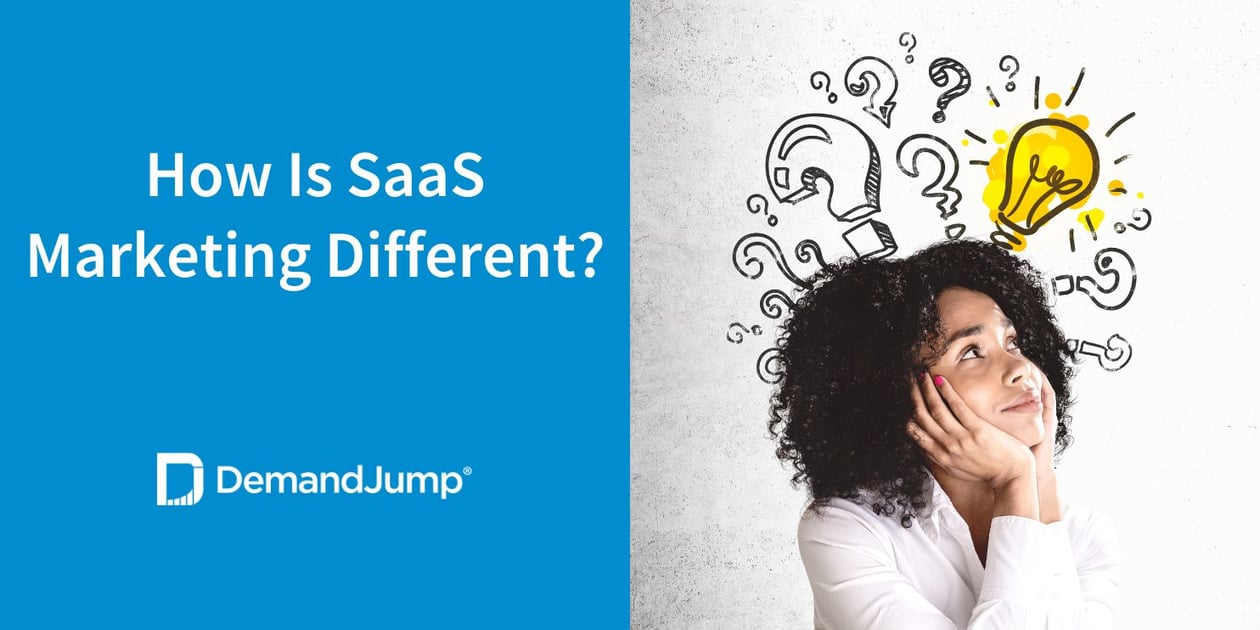 Whether you're new to the Software as a Service (SaaS) world or you've been involved in tech for decades, you can probably attest to the fact that SaaS is different from other kinds of products or services—especially when it comes to marketing. For example, SaaS content is one of the most critical components to ensuring your prospects and customers understand your platform and your value proposition. But there are other differences, too. Keep reading to find out more about why SaaS marketing is unique and tips to help with the marketing of SaaS companies and platforms.
What Is SaaS Marketing?
At a high level, SaaS marketing is a term that describes the efforts that a Software as a Service company employs to promote brand awareness, customer acquisition, and customer retention. SaaS marketing, whether it is for B2B or B2C, has a lot in common with more traditional forms of marketing. For example, a top-tier SaaS marketing strategy often includes a mixture of the following elements:
Paid Marketing, such as paid search, banner ads, or paid social media.
Earned Marketing, which includes mentions on review sites, third-party write-ups, or awards your organization has won.
Owned Marketing, which might be content on your website, blog, or social channels that your organization owns.
Yet, as we'll explore in the next section, there are several factors that make developing and implementing a SaaS marketing plan unique.
Why Is SaaS Marketing Different?
Factors like marketing intangible products, educating customers, and maintaining consistent marketing efforts are some of what makes SaaS marketing unique. We've compiled a list of the top reasons why SaaS is different as well as some tips and tricks to ensure your efforts land you among the best SaaS marketing campaigns in 2023 and beyond.
1. You're Marketing the Intangible
When it comes to marketing a physical product, your strategies can rely on the senses. You can taste and smell a brand new beverage at your local coffee shop. You can feel how comfortable that new suit or dress is. You can experience the luxury of test-driving a new car. But when it comes to SaaS, you're selling something intangible. Sure, your prospects can see it on video or in real time during a demo, but your sales representatives and marketers have to be able to sell pixels on a screen.
While this doesn't mean it's impossible to market SaaS platforms well, it does mean it's trickier. To start, some of the best SaaS marketing models include free trials or freemium versions so that prospects can better experience your platform. You may also find that things like webinars and conferences are excellent places to market as you can invite your prospects to demos that show value in real time.
2. You're Selling Both Software and Services
There are two essential elements to the SaaS acronym: software and service. It's easy to think about your software when you're developing a SaaS marketing strategy. It's your platform, and product marketing is a critical component of a SaaS sales model. But focusing on your platform alone may not be enough to win out amongst your competitors. This is especially true when Grand View Research reports that the SaaS market size is expected to grow at a compound annual growth rate (CAGR) of 11% between 2022 and 2028.
That's where your services come into play. Do you have stellar customer success managers and a quick and painless on-boarding process? Market it. Do you have 24/7 support? That's a key feature in a lot of industries. Do you offer advisory services that accompany your platform? Understanding what your organization's differentiators are when it comes to your services is crucial to marketing your company's entire suite of offerings—and standing out from the competition.
3. You've Got To Educate Your Prospects
Chances are, your prospects aren't coming to you with the full knowledge needed to operate your platform, let alone how your platform can help solve their pain points and how your offerings are unique. In SaaS marketing—perhaps more than any other kind of marketing— educating your customers along the full funnel is critical.

For example, you might use paid search ads or LinkedIn ads to promote brand recognition. Then, you might use your blog to display educational content around your particular niche. You might even add more educational content through gated white papers to capture contact information from prospects. The key is to promote your brand and your brand's authority around a topic. You want to come off as a trusted advisor rather than a pushy seller. At DemandJump, we help SaaS companies understand the exact topics to write about to build that authority with your customers and search engines.
4. You've Got To Prove Your Value Continuously
How do SaaS companies advertise? The good ones do it continuously—for a couple of reasons. First, SaaS is unique in that most companies operate on a subscription model, with customers typically renewing on a monthly or yearly basis. This means that you've got to maintain relationships and continually show value to avoid customer churn. Additionally, SaaS platforms experience regular updates and changes. Marketing and communicating new tools or features should be an ongoing process.
For a lot of SaaS companies, email marketing and webinars are great ways to continuously spread the word about your products and services—as well as any major updates that are in the pipeline. Coupled with the efforts of your customer success team, this ensures that your current customers are engaged and in the know.

DemandJump: Empowering Organic SaaS Marketing
At DemandJump, we understand just how unique marketing a SaaS platform can be—after all, we do it ourselves day in and day out. The DemandJump platform synthesizes the world's search data to provide businesses with the data they need to understand exactly what topics—and what specific keywords and phrases—to write about to increase first page rankings and drive outcomes. We also provide features and services that help develop strategies, understand how you're performing against your competitors, and more.
Ready to learn more? Click the button below to set up a free account!