How One SaaS Company Increased SERP Rankings by 30% in Only Two Days
July 31, 2023 •Drew Detzler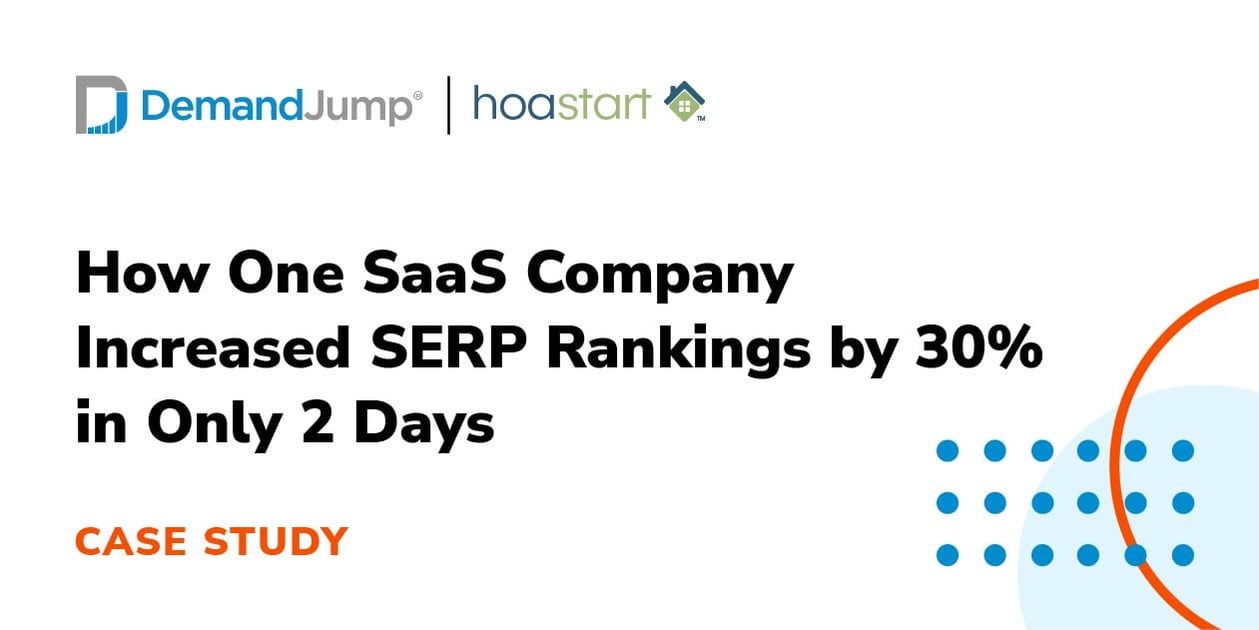 Here's a case study to make your SERP-loving heart skip a beat! DemandJump teamed up with HOAStart, a dynamic Software-as-a-Service (SaaS) company, to give their website content a serious boost and conquer those search engine rankings.
The mission? Optimizing their content according to Pillar-Based Marketing (PBM) best practices and shooting their target page, "HOA Websites," straight to the top of the cyber SERP mountain. Keep reading to learn about the approach HOAStart took and the jaw-dropping results they achieved in a ridiculously short span of two days.
Cue the drumroll, please.
First, What Is HOAStart?
HOAStart is a SaaS company that specializes in providing comprehensive solutions for homeowners' associations (HOAs). Their primary focus is on developing user-friendly and feature-rich HOA websites to streamline communication and management processes for their clients. They've got customizable options for associations of all sizes because they believe in leveling up transparency, communication, and payment collection for all HOA members out there.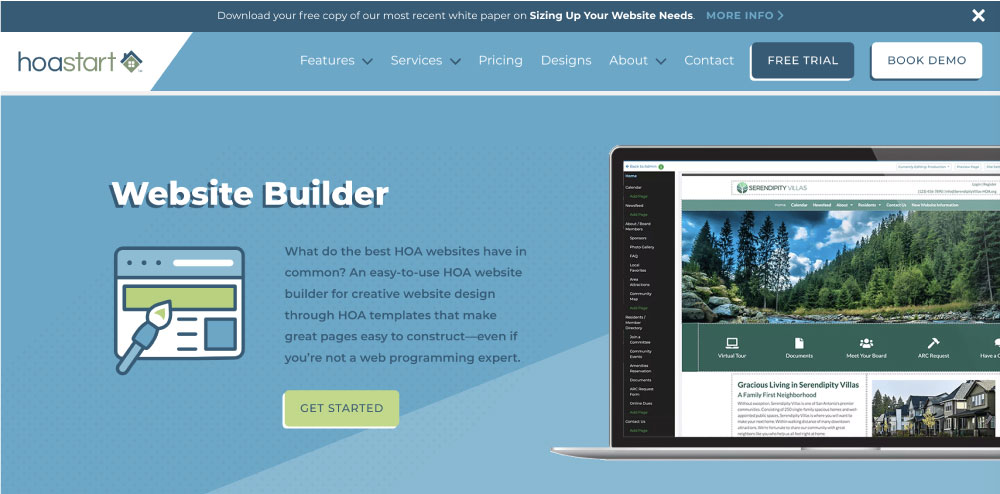 The PBM Approach
DemandJump took key steps to comprehensively optimize HOAStart's website content and align it with PBM principles. Here's how it all went down:
Content Audit: The DemandJump team of content strategists dug deep into HOAStart's website. They started with a thorough audit of HOAStart's Pillar Page for "HOA Websites." The strategists scrutinized the front and back end of the website, evaluating the page's structure, relevance, and whether it played nicely with the PBM best practices.
Optimization Recommendations: Equipped with their audit findings, DemandJump provided HOAStart with detailed optimization recommendations. They pointed out specific areas where improvements could be made and sprinkled in suggestions to level up the content, structure, and interlinking strategies of that page.
Immediate Implementation: HOAStart didn't waste a second after receiving all of this insight. They took these recommendations and swiftly implemented the suggested optimizations on their target page.
The Remarkable Results
HOAStart witnessed some wild results within just two days of implementing the suggested optimizations! Here are all the juicy details:
Increased Rankings: Prior to DemandJump's audit, HOAStart had a solid 81 rankings within the Top 100 search results for their target keywords. But within a mere two-day period after implementing DemandJump's recommended optimizations, their rankings shot up. They achieved 106 rankings, marking an increase of 30% in visibility.
Enhanced Relevance: By aligning their website content with the holy grail of PBM principles, HOAStart's website stepped up its game in the relevancy department. Not only did it strengthen their website's authority, but it also ensured that their content resonated with their intended audience and boosted their overall online presence.
What was HOAStart's response after these incredible results? "Your audit on this page, and the suggested edits we made resulted in immediate increases. That's pretty damn cool."
And we couldn't agree more, HOAStart. Pretty. Damn. Cool.
Achieve Instant Rankings Like This With DemandJump
This case study is more than just a shining beacon of hope, dear friends. It's a testament to the sheer effectiveness of a strategic content optimization game plan with a rock-solid foundation in PBM. Say goodbye to those months of waiting for microscopic improvements in online visibility, and bid farewell to those tricky SEO tactics that might work today but get you hosed by the ever-changing Google algorithms tomorrow.
With the unstoppable combination of DemandJump and PBM, businesses can now witness rapid and substantial improvements in online visibility and organic rankings. It's time to level up your SERP game and claim your spot at the top—get started right now by trying DemandJump for free!
Get Your Free Pillar Strategy Preview!