How Planhat Increased First-page Rankings From 1 to 38 in Weeks
February 7, 2023 •Clare Sheehan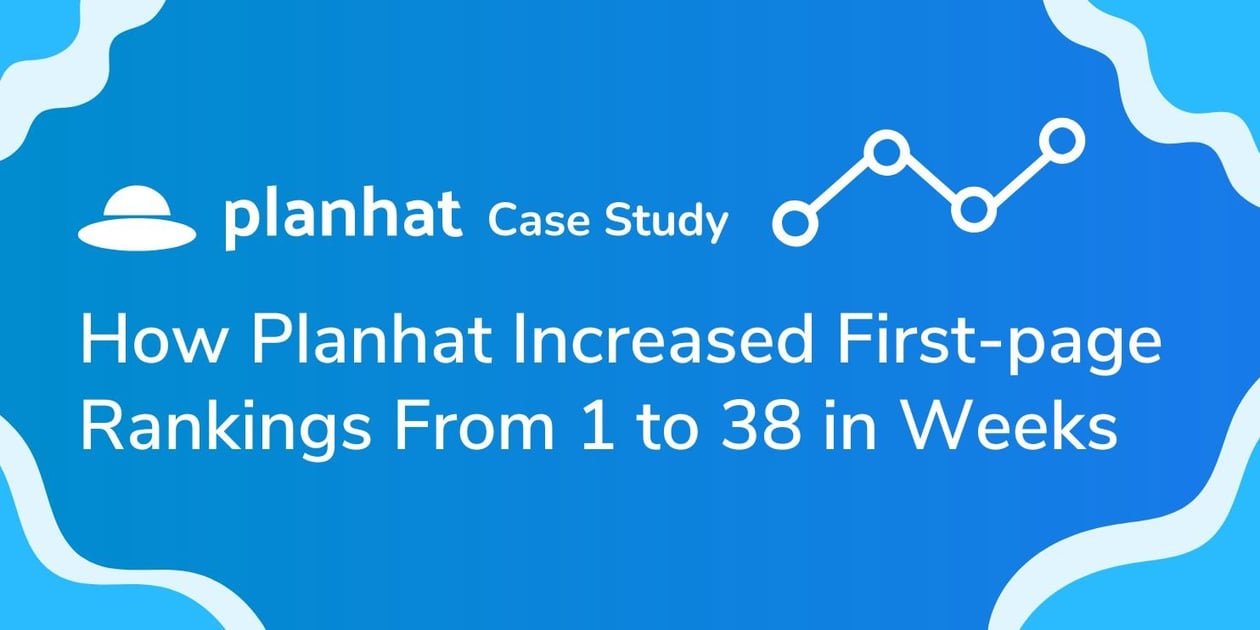 When done right, producing content increases your rankings on Google and other search engine results pages (SERPS). This leads to more traffic, increased engagement, better leads, and more conversions. All of this sounds great, but—as all seasoned marketers know—climbing the ranks of SERPS isn't always sunshine and rainbows.
Let's face it, rising above the noise is hard. Especially when it comes to organic rankings. It can take years for a brand to rank on the first page of Google, and that's only if you're writing good content and optimizing your website for search engines. If you operate in a highly competitive atmosphere, then your journey to page one could take even longer.
That's why DemandJump created Pillar-Based Marketing (PBM). But what is PBM, and why should you care? Here's the gist:
PBM's data-back approach takes the guesswork out of content marketing. PBM best practices combined with DemandJump's content marketing platform enable marketers to source the questions, topics, and keywords their audience is searching for.
Not only is PBM the fastest way to reach page one, but it's also the most honest and straightforward. PBM isn't a magic trick, it's all about creating a network of helpful content that provides the information your target audience is searching for. And Google's most recent Helpful Content update ensures that creating content written by people for people will be rewarded.
The PBM methodology involves crafting an interwoven content network consisting of a pillar page, sub-pillars, and supporting blogs. Each piece in that network includes short- and long-tail keywords that relate to your overarching topic and mimic your audience's search behavior. This increases your brand's authority in the eyes of the search engines and creates a comprehensive content resource for your customers to explore.
Ultimately, using PBM means your brand can reach page one in weeks and months, not years. Here's how Planhat and DemandJump did just that.
The Approach
Planhat is a Customer platform where organizations can manage client growth for customer success, product-led growth, channel management, and anything else. Their platform includes tools and dashboards to manage health scores, renewals, churn, playbooks, and so much more.
Planhat is used by thousands of software companies across the globe to solve customer success challenges, and DemandJump was beyond excited to partner with Planhat to help solve their SEO and content challenges.
Our partnership initiated with Planhat's need to:
Increase first-page search rankings for topics that matter to Customer Success teams
Drive brand awareness
Boost organic website traffic
The Planhat marketing team immediately saw the value in Pillar-Based Marketing and how it could fulfill those needs. They were excited to implement a content solution using the DemandJump platform coupled with our advisory and content writing services to quickly get started.
The Results
DemandJump's team collaborated with Planhat to determine that "Customer Success Analytics" and "Net Revenue Retention" were two critically important topics to rank for that aligned well with both Planhat's offerings AND what their customers were searching.
Using the Compare Topics feature in the platform, we were able to analyze the search volume potential for the topics listed in the Estimated Monthly Search data. We specifically noticed a gap between the keywords Planhat was ranking for compared to the entire network of relevant keywords available.
As you can see in the images provided below, of the 476 keywords within the CS analytics topic, Planhat was only ranking on the top 10 pages of Google for 150 of them.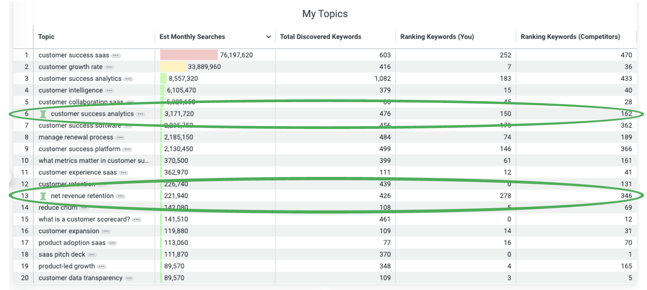 Next, we developed pillar strategies for both topics using the Pillar Strategy dashboard to uncover the most relevant short-tail keywords to create sub-pillars and the most relevant questions users search to create supporting blogs. Using this dashboard, the filtering functionality to eliminate irrelevant keywords, and some good old-fashioned collaboration, we developed a 16-piece pillar strategy containing a pillar, three sub-pillars, and 12 blogs for each topic.
To help you visualize, here is what a 16-piece pillar strategy looks like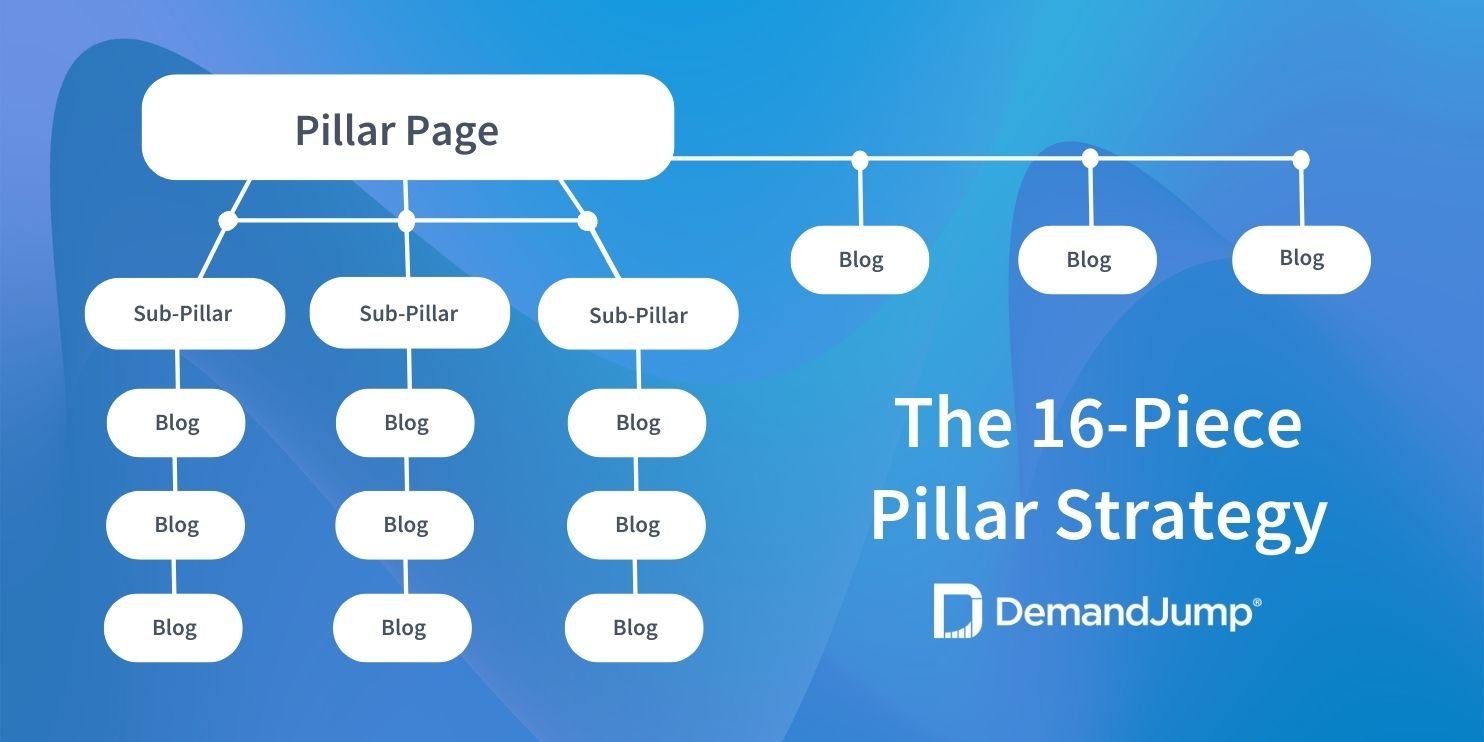 Once we settled on a pillar strategy, DemandJump's Content Team quickly regrouped with Planhat to kick off the writing. In our kickoff, we discussed Planhat's brand standards, tone of voice, technical specifications, and any other helpful direction to ensure accuracy and high-quality writing. We began writing the "Net Revenue Retention" pillar first and published the entire content pillar at once, using PBM best practices. We also recommended adding a Call To Action (CTA) to each piece of content to help convert organic traffic.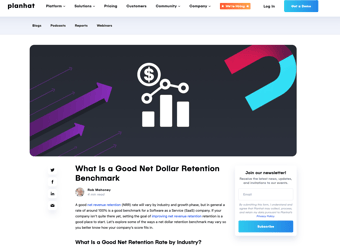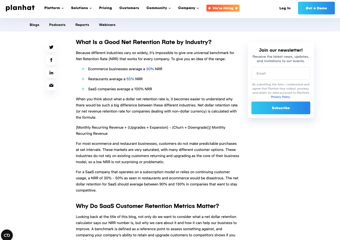 In only two months, Planhat saw a significant increase in keyword rankings! Their existing content had just 37 rankings for the top 100 keywords related to "Net Revenue Retention" prior to launching its content, and now has 283 rankings!
Similarly, Planhat boosted its first-page rankings from 1 to a peak of 38 during the same time period!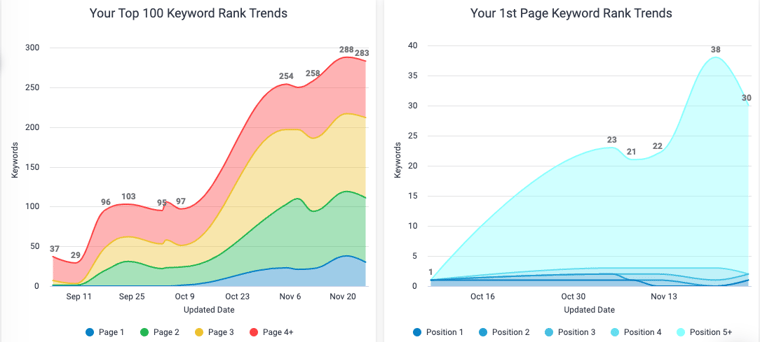 Here you can see how Plathat's content shows up in position 3 of page 1 for the question "What is Good NRR for SaaS?"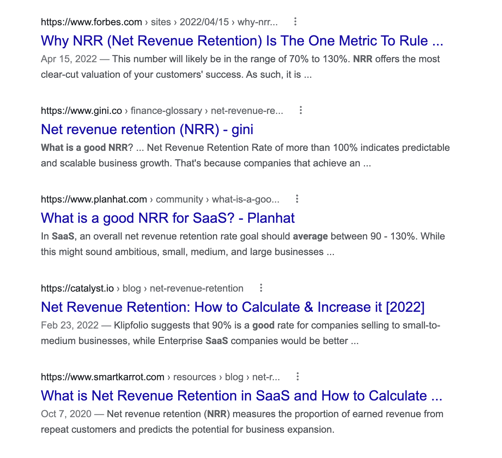 DemandJump: Let Your Brand's Voice Be Heard
And there you have it, just one of our many PBM success stories! We're so excited to see the success Planhat is having with their content strategy and look forward to driving even more ranking power as we continue to optimize their PBM solution.
All of our customers and partners continue to achieve impressive results with every piece of PBM content they publish. With DemandJump's platform and a solid PBM strategy by your side, your content will reach your target audience faster than ever before. No more guesswork. No more wasted time. DemandJump truly is your one-stop shop for organic content strategy.
See what all the fuss is about and create your free account today!