Google Analytics Tips and Tricks Part 2 & 3 [Video]
by Brennan Walker, on June 9, 2016
Last week we launched part 1 of our Google Analytics series with DemandJump Co-Founder and Chief Strategy Officer, Shawn Schwegman. This week we'll be focusing on events (part 2), and demographic and interest level data (part 3).
The main focus of this series is learning how to use Google Analytics effectively. One feature that allows users to gather actionable data is Google Analytic's event function. This feature enables users to see if people are actually interacting with their site's content. If you're not reaching your event goals then it's probably time to try sometime different.
The event function is particularly helpful because it allows users to see what content, videos and links have the most engagement on their website. It allows users to see what's working and what's not, and then make adjustments from there.
Part 3 of the series looks at demographics and interest level data, which, at an aggregate level, allows users to get a deeper understanding of who their audience is. This function needs to be enabled (just one click), and once it is users will be able to see gender, age, and even interests of people who visit their website.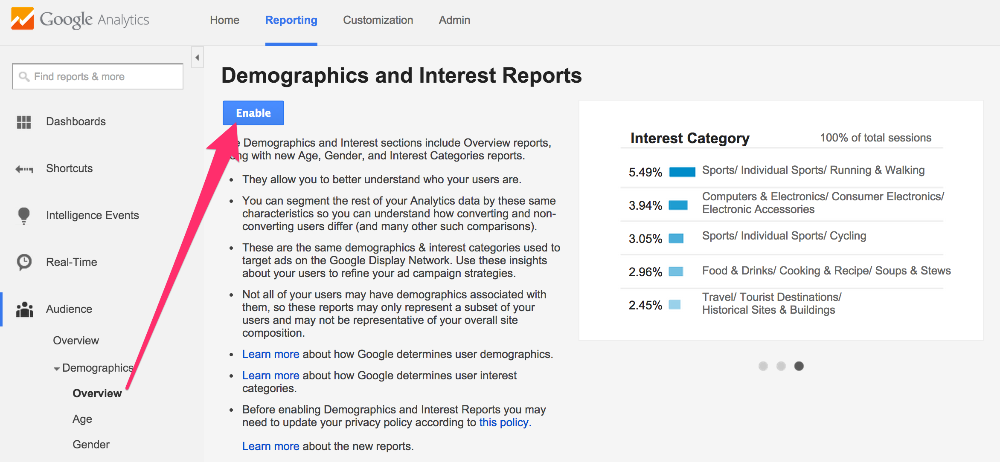 Image from MonsterInsights
Once you have demographics and interests enabled Search Engine Watch recommends watching four data points: Percent New Sessions, Average Session Duration, Bounce Rate, and Pages per Session. Looking at these four points will give you an indepth view of how different users are interacting on your site.¹
Using these two tips can be the difference from just monitoring traffic, to gathering data that provides insights into where you should be focusing your resources.
Check out the videos above, and make sure to come back next Thursday for the next part in this series.
Other helpful resources
Citations
¹Lewis, Anna. (2014, July 16). Guide to Google Analytics Demographics Reports: Age, Gender & Interests. Retrieved June 7, 2016, from https://searchenginewatch.com/sew/how-to/2355504/guide-to-google-analytics-demographics-reports-age-gender-interests.