Life Settlement Advisors Increases Page One Rankings by 158% in Only Six Weeks
July 31, 2023 •Drew Detzler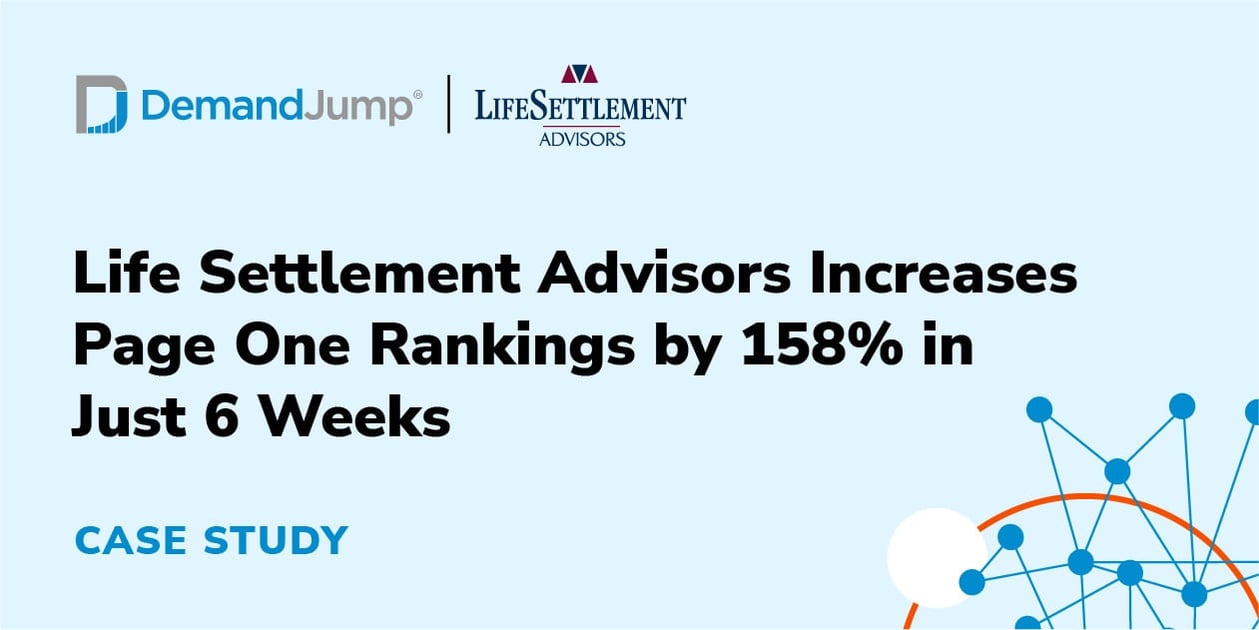 About Life Settlement Advisors
With more than 40 years of combined experience, Life Settlement Advisors (LSA) is a leader in the life settlement industry. A life settlement, which provides life insurance policyholders the opportunity to sell their policy to a third-party investor—often for more money than surrendering their policy—is a relatively unknown option for both policyholders and wealth managers.
Because of this, informing clients and prospects about how life settlements work is a significant portion of what LSA does. They strive to be a voice of confidence and assurance, educating their clients and leads about the process of selling a life insurance policy so they can make the best decision for their financial future.
Content Marketing Background
Life Settlement Advisors has long been dedicated to innovation in marketing. At a time when many of their competitors were still advertising on daytime television and using more traditional approaches to marketing, LSA realized that educating and lead nurturing with quality content was critical to developing a full sales funnel.
They became an early adopter of content marketing and had been developing innovative blog content and white papers—ranging from lifestyle pieces to educational articles about life settlements—for well over five years before they came to DemandJump. They had a wealth of solid, educational content and over 45 Page One rankings.
Goals
Life Settlement Advisors came to DemandJump with three primary goals.
Reach more potential leads in both ideal client profiles. LSA has two ideal client profiles: life insurance policyholders who are eligible for a life settlement and financial managers who work with this population. They had a goal of increasing leads for both profiles.


Increase Page One rankings. LSA wanted to capture more of the organic market share about "selling a life insurance policy." This topic contains a huge network of sub-topics with search intent from both client profiles. Before leveraging DemandJump, they already had over 45 Page One rankings. The goal was to increase that.


Increase conversions through organic traffic. LSA understood that Page One rankings weren't enough. They wanted to increase the number of conversions by prompting organic traffic to fill out their qualification calculator or schedule a meeting.
The DemandJump Difference
Life Settlement Advisors leveraged DemandJump's customer success and content teams to accomplish these goals. Here's how we did it.
Step One: Our team analyzed existing content to identify the most high-performing content and determine what pieces could be combined or upgraded with higher-value keywords.


Step Two: Based on DemandJump Insight Reports and data, the Customer Success team built a Pillar Strategy focused around the topic of "selling a life insurance policy." This strategy included 1 Pillar Page (3,000+ word article), 7 Sub-Pillars (2,000+ word articles), and 41 Supporting Blogs (750-1,000 word articles).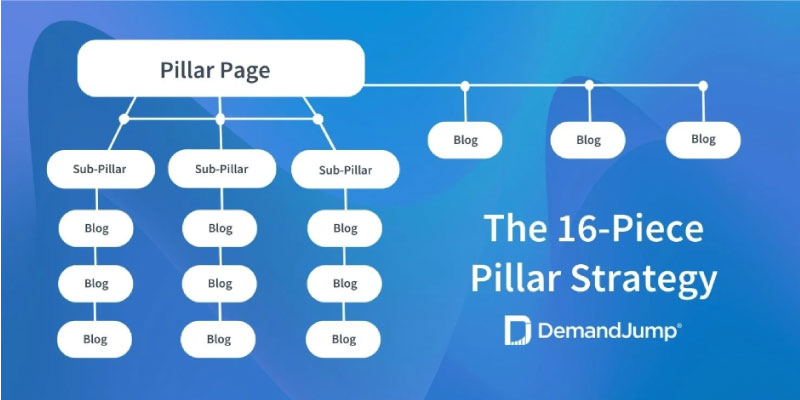 Step Three: After the Pillar Strategy was approved, our team of content writers developed new content and upgraded existing content with high-value keywords and phrases pulled directly from the DemandJump platform.


Step Four: Our team worked with LSA to publish new and upgraded content on LSA's website using best practices for publishing pillar content. This includes inputting meta descriptions and linking all Sub-Pillars up to the pillar and linking all Supporting Blogs up to a Sub-Pillar and Pillar. This creates a network effect, giving a Pillar SEO authority.
Results
In under two months, Life Settlement Advisors saw a triple-digit increase in Page One rankings! Here are the details.
More Page One Rankings
A total of twelve net new pieces of content were published over the course of six weeks. As a result, Life Settlement Advisors increased their Page One rankings from 46 to 119 rankings. That's a 158% increase in Page One rankings in just a month and a half!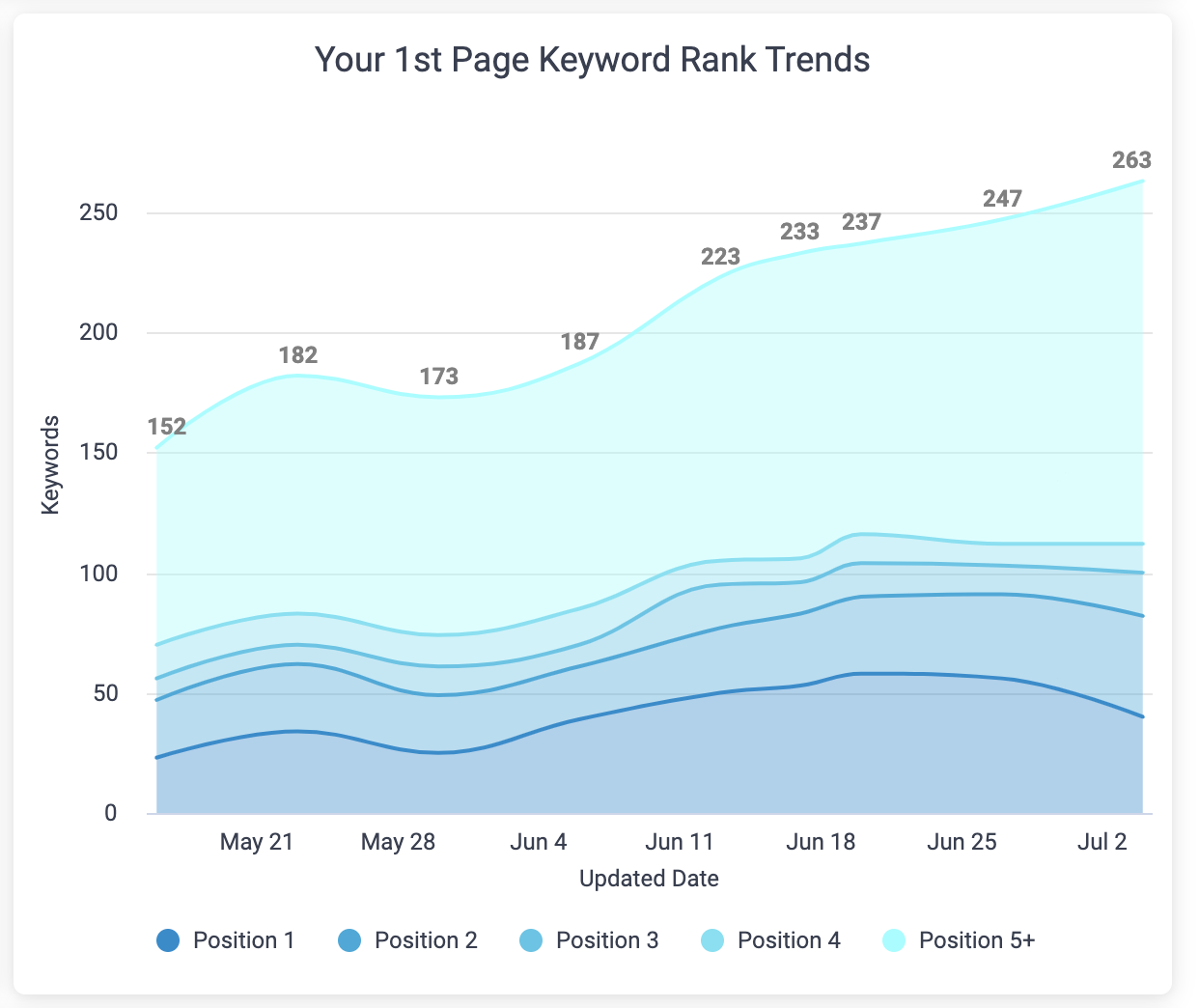 Winning Organic Market Share
The results don't stop there. In addition to Page One rankings, Life Settlement Advisors' organic market share increased substantially. They currently hold a higher market share than each of their competitors by well over 100 keywords.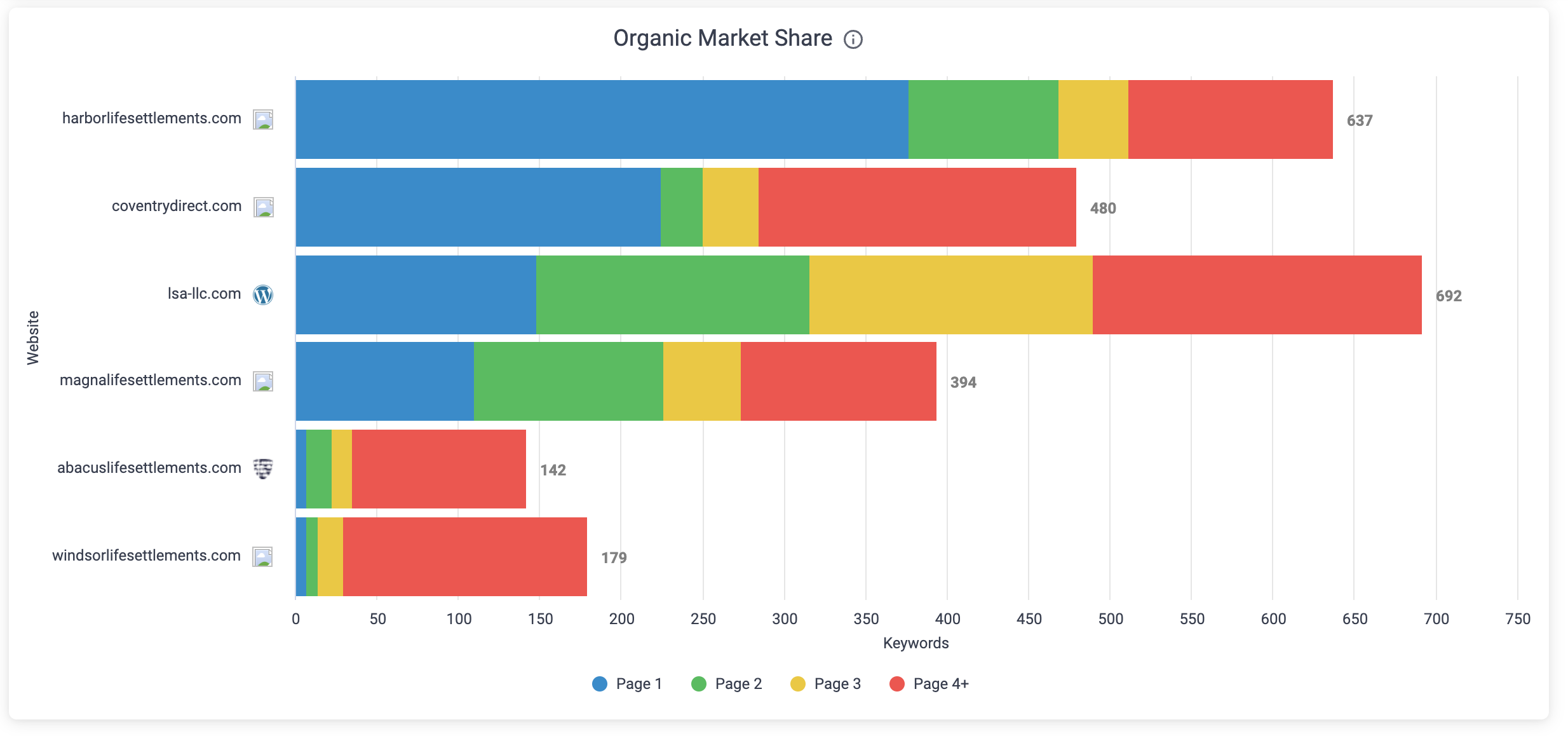 Increased Conversions
Most importantly, these results are netting a positive result on LSA's business. According to Leo LaGrotte, president and CEO of Life Settlement Advisors, they've seen a significant increase in call volume, particularly among policyholders.
Ready to Experience Results Like These?
DemandJump is the number one marketing strategy platform that shows you the exact content to create to increase Page One rankings and drive outcomes. No matter who your customers are, DemandJump can help you identify the top topics, keywords, and questions they care about so you can write content that educates, dazzles, and delights. Get started today!