Pillar Page Best Practices: A Step-by-Step Guide With Examples
June 16, 2021 •Drew Detzler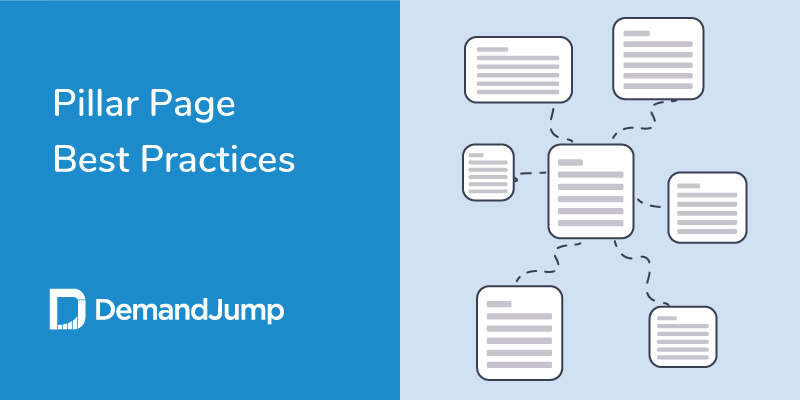 Everyone knows you can't rank for your target keywords without creating high-quality content. However, it's equally important to properly organize your content and create an internal link structure that builds your topical authority.
Why? Because Google no longer views your content in isolation from the other pages of your site. To serve the most credible search results to its users, Google prefers ranking sites with topical authority on a specific subject.
This is where pillar pages and topic clusters come in.
In this detailed article, we'll show you how you can use the content pillar and cluster strategy to build your site's topical authority and outrank your competitors.
Let's dive in.
What Is a Topic Cluster?
A topic cluster is a group of pages on your website linked together that collectively cover a broad topic from all angles.
Here's what a topic cluster looks like.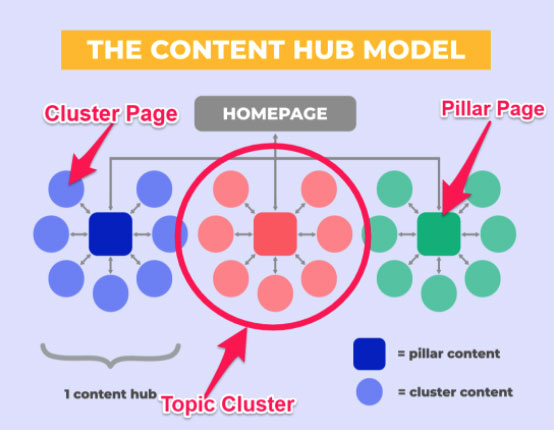 Image via Mangools
In technical terms, a topic cluster is an internal linking model in which you only link pages covering the same broad topic. The foundation of a topic cluster is the pillar page, while all the cluster pages link to it.
This way, your site can have multiple topic clusters that exist independently from each other and are only linked through your site's homepage.
Why use the topic cluster model for internal linking?
Let us explain.
The Importance of Topic Clusters in SEO
In the early years of SEO, marketers used to create dedicated pages for their target keywords without worrying about authority, internal linking, or topical relevance.
Their internal linking strategy didn't follow any particular direction and looked similar to this structure.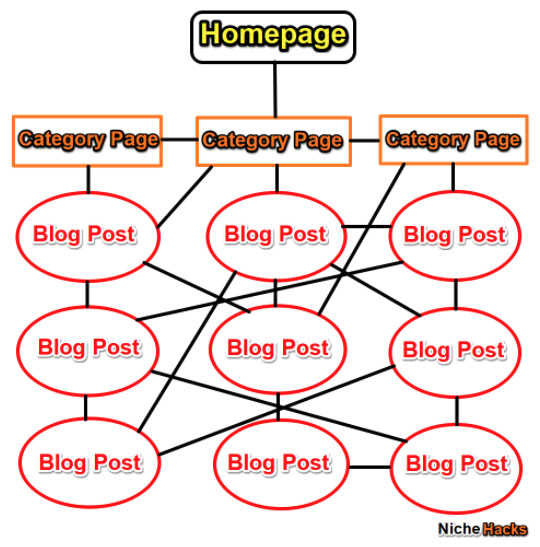 Image via Nichehacks
But Google's search algorithms have become much more sophisticated and don't rely solely on keywords to evaluate content. It prefers ranking sites that are authorities on their topics instead of random sites covering high-volume keywords just to get traffic.
For example, if you run a site about medicine, health, and other related topics, it's much easier for you to rank in the top results for an article about COVID-19 than a dog food site that targets this topic just because it's trending these days.
Why? Because your site is an established authority on health issues.
Creating topic clusters plays a crucial role in developing this authority on your site. It covers a broad topic from all angles with a group of different pages linked together.
What Are Content Pillar Pages?
A pillar page is the foundation of a topic cluster that links to all the cluster pages.
It's the most important page in your topic cluster because it covers your topic and all your main target keywords with detailed and in-depth content. It also helps search engine spiders and your audience navigate through your site easily.
Pillar pages generally have the following qualities:
Targets your parent topic and its related keywords
Answers all the primary and secondary questions about your parent topic
Links to all the cluster pages
Links directly from the site's homepage
Evergreen
You can think of pillar content as the ultimate resource on your topic that answers all the high-level questions of your target audience and gives them a complete overview of your topic.
Here's an example. If there's an affiliate site that promotes different web hosting services for bloggers and online marketers, a pillar page can be a complete guide to starting a website.
This page would cover all the questions of beginner bloggers about starting a website from a web hosting perspective and it would demonstrate the entire process of creating a website using a particular web hosting service.
The cluster pages of this site could be articles about different blogging and internet marketing topics like web hosting service comparisons, web hosting reviews, traffic generation tips, list building, content creation, and social media marketing.
All the cluster pages would link back to the central pillar page to build its authority.
Ultimately, your goal is to rank your pillar page for your target keywords. The cluster pages are there to help the pillar page break into the top 10 search results.
However, sometimes, both your pillar and cluster pages can rank for the same target keywords if your content quality is significantly better than your competitors or there's a lack of competition in your niche.
If you have a choice, you always want your pillar page to rank rather than the cluster pages, because the pillar content is designed for conversions.
Types of Pillar Pages (With Content Pillar Examples)
There can be various types of pillar pages based on their content. However, most pillar pages follow one of the following structures.
The Ultimate Guide Pillar Page
The ultimate guide pillar page is perhaps the most common pillar content format used by blogs, affiliate and magazine sites, and even e-commerce companies.
As the name suggests, the ultimate guide pillar page is a long-form resource that covers your parent topic and its subtopics in a lot of detail. It's a beginner-friendly resource that aims to build your brand authority and establish your brand as the go-to source on your topic.
The API Integration guide by Cloud Elements is an excellent example of a perfectly designed pillar page.
It's an over 9,000-word guide that covers everything a beginner needs to know about API integration. Plus, it links to all the other articles related to this topic on the Cloud Elements blog.
The Product/Service Pillar Page
The product/service pillar page is mainly used by SaaS companies and marketing agencies. It follows the same formula as the ultimate guide pillar page, but its focus is on the product/service it's selling.
For example, an SEO agency can turn each of its service pages like SEO, content creation, content marketing, and link building into pillar pages.
Similarly, an email marketing company can create a pillar page covering all aspects of email marketing and how businesses can use it to generate a positive ROI.
This is exactly how OptinMonster used its email marketing guide.
This over 8,000-word guide covers all aspects of email marketing and also promotes OptinMonster as the best pop-up and email conversion tool.
This is how product pillar pages are different from ultimate guides. They not only share information and build brand awareness, but they also pitch your product and actively look to drive conversions.
The Resource Pillar Page
A resource pillar page is a list of tools, stats, examples, case studies, and anything else that your target audience can refer to when they need help on your topic.
This pillar content type is quite popular among SaaS companies since it's easier to create than an ultimate guide.
Help Scout's customer service statistics page is one of the best examples of a resource pillar page.
The page displays more than 75 customer service quotes, stats, and fascinating facts with interesting images and graphics. To date, this page is Help Scout's most frequently linked page, with thousands of backlinks from some of the highest authority sites in the world.
Topic Cluster Examples
Let's zoom out from pillar pages and analyze some examples of topic clusters.
We don't need to go anywhere to find topic cluster examples because the pillar pages we mentioned in the previous section link to different cluster pages in their respective topic clusters.
Let's analyze the pillar page on the Cloud Elements blog with an SEO tool, like DemandJump.
As you can see, this 9,000-word guide has only 24 internal links.
And guess what? Since this guide is about API integration, all of those 24 internal links point to different articles directly related to API integration tips, challenges, and best practices.
Similarly, OptinMonster's email marketing guide has over 100 internal links, but all of them link to email marketing topics on its blog only.
And finally, Help Scout's over 3.5K-word resource pillar page has 49 internal links going to articles and blog posts related to customer service.
The moral of the story?
Pillar pages mostly use internal links to articles and pages that directly relate to their parent topic. This creates a cluster of pages that link to each other and collectively grow their search authority on a topic.
Pillar Cluster Content Strategy Template
Now that you understand how pillar pages and topic clusters work in SEO, let's see how you can apply this model to your content strategy.
Here are the steps you need to follow to create a pillar cluster content strategy.
Step 1: Identify Your Parent Topic
The first step is to identify the parent topic that you want to cover in your pillar content. It's usually the main topic of your site or the core service your business offers.
You need to perform keyword research using a platform like DemandJump (Try it FREE) to identify your parent topic and its related keywords.
Step 2: Choose a Pillar Page Type
Choose one of the pillar page types we shared earlier in the article. Depending on your business type, this could be a resource page, a product/service page, or a long-form content page.
Step 3: Create Your Pillar Page
To ensure that your page ranks for your target keywords and is significantly better than any other content created by your competitors it needs to:
Be more in-depth
Have visuals
Be more engaging
Provide captivating data references
Contain more examples and case study references
Since you only create a pillar page once, invest your time making it the best resource for your audience.
Step 4: List Your Secondary Target Keywords
Use Ahrefs or any other SEO tool to identify the secondary keywords you'll target in your cluster content.
These are usually the questions of your audience about the various aspects of your pillar topic. You need to do this exercise quarterly or biannually to find new topics for your cluster content.
Step 5: Create Your Cluster Pages
Cluster pages are regular blog posts and articles that are much shorter than your pillar content. Don't invest too many resources in them, but ensure they address their topics in detail and are correctly optimized for their target keywords.
Also, make sure that every cluster page only links back to its relevant pillar page and no other pages of your site.
Unlike pillar pages, cluster page creation is an ongoing process.
Step 6: Create Internal Links
Revisit your pillar page and cluster pages every quarter to see if there's an opportunity to add new internal links.
This is an ongoing exercise that your blog manager or SEO person should look after.
Are You Ready to Create Pillar Page Content?
As you can see, the pillar page strategy isn't much different from regular content creation, it is all about creating content. However, it provides a better structure for your content and internal links, which ultimately benefit your site's topical authority and help you rank for competitive keywords.
The DemandJump platform has automated the strategy, organization, and keyword research that goes into pillar page strategy. Just type in your desired pillar topic and the platform gives you a prioritized list of the content you need to create. With one-click SEO content outlines, creating content that ranks fast has never been easier. Get started today and see just how easy it can be.
Get Your Free Content Marketing Strategy Report