The Types of Content: And When to Use Each Type
November 9, 2021 •Jeremy Flick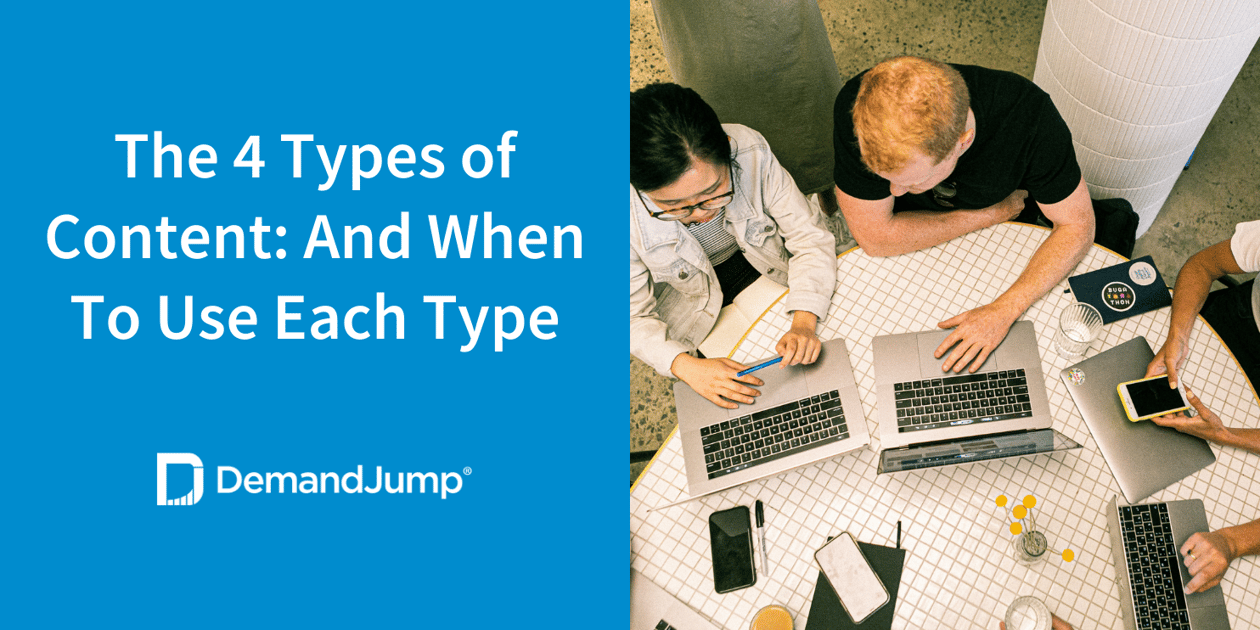 With a growing world of online content fighting for the top spot on Google, it's important to know how to beat your competition to page one. Of course, it's not as easy as stuffing keywords on your website and hoping to master SEO. There are strategies involved in building content shaped around exactly what people are searching for and answering their questions. We're going to explore the forms of content marketing and how the types of content impact the way businesses interact with customers online. We're also going to answer your questions about what kind of content types are there in digital marketing and what are the most common types of content marketing.
First, let's look at what is content and the types of content?

What Is Content Marketing and Its Types?
Content marketing, as defined by the Content Marketing Institute, is "a strategic marketing approach focused on creating and distributing valuable, relevant, and consistent content to attract and retain a clearly-defined audience—and, ultimately, to drive profitable customer action." It all boils down to creating online content for your audience and producing a call to action like visiting a website or trying a demo of your product or service.
Creating and publishing content for your audience can be daunting, but don't let that stop you! When done well, content marketing:
Saves organizations money
Increases leads and conversions
Generates profit
Boosts audience retention
Builds brand awareness
In other words, content marketing attracts prospective customers to your website and helps your brand stand out when it comes time for them to make a decision and take action.
As a writer and/or content creator, it's your job to help customers make their decision by positioning your brand as an authority within your industry.
Across all types of content marketing, the creation of timely, relevant content is the competitive battlefield. Without putting out consistently updated content, the low relevancy of your information lowers your place as a source of valuable, current material online. This leads to lower click-through rates and conversions.
So how do you arm yourself with a strategy that will carry prospects through the process?
By writing content that brings readers to your brand, establishes you as a credible authority, connects with the reader's emotions or worldview, and drives action (creating customers), you can strengthen your core revenue generation. You should also consider how many types of content types are available for you to use during your content marketing campaigns.
Let's talk about what are the content types in digital marketing?
The 4 Types of Content Categories

There are four content categories used in content creation and marketing—attraction, authority, affinity, and action. It's important to note that the four content categories are not mutually exclusive, and a single piece of content will often fit in multiple categories. Importantly, most of the content you create should fall within all four of these categories.
So, while individual pieces of content may achieve the objectives of more than one of these content types, we'll go ahead and discuss them one by one, just so it's clearer how each contributes to a successful campaign.
Without building strong, comprehensive content, you will see less traffic to your website and have fewer customer-driven outcomes. Meeting these criteria will help bolster those outcomes significantly.
Attraction Content
Content doesn't matter if no one sees it. It might be surprising to know that nearly 91% of websites see zero organic traffic. Attraction content brings visitors to your pages, providing a foundation for your content strategy. Blogs written as attraction content are meant to be read and shared, and it's the sharing that drives additional traffic to your site.
The idea is to provide valuable information—something you know people are searching for—free of charge. DemandJump gives you the tools to find the keywords people search for exactly, so your content will rank higher on Google and be more visible to your audience. Once they read and share the content, even more eyeballs see it.
One example of attraction content would be list posts, things like "5 Content Marketing Trends You Need to Know About for 2022," "3 Tips for Creating Evergreen Content," "8 Reasons Your Posts Aren't Being Read," and so on.
This type of content is popular because it works by engaging and informing readers.
If you're new to a content marketing role and simply trying to learn as much as you can, you can be more successful through writing strong, attractive content. It should hook a reader and provide useful content to keep them reading to the end.
Once they reach the end, then, they're encouraged to take some action—like visiting your webpage to learn more, or downloading a provided resource. You've just added a new lead to the pipeline!
Authority Content
Authority content is meant to go beyond mere attraction, by positioning your brand as, well, the authority on a particular topic. Sounds like a difficult task? We've got you covered!
What's most important about authority content is that you have to demonstrate your expertise, rather than stating outright that you're the authority.
This takes a little subtlety. But all you have to do is write informative and credible content! Let it speak for itself.
Authority content can take a wide variety of forms. Content that answers frequently asked questions, offers a solution to a defined problem, and so on can all be authoritative.
So, how do you show your authority?
You offer valuable information that is well-assembled and written in a voice that is easily understood and with a tone that is appropriate for the topic or audience. You show that you understand your target audience.
When you create exceptional authority content, you expand your reach. This happens when other brands' content links to yours (implying that they found your content to be suitably authoritative). Imagine that, the competition linking to you as an authority...awesome!
Affinity Content
While authority content is important (since without trust, there's no business), affinity content gets you even further by inspiring prospects to actually like or prefer you over the competition. The point is to connect with readers' emotions by showing that you're like them (or at least understand them) by writing personable and relatable content. This is where using your brand's voice comes into play. You can be conversational or more direct, genuine and honest, and playful or more professional. Each of these shows how your business approaches interacting with customers, leading them to determine whether or not they want to do business with you. DemandJump insights can show you how people are looking up questions to know what kind of language you should use in your content.
Affinity content positions you (in the reader's mind) as not only the brand they trust, but also the brand that they feel believes in the same things they believe in or shares their worldview—a brand they're not just willing to do business with, but one they actively want to do business with.
It can be difficult to understand where the line is between authority and affinity content, so here's one way to think about it. Assume your competitors have written an "authority content" piece that largely uses the same information and sources as yours.
What will differentiate your post from theirs? The connection you forge with readers through emotional resonance. Let readers know what you care about, what you take particular pride in—you're like them, in other words.
Action Content
Like the other types of content, action content's name tells you what it's all about. Action content is designed to turn interested readers into customers. To be successful with your action content, write the piece with a specific business goal in mind.
Do you want people to see a landing page touting your newest product or service offerings?
Do you want them to answer a survey, or sign up for a mailing list?
Are you trying to generate enthusiasm (and sign people up) for an upcoming webinar?
Do you have a gated resource you want them to download (by providing their contact information)?
To increase the odds of a reader taking the action you're hoping they'll take, you'll need to make sure that your content makes a compelling case for taking that action.
For example, if you're trying to sign people up for an upcoming webinar on "How to Succeed in Content Marketing in 2022," you might write some content that explains a few major trends that might make them rethink their content strategy. But then, how do they learn how to adjust their strategies to better prepare for the coming year? They sign up for your webinar, which promises the answers!
What Types of Content Marketing Are There?
Content writing is full of genres that all have different purposes. Each type of content gives you the opportunity to reach your target audience in a unique way. As we mentioned above, there are four categories to consider when writing for your business: attraction, authority, affinity, and action. A few questions you can ask to determine what type of content you should write:
Are you asking and answering questions?
What is the best way to drive traffic?
Are you revealing a new product or feature?
Is your audience familiar with your service?
Are you aiming to convert potential customers or retain existing customers?
What will interest your audience?
What does your audience already expect from your brand?
What are competitors doing?
How much time and budget do you have to create content?
Understanding your purpose for content marketing will help you decide which approaches to take to your pieces. Of course, it's not one size fits all! What are the different types of content creation? Let's go through the most common types of content you can create for your marketing.
What Are the Types of Content in Marketing?
Most often people think of content marketing as blogs and social media posts. While those are types of content to consider, there are several ways to create interesting and engaging content.
Blogs
Okay, we said before that your content should engage in all four categories of appeal. Blogs are the best type of content for you to achieve this. You have space to gain your audience's trust and drive them to action while being likable and interesting. Once you know what your audience is looking for, blogs give you the opportunity to write thorough and detailed answers to questions they're asking. DemandJump can help you find the highest-value keywords and phrases so you rank higher on search engines and reach a broader audience.
Social Media
58.4% of the world's population uses social media. That's 4.62 billion people with access to posts on Facebook, Twitter, and Instagram, among others. Without engaging content, people won't share your posts and visit your website. And that's the number one goal of social media: click-through to your site. One of the main ways to drive traffic from social media is a call to action. If you ask a potential customer to visit your website, sign up for a free trial, or provide their email for a discount, you're moving them from social media to your landing pages and other content. Depending on your audience, you can grab their attention with a staggering statistic, a quirky anecdote, or a more focused introductory blurb.
Email
Email marketing is one of the most lucrative ways to retain and convert customers. By providing frequent communication with your audience, you'll be able to remind them to try your product or introduce a new feature. But email content is an important part of building affinity and action with your customers. You've probably read emails from companies that write in a friendly, sometimes informal tone. This can make your readers feel involved, almost like a part of the team. Plus, you might have come across a bland email or two that didn't increase interest and ended up in the trash. That's the last place you want to end up!
Copywriting
Writing copy is a delicate task. Your ultimate goal is to convert your audience into customers. In some instances, the writing may be subtle, but must always be impactful. If your product descriptions are lackluster, they will probably convince less people to purchase your product than if it were vibrant and engaging. Copywriting can be seen in:
Website copy
Product descriptions
Advertisements
Press releases
Print ads
Video
Videos provide a unique approach to content creation and sharing. While videos take a much more significant amount of work to produce, using the techniques we've discussed and applying them can be beneficial to reaching your goals. Videos need to be very engaging and interesting to capture your target audience. This gives you a new avenue to spread your creative wings, so to speak.
All of these types of content give you the opportunity to reach audiences in a different way. Rather than sticking to website copy, adding in content like blogs with high-value keywords will significantly increase your web traffic and influence in your industry. So what are forms of content marketing used to build the best campaign?

What Are the Different Forms of Content?
DemandJump has introduced a new approach to content marketing: Pillar-Based Marketing. With PBM, you'll be able to build a strong content strategy that is designed to get your content to page one of Google. What does that have to do with the forms of content? We're glad you asked! Pillar-Based Marketing is a content-based strategy that involves three key forms:
Pillar: A 3,000-word piece of content that discusses a broad topic with 15–20 high-value keywords and phrases.
Sub-pillar: A 1,500–2,000-word piece of content that breaks the pillar topic down to more specific ideas with 12–15 keywords and phrases.
Supporting blog: A 750-word piece of content that answers a very specific question within the sub-pillar topic with 5-8 keywords and phrases.
Generally speaking, these forms of content should deep dive into topics related to your business. By building a content pillar strategy, you'll be able to connect all of your pieces together to create a network of content that brings credibility to your business—not only in customers' eyes, but according to SEO as well.
For example, if your business offers malware protection, you probably want to focus on topics related to malware and its effects on computers rather than components of computers themselves.
How Do I Know What Type of Content to Create?
Creating content comes down to two questions: Why are you writing it and who is it for?
Deciding on how to approach content marketing isn't as hard as it may seem once you determine the purpose of the campaign. Most often the purpose is to connect with your audience in an engaging way, giving them answers to questions they may have, and calling them to action. When considering a purpose, you should ask yourself these questions:
Am I trying to inform the audience on relevant issues?
Do I want to sell my product or service?
Do I want my audience to actively interact with my content?
Am I using the best medium to share the information?
What is the ultimate goal of my content?
Of course, having a purpose is dependent on the audience as well. Understanding your audience will help guide you in not only what type of content to make, but also the strongest subject matter. Here are a few questions you should think about:
Who am I trying to reach? (Current customers, potential customers, general audience)
Will my audience be interested in or engaged with my content?
Have I attempted to capture this audience before? Was it successful?
Purpose and audience can help you decide on a blog or other content types we've discussed in this piece. While building a content plan is beneficial, having a diverse amount of content will capture a wider audience. At DemandJump, we believe strongly in creating written content with pillars, sub-pillars, and blogs to drive maximum engagement and high SEO rankings.
Know What Content To Create, With DemandJump
Ultimately, with the 4 types of content, you're trying to help readers find you (attraction), trust you (authority), relate to you (affinity), and, finally, do business with you (action) you can create an exciting content marketing campaign that increases traffic and conversion. What is the type of content marketing you think will work best for your business?
Using an SEO keyword research tool like DemandJump demystifies the process by surfacing what your target customers are actively searching for online, and where there are opportunities for you to create content that's likely to rank high (due to a lack of already-established, credible content).
Take a listen to DemandJump's "Page One Or Bust" podcast for more information on why having a high-quality content strategy is so important. Check out a clip below:
To see how DemandJump's keyword research and planning tools can transform your content marketing strategy, we have different tiers of our Pillar-Based Marketing platform that can land you on page one.
Get Your Free Pillar Strategy Report