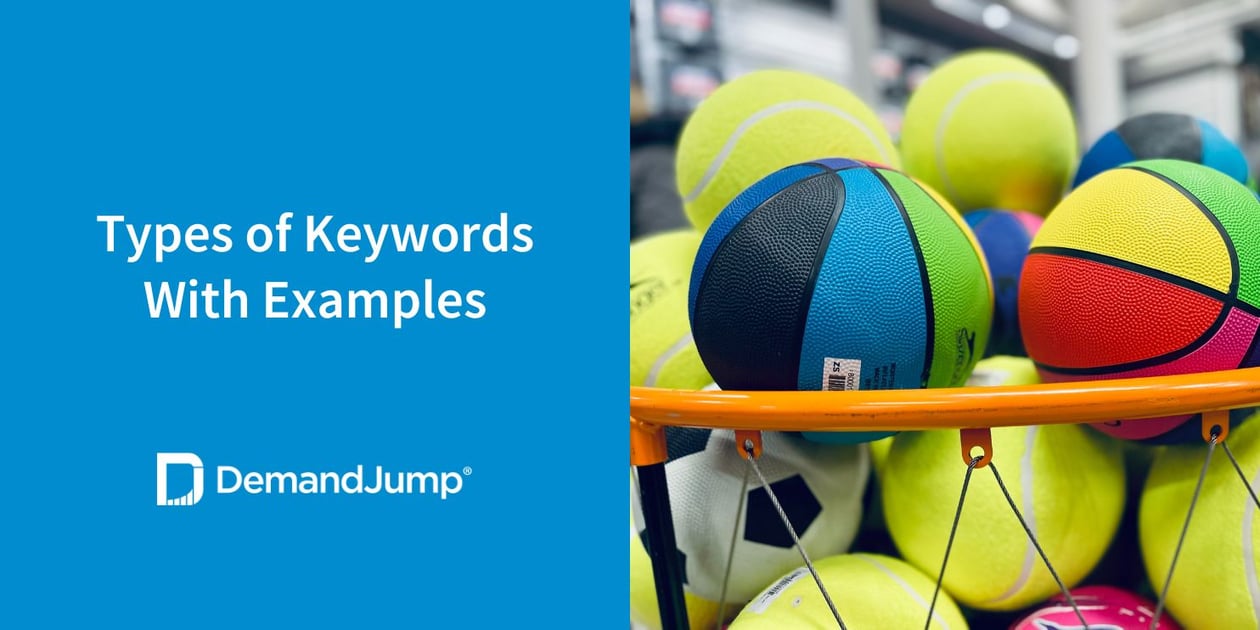 If you know anything about software-as-a-service search engine optimization (SAAS SEO), you know that one of the steps you need to take is including keywords in your content. SaaS marketing hinges on having strong content, and strong content hinges on having the right material. If you still believe in keyword stuffing like digital marketers from the olden days did, forget all that. Here at DemandJump, we recommend:
20 keywords for pillars
15 keywords for sub-pillars
7-8 keywords for supporting blogs
You don't need dozens of keywords to optimize your content. In fact, many search engines will penalize you for keyword stuffing because it makes your content repetitive and unreadable.
There are several types of keywords that you can include in your content. A combination of all of these will bring you the best results. In this blog, we will give you explanations and examples of each type. But first, you should know exactly where those keywords come from and what those little babies do for your content.
What Is a Keyword in SEO?
A keyword in SEO is a word or phrase that you include in your writing to help your target audience find your content when they conduct an online search. These keywords are what your audience types into search engines. You can often find examples of these when you search for a certain term (which in itself could be considered a keyword). Once results come up, you'll see related searches or questions in your results that you might be interested in.
When writing content, you can type in a broad word or phrase related to your topic and use those related searches or questions as keywords to include in your piece. However, the problem with this method is that it's time consuming and doesn't tell you how popular those searches are. When you use a platform like DemandJump, you can type in a simple word or phrase and generate a list of keywords within minutes that you can use to write your content. And the great thing about these lists is that DemandJump will also tell you where you and your competitors rank for those keywords so that you know where to focus your efforts.
Not all keywords that you find are created equal. Each type has a different function. Ultimately, though, these different functions work together to achieve the same goal: bring traffic to your website and drive conversions.

What Are the 4 Types of Keywords?
There are 4 types of keywords: short-tail, long-tail, questions, and intent targeting keywords. Let's take a closer look at each of these with some examples to help explain them. For the sake of our examples, we will say that you work for a sporting goods store.
1. Short-tail Keywords: These are keywords that consist of 1-3 words. Because they are so short, they are also much broader than the other types of keywords. You can use short-tail keywords in two different ways: either as the title of your pillar page, since your pillar page is supposed to have 3,000+ words of general information on a broad topic, or included within your text.
For our example, let's say you find a short-tail keyword "sporting goods." You can use that keyword as the title of your pillar page. Within that pillar, you could also use other short-tail keywords such as "sporting goods store," discount sporting goods," and "online sporting goods."
2. Long-tail Keywords: These are keywords that include more than three words. They might even be a question or complete sentence. Some of these are great for the titles of sub-pillars or supporting blogs, especially the ones that are more specific than the title of your pillar—but not too specific. For example, you could use "sporting goods for sale," "national sporting good chains," or "top sporting goods stores." Like with short-tail keywords, these can also be used within your text.
3. Questions: These keywords work best for supporting blog titles because they are so specific. You can also use them as headers within your content to help readers navigate through your blog much easier. Some examples of questions that you could use are "What is a sporting goods store," "What is the average markup on sporting goods," and "Which sport brand is oldest?"
4. Intent Targeting Keywords: These keywords indicate where your audience is on their buyer journey. There are four types of intent targeting keywords: informational, transactional, commercial, and navigational.
Informational: People searching these keywords are looking for answers, not to be sold to. If you want to target this audience, use questions or phrases that include who/what/when/where/why/how as well as general phases. For our sporting goods example, your informational keywords list might include "Sports equipment list," "Importance of sports equipment," and "What are the trends in the sporting goods industry?"
Commercial: People searching these keywords are interested in shopping around. Your commercial keywords list might include terms such as "types of baseball bats," "sporting goods discounts," or "sporting goods reviews."
Transactional: People searching these terms are ready to buy something. To target this audience, your transactional keywords list might include "Sporting goods for sale," "Where to get the best sporting goods," or "List of top sporting goods stores."
Navigational: People searching these terms know what your business is and want to find it. Use the keywords with your brand name in it when targeting this audience. Examples of keywords from a sporting goods' navigational keywords list are "Dick's Sporting Goods," "Dick's Sporting Goods coupons," and "Dick's Sporting Goods hours."

How Do You Make a Keyword List? With DemandJump
To save yourself time and energy on hunting down relevant keywords, use DemandJump. We offer Pillar Strategy creation to help you determine which keywords to use as the titles of your content. We also have Content Briefs that give you lists of keywords to use within your content. And after you post your content, you can check how you and your competitors are ranking for different topics using the Keyword Rankings function. Say goodbye to the days of guessing how to rank. Sign up for DemandJump.