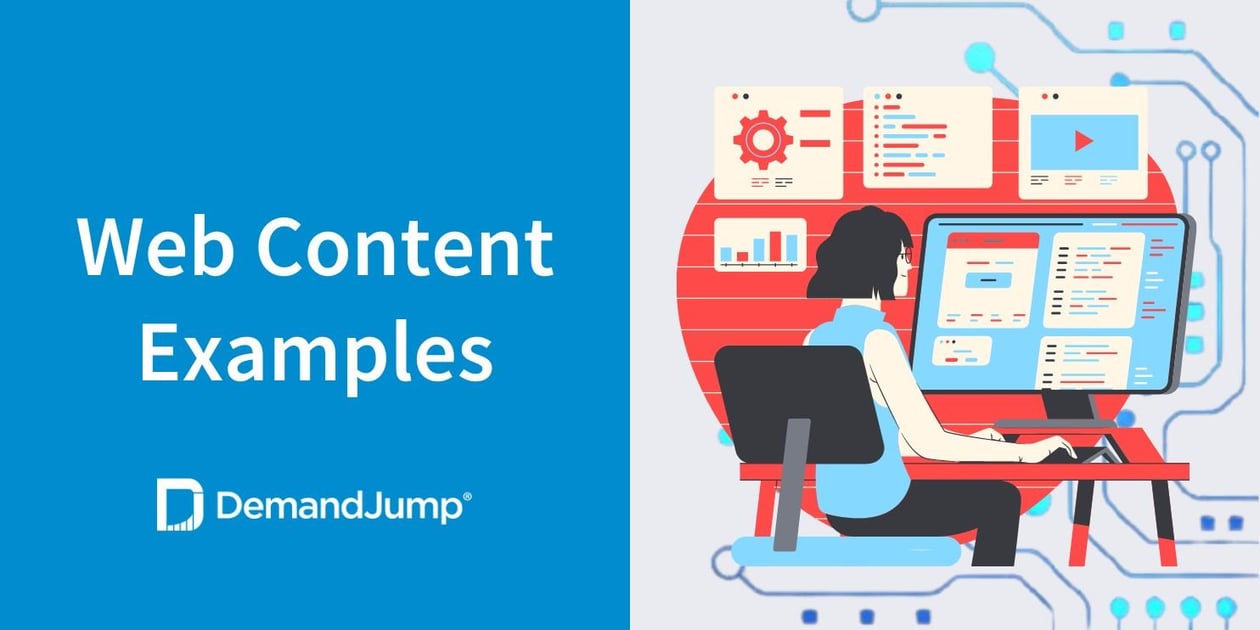 Sure, everyone knows you need content for your website—that's a no-brainer. The real question is, what content should be on a website? Really, all forms of website content need to work together to delight and engage your target audience. That means your website should at least have:
Excellent, and relevant, written copy
Eye-catching visual design elements
Gripping video and audio
If you're able to create a network of effective website content, you'll increase your rankings and lead generation in no time. Naturally, this is more complicated than it sounds.
But don't worry, DemandJump's got you covered. We made this short guide to website content best practices, so you can ensure that your website is ready to wow your audience!
We even threw in a few good website content examples for you to reference.
What Are the Examples of Web Content?
Before we dive into the examples, let's review the three dominant types of website content:
Written Content | Written content inspires all other content, making it the most critical part of your website. Your written copy is key to delivering accurate messaging, conveying your brand's voice, showcasing your value propositions, and much more. Written content can include:

Industry reports
Landing pages
White papers
Testimonials
Case studies
Blogs

Audio and Video Content | Video and audio are used to extend your company's reach and increase engagement on your website. Audio and video content are critical to appeal to your audience's emotions and further establish your brand's personality. This type of web content also translates well to other marketing channels, like social media. Some of the most popular types of audio and video content include:

Informational, or how-to, videos
Interviews with industry experts
Podcasts

Visual or Image-Driven Content | Images are used to empower written and video content. This type of web content helps your audience visualize concepts and gives your brand a cohesive visual identity. Often, image-driven content consists of:

Branded images, like logos or web mascots
The overall design of your website
Data visualizations
Infographics
Photos
Website Content List of Examples
Now that we've discussed the different types of web content, let's review some examples of content done right.
Written Content Example| SEO Pillar Landing Page from DemandJump
Ultimately, the best written content:
Is SEO-driven so search engines can recognize the value of the content.
Provides real value to the reader, beyond a sales pitch.
Has a clear call-to-action (CTA) so the audience knows exactly what to do.
Is direct and concise without too much flowery language.
Take a look at DemandJump's "SEO Pillar" landing page, for example. Using the DemandJump platform, we were able to source SEO-driven keywords to ensure that our content provides true informational value to our target audience by answering the exact questions they are searching for.
This resulted in an extremely powerful piece of content that educates readers, is attractive to search engine algorithms, and neatly explains DemandJump's value proposition. With the addition of appealing graphics and a strong website design, our "SEO Pillar" landing page earned a spot on page one of Google.

Visual Content Example| DemandJump's Visual Brand
No one enjoys spending time on websites that have nothing to look at but text. However, this doesn't mean your website should be chock-full of graphics spread about haphazardly. Good website design requires balance. Too much imagery causes distraction, while a website lacking visuals comes off as dull and uninspired.
To create eye-catching visual web content, it's important to develop a cohesive set of style guidelines and really nail down your visual identity. For example, DemandJump's dominant brand colors and minimalist design style are consistent throughout our website.

Once you have your style guideline locked in, you can begin designing your visuals! Here you can see how DemandJump's visual guidelines have been applied to our "Content Marketing" landing page.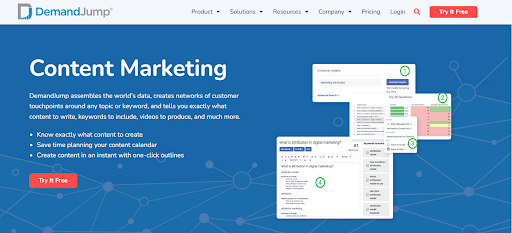 Audio and Video Content Example | The DemandJump Podcast
Last, but not least, it's time to dazzle your audience with audio and video! Just like visual content, effectively including audio and video on your website requires balance and lots of planning. Too many annoying video pop-ups or sound effects will drive away potential customers in seconds. Additionally, creating a quality video is an expensive, time-consuming venture. There's no point in wasting your time and resources creating a bunch of videos that will distract your audience. In short, don't over do it.
When adding audio or video content to your website, here are a few things to keep in mind:
Don't surprise your audience with automatically playing audio or video.
Know your audience, and create content that will interest them.
Be intentional about the location of the video/audio content.
Optimize your video/audio for mobile viewers.
Make sure to include closed captions for accessibility.
For example, DemandJump created a whole separate resources section of our website that includes a page dedicated to our podcast. The DemandJump podcast, Page One or Bust, features our Chief Content Officer and CEO as they meet with industry leaders and SEO experts to discuss their experiences in the marketing world. Not only does this podcast provide entertaining and valuable information, but it's also located in a spot that makes sense for our website and our audience.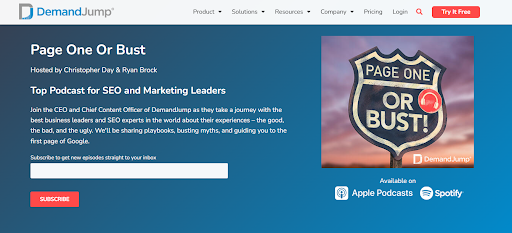 Discover How To Write Website Content That Ranks With DemandJump
In reality, content can make or break a website. But creating great content doesn't have to be stressful—DemandJump makes sure of that. As the most comprehensive free content writing tools for SEO, our platform seamlessly assembles the world's search data to tell you exactly what content to write, what keywords to include, what videos to produce, and more. We're here to help you reach page one. Let's conquer content together!
Get Your Free Pillar Strategy Preview!