Marketers are always looking for a way to be more effective. That can mean driving more traffic, incurring less marketing spend, increasing return on investment, or even finding better ways to analyze their success. While we at DemandJump despise clichés and hyperbole as much as the next person, the truth is effective Pillar-Based Marketing (PBM) is the latest and greatest way to be more effective with your content marketing efforts.
Through Pillar-Based Marketing and PBM tools (like DemandJump), you can create written content that ranks on the first page of Google. By winning page one rankings, you get several benefits of PBM including things like:
Increased organic search presence
Improved ROI on marketing spend
More leads and conversions
Higher subject matter authority
Quantitative data that proves the worth of your content marketing efforts
But what does PBM mean in marketing? We are going to answer that and more in the remainder of this article. We touch on the basics of Pillar-Based Marketing as well as some PBM tactics, strategic PBM planning, and more!
What Is Pillar-Based Marketing?
Pillar-Based Marketing is a new approach to marketing written content. Specifically, PBM looks to:
Create a comprehensive cluster of content about your topic
Use the exact keywords, phrases, and questions your audience does
Link and publish the content in a way that leads to impressive, page one search engine results
So how exactly does PBM accomplish all of that? Through specific types of content, strategic planning, and best practices and tactics. To get a better understanding, let's break down each one a little bit more.
What Are the Types of PBM Content?
Pillar-Based Marketing content can be broken into three main components: a pillar, sub-pillars, and supporting blogs.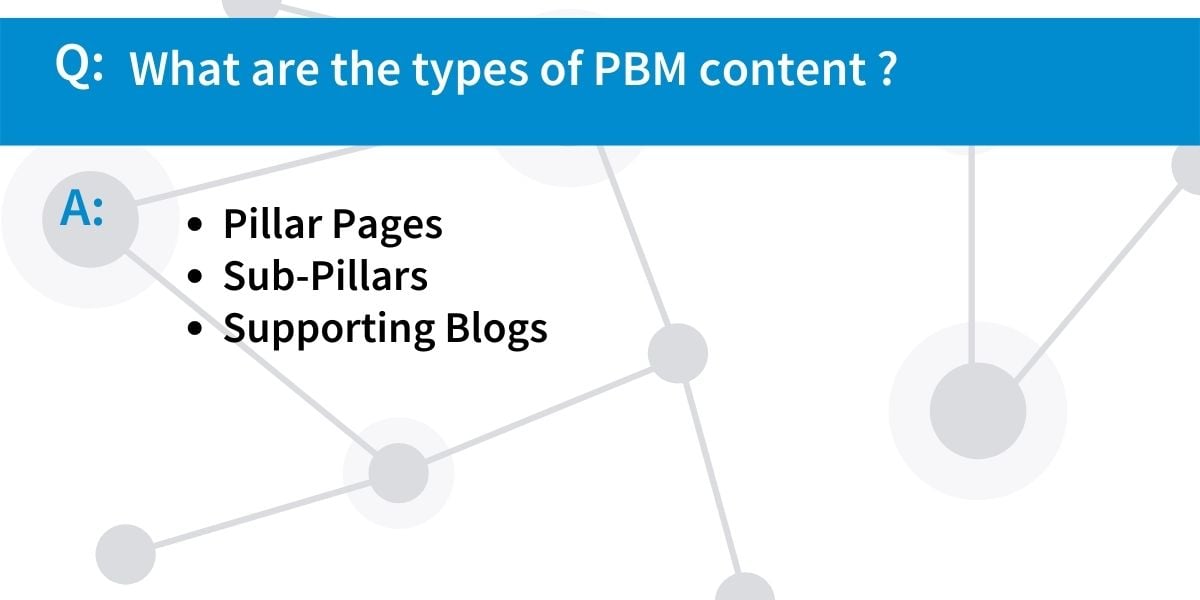 `
Pillar pages should be around 3,000 words of written content. The topic of your pillar page should be something that is central to your business and that you want to rank highly for on Google. It should also be a broad enough topic that you can easily write 3,000 words about it.
Within your pillar page, you should discuss other smaller and related topics. For example, if your pillar page was about COVID-19 tests, other topics might be:
Where to get a COVID-19 test
Types of COVID tests
At-Home COVID-19 tests
How long to isolate after testing positive
The list goes on. It's important to understand that the whole idea of a pillar and PBM is to create content that forms a cluster or network. The central point of that content is your pillar topic, and the other nodes and topics are what you should cover in the pillar page and other pieces like sub-pillars and supporting blogs.
That brings us to sub-pillars. A sub-pillar should be around 1,500-2,000 words. Topics for your sub-pillars should be the most important secondary topics in your pillar network or cluster. These should be the most commonly searched terms and questions related to your pillar topic. While you may give a brief overview of these topics in your pillar page, you will go into more detail on them in your sub-pillars. Sticking with the pillar network of COVID-19 tests, good sub-pillar topics might include:
Types of COVID-19 test
COVID-19 Variants
Exposure to COVID-19
Each of these topics has a high search volume and enough substance that you can write 2,000 words about it.
Supporting blogs round out the types of PBM content. A supporting blog should be somewhere between 750 and 1000 words. These pieces should answer the more specific questions and detail the nuanced topics within your pillar network. So, within the "Types of COVID-19 tests" sub-pillar for example, your supporting blogs might be about:
PCR tests
Antigen tests
At-home tests
So, now that we have covered the content basics, let's explore some of the best PBM tactics and strategy.
What Is a PBM Strategy?
A PBM strategy will combine all of the content and tactics into a strategic plan. It should include what you intend to write about, which topics will be sub-pillars and supporting blogs, when you plan to publish, how you are going to link, and more. While you can certainly create your own PBM strategy, the easiest and most effective way to do it is with DemandJump.
What Are Some PBM Tactics?
There are several PBM tactics that take individual pieces of content and turn them into a pillar approach. Some of the best tactics to keep in mind include:
Creating the right amount of content - At DemandJump, we recommend having one pillar page, at least three sub-pillars, and at least three blogs per sub-pillar and pillar as well.
Choosing high-value keywords and phrases - Keywords are a key ingredient to cooking up SEO results. It's important to use the right ones and the right number in each piece. The best way to conduct keyword research and find high-value keywords is to use DemandJump's content briefs. They will tell you exactly what to include in each piece of written content. Once you know that you have a good set of keywords, we recommend using 18-20 in a pillar, 15-20 in a sub-pillar, and 8-10 in a supporting blog.
Utilizing proper linking - Linking "up" between pieces of content in a specific way is important to ensure SEO rankings. Each supporting blog should link back to its sub pillar and to the pillar page, while each sub-pillar should link back to the pillar page. It's also important to avoid using keywords as anchor text (the text that turns into the blue hyperlink) for external sources as it can hinder the SEO value of the keyword.
Publishing strategically - For the best results, we recommend publishing in large batches as opposed to one piece of content at a time.

DemandJump…The Authority on PBM
At DemandJump, we know PBM might seem new, scary, or even too good to be true. We know that because we invented it and shared some of those same thoughts. But as the industry leader in all things PBM and SEO, we created a platform that makes PBM a breeze. We offer tools like:
Content briefs that tell you what to include in your content
Insight reports that show you where you rank for certain topics
Pillar planning services to take the guesswork out of marketing
But beyond some of our incredible tools, we also offer knowledge. You can check out DemandJump University (our Pillar-Based Marketing course) today, and learn the ins and outs of planning and executing every aspect of a PBM strategy. Whether you are ready to get started or want to learn more, click the button below to start for free today!
Get Your Free Pillar Strategy Preview!