Have you heard the term "pillar?" If you're like most people, you're probably picturing strong, study columns. Or, you might be thinking about inspiring folks who act as pillars of your community. For marketers, the term "pillar" has another meaning, too, and it's all about search engine optimization. An SEO pillar is used to develop interconnected pieces of content to help companies increase first page rankings and drive better outcomes.
For businesses, those better outcomes may include more on-page visitors, more leads, more customers, and more overall revenue. In other words, a great ROI! But how do you get from point A to point B? The answer lies in topic clusters and pillar pages.
What Are Pillar Pages?
On the surface, a pillar page may look like any other piece of writing on a website. And it is a piece of content—don't get us wrong. A pillar page is a very specific kind of content that serves as the central, authoritative article in an overall pillar strategy that's built around topic clusters.
What are topic clusters? A topic cluster is a group of articles that are all interconnected. When thinking of a topic cluster, it can be helpful to visualize a spider web (or a circle with a bunch of lines poking out of it for the spider-fearing readers). The central topic lies in the middle, and all around it are interconnected subtopics that branch off of it. You can have as many pillars (or webs) as you want, but each pillar should focus on one primary topic.
In other words, the pillar page is the central topic in the middle of the web or circle. It is a high-level piece of content that aims to cover as much about a given topic as possible. A pillar page is supported by two other types of content: sub-pillars and supporting blogs. Think of these as the offshoots that link off from the pillar to explore topics in greater detail. Sub-pillars are slightly longer and cover other broad topics beneath the pillar, while supporting blogs are shorter, and they dive into detail on more nuanced topics in the cluster.
How long is a pillar page? A pillar page is generally around 3,000 words. Sub-pillars fall between 1,500 and 2,000 words and supporting blogs are between 750 and 1,000 words in length.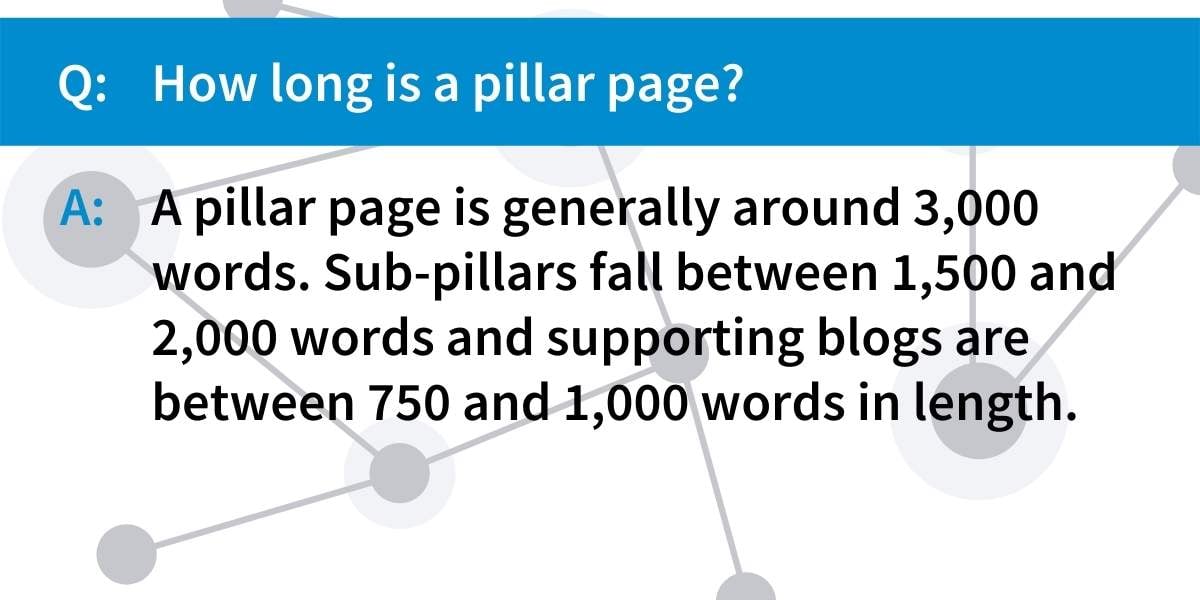 Examples of Pillar Pages
Pillar page examples are all around us, but let's take a look at a hypothetical to help distinguish between a pillar topic and a topic cluster. Say your business rents tuxedos. Your pillar (that big-picture topic) might be "Tuxedo Rentals."
From there, you could explore a few sub-pillars, like "Tuxedo Rental Near Me" and "Tuxedo Rental Price." These would be high-level pieces that explore a part of the pillar. Take it a step further and you can choose some supporting blogs like "Is it Cheaper to Rent a Tux or Buy One?" or "What Is Included in a Tuxedo Rental?"
The basic idea is that each of these articles relates back to their higher-level articles; sub-pillars link up to the pillar and supporting-blogs link up to the sub-pillar and the pillar. They all come together to form a topic cluster.
Types of Pillar Pages
There are all types of pillar pages that companies can create. In fact, you've probably seen them on websites without even knowing it. Here are the three most common types:
The "Ultimate Guide" Pillar: This pillar aims to provide the most comprehensive overview of a topic out there.
The "How to" Pillar: This pillar explores how to do something, often by sharing tips, tricks, and steps to achieve an end result.
The "What Is" Pillar: This pillar aims to answer a big question by exploring all angles and providing readers with a solid foundational understanding.
What Should Be on a Pillar Page?
If you're ready to start developing a pillar or a topic cluster, you might be wondering what kinds of things should be included. Regardless of what type of pillar you choose to write, here are a few must-haves:
Keywords
A well-written pillar isn't going to do much without carefully chosen keywords. In fact, without keywords a pillar strategy is essentially pointless. Pillars should include at least 15-20 high-value keywords and phrases that align with that your target audience is actually searching for. If you're looking to make your keyword research easier and more effective, consider DemandJump. Our platform automates SEO keyword and competitive research to make it easy to find the right keywords and the right content to write.
Valuable Information
Pillars aren't sales sheets or pitches. They're designed to inform, to delight, and to share authoritative information. Before writing anything, it's important to do research to find the most accurate information out there. Sure, you can include some information about your product or service, but most of the article should be spent thoroughly exploring the ins and outs of the topic.
Headers
A well-structured pillar will include headers (typically H2s and H3s) and bulleted lists. For example, this article includes H2s (the biggest font besides the title), H3s (the header for this paragraph), and a bulleted list. Structures like this provide whitespace and give our eyes a break. And, it makes it easy for readers to skim for the information they're seeking. One easy way to get keywords into your article organically is to use them in your headers—this makes for a great pillar page outline to follow as you write, too!
DemandJump: Improve your Pillar Page SEO Fast
There's a lot that goes into developing a pillar page. From determining the right topic to developing a topic cluster and pillar strategy to finding the most relevant keywords and writing your articles, it can be time-consuming and downright daunting. That's where DemandJump shines. With DemandJump, you can access insight reports, keyword trends, competitive insights, and one-click content briefs to show you exactly what to write to rank better and reach more potential customers.