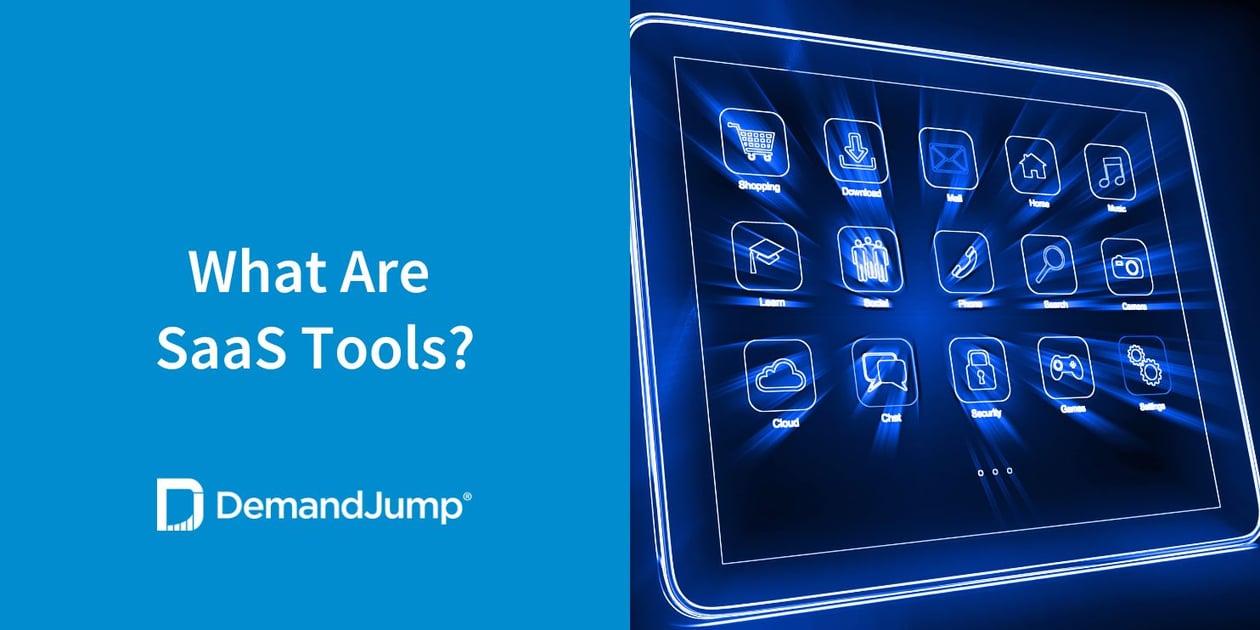 Software as a Service (SaaS) marketing is challenging for two reasons:
The SaaS market is extremely competitive. Globally, there are

30,000

SaaS companies, and 17,000 of those companies operate in the US. With a total market value expected to reach $307 billion by 2026, even more businesses are joining the fray. In fact, nearly

400

new SaaS organizations were founded in the last year.
Marketing SaaS products requires strategies that are unique from every other industry. SaaS marketers don't have the luxury of promoting a physical product that customers can hold in their hands. Instead, you have to prove the value of an intangible product to an audience that is often resistant to changing their technology. Your job also doesn't end when a lead becomes a paying customer. SaaS products depend on a subscription model, in which customers can churn if they no longer find value in your product. This means you must continue to prove your product's value month after month and year after year.
With how difficult SaaS marketing can be, it's easy to lose sight of the big picture. Sometimes, it's better to get back to basics rather than trying to reinvent the wheel. And what's more fundamental than focusing on your customers' needs and how, exactly, your SaaS product meets and exceeds them?
In this article, we'll cover why both small and enterprise-level businesses rely on SaaS marketing tools. We'll also show you tools for discovering exactly what challenges your ideal customers are facing, so you can present yourself as their solution. Let's dive in!
What Is SaaS Technology?
SaaS technology refers to ready-to-use application software that is hosted in the cloud. These software applications are also sold "as a service," meaning they come with a subscription-based service level agreement. This agreement places the responsibility of upgrades and patches on the vendor. The vendor also provides the servers, storage, and networking required for the software to function.
This is in direct contrast to how businesses have managed their IT needs in the past. If a company wanted new software, they would simply purchase it. They would then be responsible for implementing and troubleshooting that software and providing the server space to run it. If the developer released upgrades for that program, the company would be responsible for deciding to purchase and install them—or not.
In short, SaaS products provide companies with the benefits of cutting-edge technology while adding the perk of taking a hands-off approach to software management.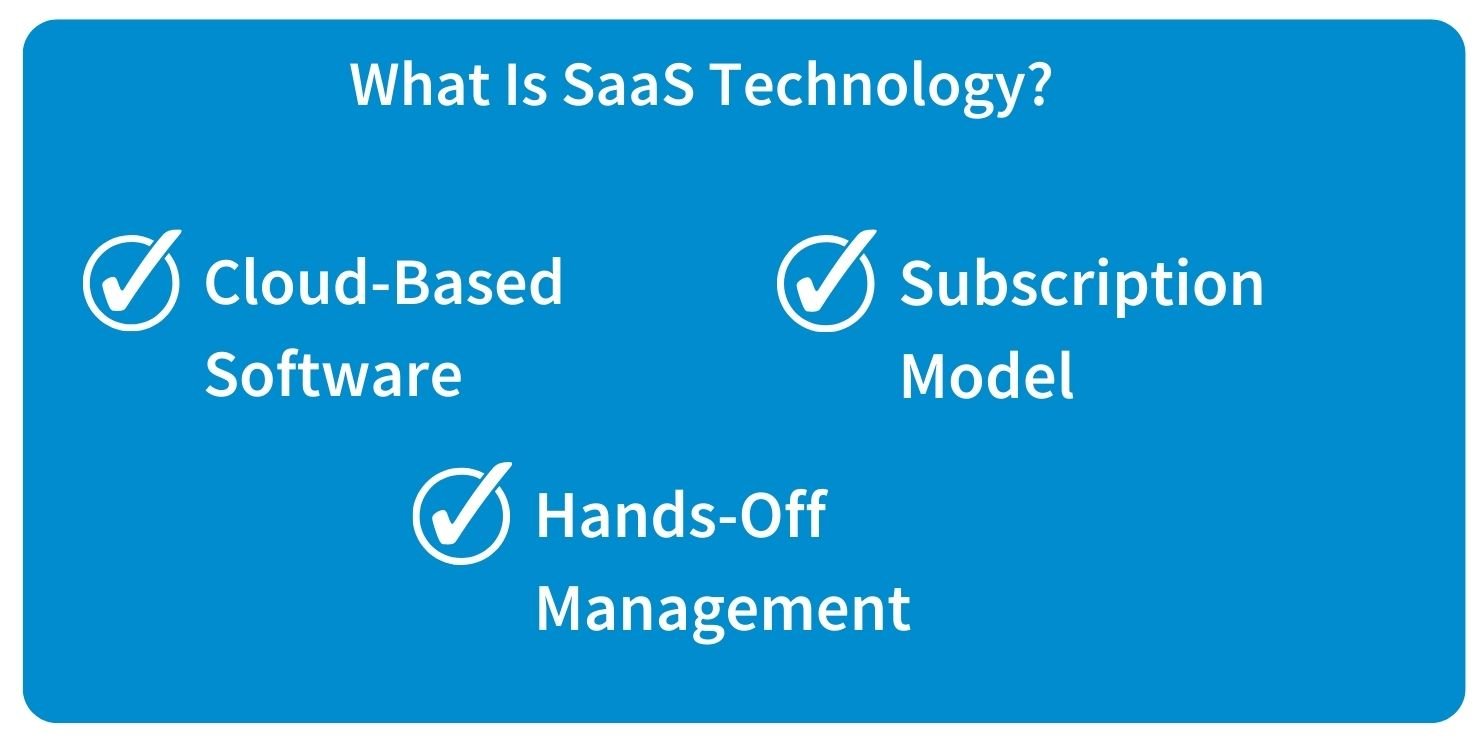 SaaS examples are all around you—at work and at home. Popular SaaS products include Google Docs, monday.com, Slack, and Canva.
The Difference Between IaaS, PaaS, and SaaS
Closely related to SaaS are Infrastructure as a Service (IaaS) and Platform as a Service (PaaS).
IaaS: Infrastructure as a Service gives your business the tools to control the backend IT infrastructure that runs cloud-based applications. This includes on-demand access to storage, networking, and cloud-based servers.
PaaS: Platform as a Service provides the organizational tools needed for managing SaaS applications. PaaS also allows users to develop and host their own applications within the platform.
Why Do Small Businesses Use SaaS, and Is SaaS Beneficial for Enterprise Companies?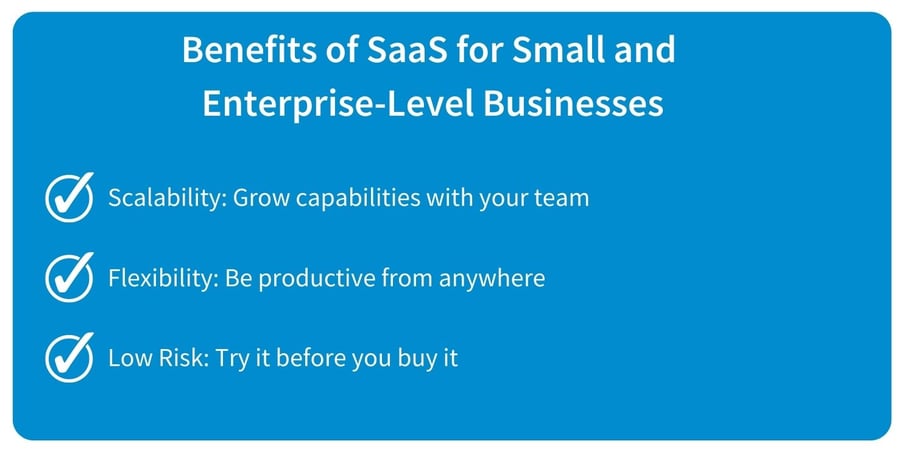 Small businesses and enterprise companies alike use SaaS applications because they bring simplicity and efficiency to all types of business operations. In fact, there are SaaS applications for nearly any task. So how many SaaS tools do companies use? A lot. Businesses with fewer than 50 employees use an average of 16 different SaaS applications. For larger companies with over 1,000 employees, their teams use an average of over 150 SaaS applications. This may seem like an excessive amount, but there's a good reason for it. The benefits of using SaaS applications include:
Scalability: As teams grow, they don't have to worry about changing their technology to grow with them. Instead, they can simply pay their vendor for new seats and additional data space to accommodate more people.
Flexibility: Employees just need a device that's connected to the internet to work. This makes it a lot easier for businesses to adapt to hybrid and fully-remote models.
Low Risk: Businesses can try most SaaS products with a free trial. And after signing up for a paid account, they can cancel their subscription when they're ready to move on to a more comprehensive solution.
SaaS applications' efficiency makes it easier for businesses to devote their time and resources to research and development, marketing, customer support, and sales, ultimately leading to more profits.
Discover How To Connect with Your Audience
The general benefits of SaaS tools are clear, but how do you know exactly which pain points your target market is experiencing? There's a SaaS app for that—DemandJump. In true SaaS spirit, DemandJump removes a massive workload from your marketing team, especially when it comes to researching for and creating content. Here's how DemandJump puts your next campaign on the fast-track to page one:
Shows you what the most searched phrases and questions are for any given topic, so you know what your target market cares about and how they find answers.
Tells you which topics are related and relevant to your audience, so you can create content clusters that boost each other's search engine rankings instead of competing against one another.
Provides detailed content briefs, so you can see which specific questions to answer in each piece of content.
Ready to take the guesswork out of SaaS marketing? It's as easy as signing up.
Get Your Free Pillar Strategy Preview!