Remember the days before smartphones where we'd sit around with friends and family guessing about the answer to something? Maybe you'd also use an encyclopedia, dictionary, or the yellow pages. As much as people might miss the "simpler times," you have to admit that Google has made it so much easier to find information and solutions for our questions and problems.
Of course, the results we see on search engine results pages (SERPs) don't materialize from nothing. Businesses employ an SEO strategy to increase their odds of showing up on page one. But what makes a good SEO marketing strategy example? And what are the top 3 SEO strategies in 2023? Keep reading to find out.
What Makes a Good SEO Strategy?
A good SEO strategy in 2023 contains several important elements: key performance indicators (KPIs), a variety of different types of SEO, and an SEO action plan to guide your work.
Key Performance Indicators
Before anything else, you need to decide what goals you want to achieve. Are you looking to increase your number of keywords on page one of Google? Do you want to improve metrics like average time on page or click-through rate? Determine what your goals are and make sure they're SMART (Specific, Measurable, Attainable, Relevant, and Timely).
Multiple Types of SEO
As you move forward with your strategy, it's important to include a wide variety of SEO techniques and tools. Most good strategies include the four different types of SEO:
On-Page SEO: This refers to any and all elements that live directly on a website, including content like blogs, product copy, meta descriptions, images, videos, and more.
Off-Page SEO: This refers to those tactics that live outside of your website, including things like press releases, guest blogging, industry publications, social media posts, and more.
Technical SEO: This refers to all of the functionality and back-end work that can impact a website, including page load speeds, mobile design, accessibility, site architecture, and more.
Local SEO: This refers to specific tactics that improve rankings for geographically-specific businesses, including maintaining your Google Business Profile or increasing the number of local Google reviews your company has.
SEO Action Plan
Finally, every good SEO strategy in digital marketing has a plan of action. How will you implement the different types of SEO discussed above to meet your KPIs? Of course, every SEO action plan template will look different depending upon what tactics you intend to employ and what your goals are. With that said, here are some questions to consider when formulating your plan.
What tactics and strategies will you implement? Are you planning to write a lot of SEO-driven content or follow a

Pillar-Based Marketing

approach? Do you plan to make site improvements to decrease load speed? Clearly document what needs to be done.
What is your timeline? How quickly do you intend to accomplish each task? Be sure to be realistic based on the available resources.
Who is responsible for what tasks? Who are your researchers, writers, editors, publishers, coders, project managers, and more? Ensure that each person understands what their roles and responsibilities are.
How will you measure and track progress? Who will track progress? This includes not just tracking project completion, but also tracking how well you're performing against the set goals and KPIs.
What Are Unique SEO Strategies and Tactics in 2023?
Maybe your SEO game is already pretty great. Maybe you're new to SEO but you're looking to make a big impact. Either way, there are some unique SEO techniques and tactics that can help you drive success for your business. Here are three we think are worth mentioning.
Write for Humans
At DemandJump, a lot of our customers come to us thinking that our content team writes exclusively for search engines. And using the right strategy and keywords to rank highly on search engines is certainly part of it! The bigger part? Writing content for humans. Not only does writing for real people keep readers engaged—and likely trusting you as a subject matter expert—it also aligns with what Google prioritizes. In their 2022 helpful content update, Google made it clear that their algorithm will give preference to sites that provide high-value, educational content.
Adopt Pillar-Based Marketing
Created by our team at DemandJump, Pillar-Based Marketing is a relatively new SEO strategy that combines the power of content clusters, keyword research, great content, and linking strategies to drive businesses to page one of Google. How's it all work? It all starts with selecting a topic that's highly relevant to your business. From there, you develop three different kinds of content.
Pillar Page: A broad, 3,000-word article about your main topic.
Sub-Pillars: 2,000-word articles that explore the primary sub-categories of your Pillar.
Supporting Blogs: 750-1000-word articles that dive into specific topics and questions.
Then, simply interlink each of these articles, as the image below illustrates, to create an interconnected cluster of content.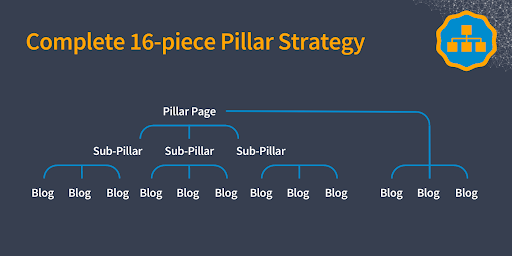 The DemandJump platform makes this entire process simple, with Insight Reports, Pillar Strategy Dashboards, one-click Content Briefs, and more.
Keep an Eye on the Competition
Finally, a big part of SEO is staying ahead of the competition. How are your top competitors performing? What keywords are they ranking highly for, and what keywords are they missing out on? How's your overall market share looking for organic search traffic? Once you know this information, you can make a plan to outrank your competition.
With DemandJump, our platform allows you to see exactly what keywords your competitors are ranking for. You'll also gain insight into how your content is currently performing and what kinds of articles you could create to improve your rankings.
In case you missed it, DemandJump's Chief Solution Officer and Co-Founder, Ryan Brock and Christopher (Toph) Day, co-wrote the book "Pillar-Based Marketing: A Data-Driven Methodology for SEO and Content That Actually Works". In this book they cover some critical tips for how to improve your SEO by mastering best practices of Pillar-Based Marketing. The podcast, Page One or Bust, goes into lengthy detail on the subject as well! Listen to the clip below for more info, or check out the full episode via this link.
Build SEO Strategies that Work with DemandJump
When it comes to SEO, there's no time for a break. To stay ahead of the competition, you've got to consistently create strategies, generate great keyword-driven content, and publish it to your website. Sometimes it feels like there's just not enough time in the day to get it all done.
That's where DemandJump comes in. Our platform combines insight and functionality for content marketing, keyword research, Pillar Page strategy, content strategy, and so much more to provide you with a comprehensive tool to increase page one rankings and drive outcomes. All you have to do is sign up, run a report, and start writing!