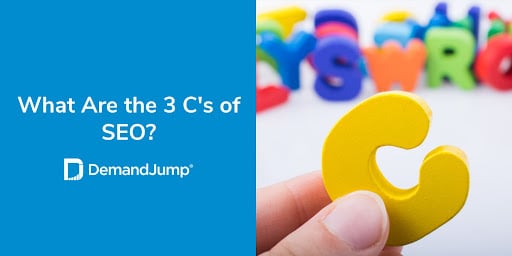 When creating an SEO strategy, you've got a lot to think about. You have to look at where you've succeeded and failed in the past. You have to audit your previous content to make sure it's still relevant and up-to-date. You have to scan through your website's technical environment to make sure everything from that end is accurate and working. Needless to say, it can get overwhelming putting all the pieces together.
Perhaps you've looked at an SEO strategy example PDF for ideas (Free PDF Download). Or maybe you've looked online for tips and tricks (and maybe that's how you ended up here!) Whatever the case may be, we're here to give you some advice to help you out: just focus on the 3 C's of SEO, follow the simple SEO tips for better rankings, and you'll set your SEO strategy up for success.
What Are 3 Main Areas of SEO?
The three main considerations, or three C's, of SEO are content, code, and credibility. Let's take a look at each of them.

Content
At the heart of any good SEO strategy is content—it's what readers look for when they search online and initiates their relationship with your company. Google actually prioritizes helpful content when ranking pages in search engine results, as indicated by their helpful content update.
Including relevant keywords in your content is key to getting search engines to rank them higher. That's not to say that you should keyword stuff—you shouldn't—but it does mean that you include the right number of appropriate keywords so that search engine crawlers can mark your content as relevant to users' search queries. A platform like DemandJump will give you exact phrases and questions related to your content's topic that your target audience is searching for. You can include these phrases and questions as keywords in each piece you write.
Code
Code—a component of technical SEO—includes your sitemap, your redirect mapping, and canonical tags and shows search engine crawlers important information for each page of your website.
The sitemap tells search engines which pages it can show readers.
Redirect mapping allows you to remove duplicate content from your website, which could hurt page rankings.
Canonical tags tell search engines which version of your pages you prefer readers to see so that the crawlers don't interpret different versions to be different pages.
Credibility
Establishing credibility through SEO tactics indicates to search engines that your content is authoritative, relevant, and trustworthy. You can boost your credibility through both on-page and off-page SEO practices. In terms of off-page SEO, you build credibility when other organizations within your industry or with a close connection to it link to your content. That does not mean that you should buy backlinks from link farms, though—tricking search engine algorithms like that typically doesn't work.
As far as on-page SEO goes, creating a Pillar-Based Marketing (PBM) strategy will allow you to build that credibility internally. PBM works like this: you create 16 pieces of content—1 Pillar of 3,000 words and 20 keywords, 3 Sub-Pillars of 2,000 words and 15 keywords each, and 12 Supporting Blogs of 750 words and 6-8 keywords each. Each piece of content will center around the same topic (the Pillar topic) and become more specific the fewer words it has. Each Sub-Pillar and Supporting Blog will link to your Pillar. 9 of the 12 Supporting Blogs will also link to a related Sub-Pillar. This linking strategy establishes your longer pieces of content as authorities on the subject since more pieces are linking to them than to the Supporting Blogs. The strategy itself looks like this:
DemandJump makes creating a Pillar strategy easy. Simply type in the topic you want to rank for, and our platform will recommend what content to write. You can learn more about PBM and how DemandJump helps with creating your strategy at DemandJump University.
How to Measure SEO Success
If you want to measure your SEO success, you have to start by setting SMART (Specific, Measurable, Achievable, Realistic, Timely) SEO goals. When you have SMART goals in mind, you'll have a much easier time tracking and achieving your success. You should also think about what key performance indicators (KPIs) you'll use to measure your success.
What is a KPI? A KPI for SEO is a specific metric you look at to determine how well your SEO strategy is performing and whether you're reaching the goals you set. A few examples of KPIs you might use include:
Customer Lifetime Value (CLV): Measures how much money a customer brings in the entire time they do business with you.
Average Engagement Time: Measures how long a person spends on your website (based on how long your website was the main focus of their browser).
Average Position: Measures the average spot on search engines where your content ranks.
Conversion Rate: Measures the number of people who took an action on your website, such as buying a product, scheduling a demo, or subscribing.
These by no means cover all the SEO KPIs out there, but these will give you a better idea of how to measure your strategy's success. If you want to see real results with your SEO strategy, and with your content strategy in particular, turn to DemandJump. We have the tools you need to see results from your content.
Reach Your SEO Goals for 2023 With DemandJump
Tired of playing the guessing game when trying to rank on search engines? So were we. Guessing keywords, what topics to write, and how our competitors were doing…that's why we created DemandJump! Our platform gives you clear guidance on what pieces of content to write based on the topic of your choosing, as well as a brief full of keywords to choose from for each piece. What's more, you can see how your content is performing as well as where your competitors are ranking for specific keywords.
Our customers have seen amazing results, and so can you. Give us a try!
Get Your Free Pillar Strategy Preview!