What Are the Best Strategies to Grow a B2B SaaS?
November 2, 2022 •Shannon Elward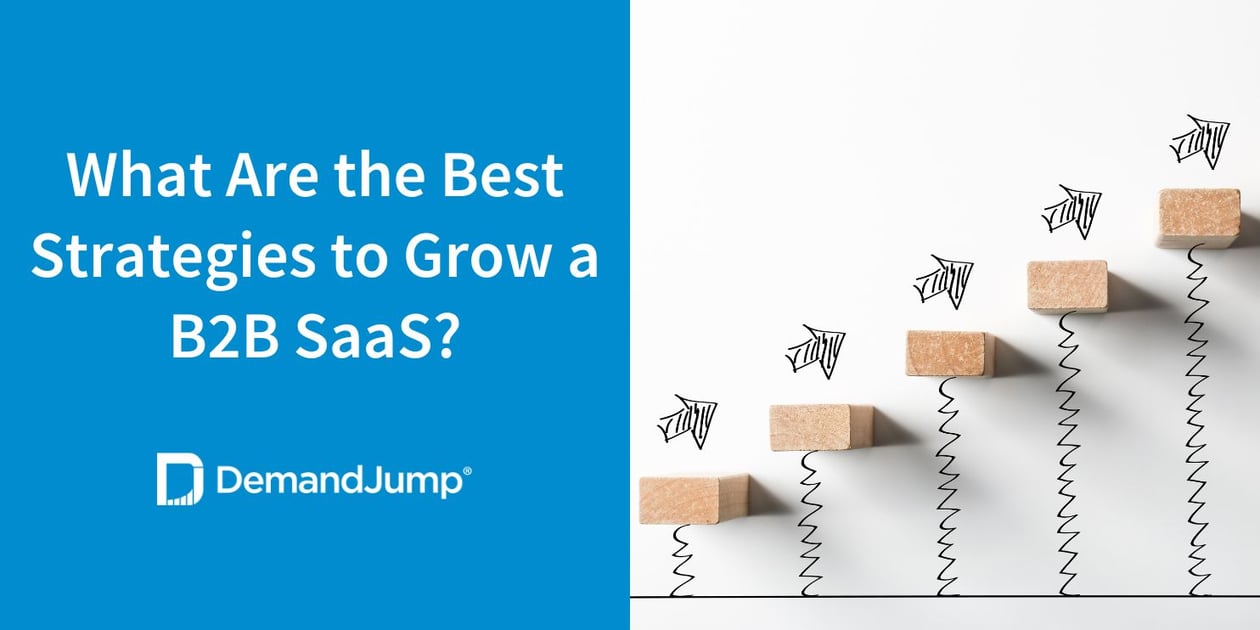 The competition is tough in the SaaS (Software as a Service) realm. The combined B2C and B2B SaaS market size is expected to reach 307.3 billion US dollars by 2026. And, with more than 17,000 SaaS companies in the United States alone, it's getting harder and harder to define your niche.
For new companies, or even for those longer-standing companies that are looking to expand, this poses a challenge. How do you attract customers to SaaS and grow your business amongst this much competition? For starters, you'll need a killer SaaS marketing plan that'll help you stand out from the crowd. Keep reading to find out more about what to include in your B2B SaaS marketing strategy to ensure your company can grow and thrive.
How Do You Grow a B2B SaaS Company?
In the most general sense, you grow a B2B SaaS company with a whole myriad of things: effective marketing, amazing customer success, and top-notch sellers. The fact is, driving revenue, bringing in new customers, and upselling existing customers is a team effort.
Zoom into the micro level, however, and how to grow a SaaS business relies heavily on marketing. You need proven strategies that'll ensure your prospects can find you, and you need content and other marketing deliverables that'll illustrate your return on investment (ROI).
But, of course, all of that is much easier said than done—especially because there are so many different strategies to employ and channels to utilize. That's exactly where a B2B SaaS marketing plan comes into play. A SaaS marketing plan can help you define who your ideal audience is, what kind of marketing campaigns you need to reach them, and what efforts work best at each stage of your customer's journey.
What Are the 3 Growth Strategies You Need in a SaaS B2B Marketing Strategy?
While every company should ultimately design their marketing plan around what is most effective for their product and their prospects, most SaaS growth strategies ultimately include some combination of the following marketing tactics.

1. Freemium or Free Trials
For the majority of SaaS companies, product-led growth (PLG) is essential. Getting to a point where your platform—and its value—speaks for itself is a critical growth strategy. One of the best ways to invest in PLG is by introducing a free trial or a freemium account option.
However, it's not enough to simply implement a free version—whether it's a freemium account or a free trial. You need to consider how you can encourage free users to convert to paid. For example, you could implement an email drip campaign for new free trial users, walking them through different features of your solution and highlighting other features they would unlock with a paid account. Or, your account managers may reach out directly—especially to those users in your company's ideal customer profile—to check in, see how things are going, and find out what questions they have.
2. Organic Content Marketing
What's one of the best ways to ensure your prospects can find your website—and your solution? Search engine optimization and content marketing. Over 50% of all web traffic comes from organic search. For B2B sites, the percentage of organic search traffic jumps up to nearly 65%. In short, making it to page one on search engine results pages (SERPs) means your prospects will have an easier time finding you.

At DemandJump, we've found that Pillar-Based Marketing (PBM) is the most effective SaaS marketing strategy in 2022 when it comes to organic search. Pillar-Based Marketing uses the network of search terms around any given topic—like "Nonprofit CRM" or "HR Recruiting," for example—to help you identify exactly what content to write to rank higher on Google. Our platform helps you identify what keywords to use and how your competitors stack up so you can create effective content that beats out the competition.
3. Paid Ads
Of course, paid marketing is also a crucial component of most companies' marketing efforts. From paid social efforts to Google ads, these marketing campaigns can work especially well to get your services in front of the right audience. And, with retargeting ads, you can keep your solution front of mind for prospects who have already checked out your offerings.
So what kind of paid ads should you include in your B2B SaaS growth strategy? Paid social media ads are often a must-have. For B2B, LinkedIn tends to work particularly well, but Facebook, Instagram, Twitter, and YouTube can also perform well depending upon your audience. Display and banner ads are another popular strategy. They show up on websites and can be an effective way to build brand recognition and awareness. Retargeting ads, sometimes referred to as remarketing ads, are another great strategy. Remarketing ads allow you to show site visitors specific ads aimed at getting them to convert. Each of these paid ads present a unique way to engage visitors and bring them to your website.
DemandJump: Content Marketing for B2B SaaS Companies
At DemandJump, our platform was built for marketers, by marketers. We understand how crucial a solid organic content marketing strategy is—and how difficult it is to uncover exactly what your audience is looking for.
DemandJump takes the guesswork right out of it. With our platform, you can find out exactly what people are searching for as it relates to your solution, what your competitors are ranking for, and the most important keywords and questions to include in your content.
Ready to start increasing your page one rankings and your revenue? Sign up for a free account to get started.
Get Your Free Pillar Strategy Preview!