What Are the Steps of Developing Content Strategy?
August 2, 2022 •Bret Sexton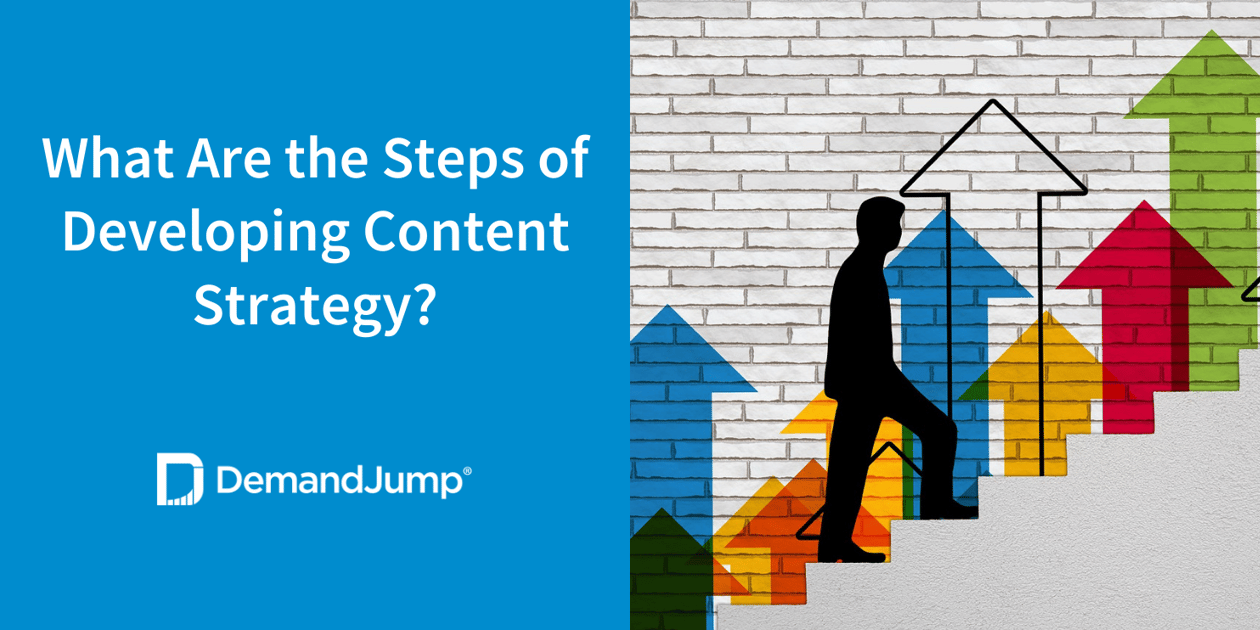 In this day and age, what is the best way to market anything you can think of? If your answer was not content, then you are falling behind. Back in 2018, it was reported that the average time spent with any form of media was 8 hours per day in the U.S. alone. With more people working from home in the past few years, it is not a stretch to imagine that this number is much higher now as online content of all forms is a main source of popular media. So, if content marketing is the best option that companies have to reach their target audience, where can they start?
DemandJump is here to help. Instead of endlessly searching for a "content strategy template for free" on Google, we have written this blog to serve as your guide on how to get started on your content marketing journey. Let's start with the basics.
What Is a Content Marketing Strategy?
Simply put, a content marketing strategy is a method for attracting, engaging, and retaining an audience by creating and sharing
blogs
podcasts
video content
any other media your current and potential customers consume
Content marketing strategies are incredibly flexible, which is great news for organizations that worry about having to dive into a creative area they are not proficient in.
One of the simplest strategies is creating written content like blogs. It is common for businesses not to have in-depth experience in writing. But this is no cause for concern as once you know what your audience is looking for, the writing will become much easier. Our team at DemandJump can get you that kind of access to consumer insights.
This all seems simple, right? At its core, it is, but there are major differences between normal content marketing and great content marketing (more on that later).

What Are the Components of a Content Strategy?
Before we give away the secret to ground-breaking content marketing, we need to cover the more common steps that most businesses take for their strategy.
Goals: Typically, step one for any strategy will be for leadership to define what the purpose of creating the content is. Are you looking to sell a new product or educate your audience on the best way to do something? Whatever your goal with the content is, define it early so everything you create stays connected.
Identify the Audience: This part of the strategy is crucial to its overall success. Creating content that no one watches or reads is the same as never creating the content at all. You not only need to know who you are creating content for, but you need to be able to identify what the audience is looking for. If you take advantage of the services that

DemandJump

offers like SEO keyword research and market intelligence, you will be provided with the exact phrases and questions your audience is searching for - giving you a leg up on the competition.
Create the Content: Once you know the questions that your audience needs to be answered, you can start creating the content they are craving.
Publish: The order and timing for when you publish your content matters. For written content, for example, it would be beneficial to post your most important piece first and follow up with pieces that supplement what has already been written. This interlinking strategy is something that our team at DemandJump has down to a science.
How to Implement a Content Marketing Framework
The hard part of creating a foolproof strategy is difficult enough, but how do you actually create that content, and which type is best? At the end of the day, a business can go about implementing its content marketing plan any way it would like. However, as we mentioned earlier, there is a much better way to execute this process. Our method is through Pillar-Based Marketing, where written content is segmented into equally important varieties. One of those varieties is the blog you are reading right now. Having your content strategy plan put into action through DemandJump means you can dominate the competition.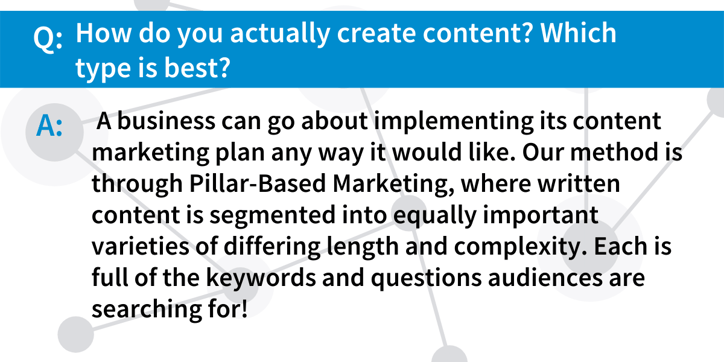 In this framework, the content will be broken down into pillars, sub pillars, and blogs. This web of content will ensure that all the important information you wish to rank for and the questions you want to answer for your audience will be covered.
Become the Expert in Content Marketing With DemandJump University
Rather than searching for a content strategy example online, why not learn to become an expert in content strategy yourself? With the newly established DemandJump University, we can train anyone (regardless of their background in marketing or writing) to become a master of Pillar-Based Marketing (PBM) in no time.
You can then take the skills and knowledge acquired from our course and be a PBM ambassador for your own organization. 92% of searches on Google go to the first page. Our platform is designed to make sure that all your marketing lives on that first page of Google.
Get Your Free Pillar Strategy Report