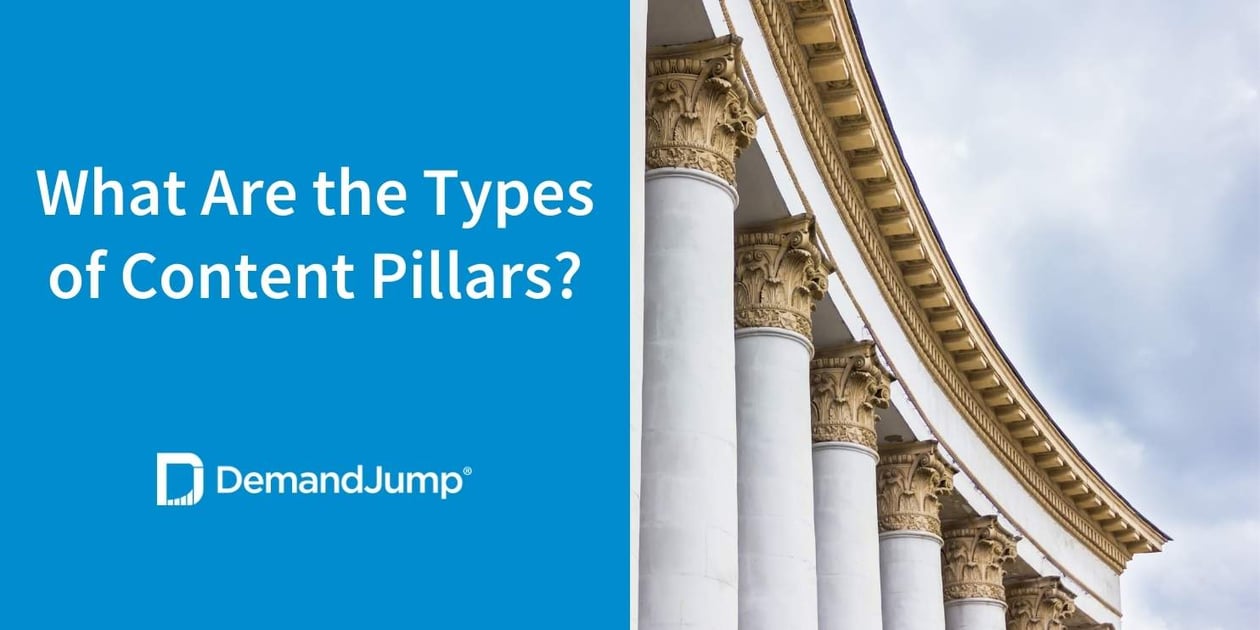 There are an average of 3.5 billion searches made on Google everyday. That may seem like a lot of opportunity for your business to be seen online–and it can be–but you need the right tools to stay ahead of the competition. When it comes to getting the visibility that leads to conversions, your business needs to appear on the first page of search results. After all, 75% of searchers never check page 2 or beyond.

Implementing an SEO pillar can be the best way to ensure that your business shows up as the answer to the questions your audience is searching for.
This post will help with how to create content pillars by going over the content pillar examples that resonate with different audiences.
What Is a Content Pillar?
A content pillar is the central, long-form blog that the rest of your content pillar strategy is built around. When planned out, content clusters follow the shape of a pyramid. At the top of that pyramid is the content pillar, which is supported by sub-pillars and then supporting blogs. Here's what the structure looks like:
Pillar: Typically containing around 3,000 words and 18 high-value keywords, pillars give a lot of information about a general topic. The goal of the pillar is to provide answers to lots of the questions your audience may be searching related to that topic.
Sub-Pillars: Sub-pillars go into even more detail about a portion of the topics covered in the pillar. They often contain 1,500-2,000 words and 12-15 keywords. To boost SEO ratings, these pieces also link back to the pillar page. The same pillar page will have several sub-pillars underneath it.
Supporting Blogs: These pieces are usually 750 words and contain 8 keywords with a link back to both their pillar and sub-pillar. A sub-pillar will have several supporting blogs that go into great detail about a specific, commonly searched question or phrase.
With a combination of high-value keywords and questions answered as well as links from sub-pillars and supporting blogs, having a content pillar can greatly improve your business's SEO.
What Are the 3 Main Purposes of Content?
When it comes to marketing your business, the content you publish should boost your SEO rankings, establish you as an authority in your industry, and drive conversions. Here's how well written content can help you achieve these goals:
Improve SEO: As we mentioned earlier, your content needs to show up on page 1 to matter. By using high-value keywords and quality writing, you can start improving your ranking. But how do you find the right keywords? DemandJump makes it easy by breaking down phrases and questions by topic and how your competitors are ranking for them.
Establish Authority: Providing high-quality, relevant answers increases the value of your brand to readers. They trust your brand for information, so they're more likely to make a purchase.
Drive Conversions: Whether you want more clicks to your homepage, phone calls, or ecommerce sales, content with built in calls to action tell your readers what their next step should be.
In other words, searchers that find your business when looking for solutions become customers.
What Are the Types of Content Pillars?
There are many types of content pillars, with some of the most common being "How-To," "What Is," "Guide," and "Resource." In order to get the most out of your SEO pillar strategy, your pillar page should align with the type of content your audience values. When choosing how to style your pillar page, consider the following content pillar examples.
How-To: If your goal is to establish your business as an authority on a given topic, then a how-to pillar may be the best option for you. In a how-to pillar, you would take your audience through a process step-by-step and give advice for best practices. For example, a carpenter could post a pillar title "How to Redo Your Basement Floor." For how-to pillars, your call to action can be how much easier your service makes the process.
What Is: These types of pillars directly answer the question and give in-depth information. An example might be "What is the Best Type of Flooring for my Basement?" "What Is" pillars allow you to establish your authority on many related questions and position your business as the answer to any pain points.
Guide: A guide pillar often looks similar to a how-to, except it doesn't follow each step as closely. A pillar like "Everything You Need to Know about Reflooring Your Home '' would go through the most common questions asked about your topic.
Resource: These pillars make your page the go-to reference for your topic. Think of resource pillars like a directory; they can guide your reader to any relevant information they need to know on your topic. This may contain internal or external links. Sticking with our carpentry example, a resource pillar could link to a real-time price guide for flooring materials and/or educational videos for different DIY projects on the carpenter's website.
What are your customers searching for? Do they need a step-by-step guide? A general question and answer format? To see the process in action? Tailoring your content to the needs of your audience is the key to getting more readers, more visitors to your website, and more business.
In case you did not hear, DemandJump's Chief Solution Officer, Ryan Brock, has released a book titled, "Pillar-Based Marketing: A Data-Driven Methodology for SEO and Content That Actually Works." In the book, Ryan goes into even more detail on how PBM will innovate your entire SEO strategy. Below is a quick clip from DemandJump's Podcast, Page One or Bust!, that discusses the book. If you want to hear more, check out the full episode by visiting this link.
Content Pillar Strategy Made Easy with DemandJump
Now you know which types of pillars attract different readers, but how do you know what your readers are searching for? Luckily, you don't have to guess. DemandJump makes it easy to find out which questions about your topic are searched the most, so you can make the best content to answer them. Our platform ranks keywords related to your topic and generates a complete pillar strategy, including content outlines, to take the guesswork out of your content marketing.
Build trust. Make connections. Ranking on page one starts with DemandJump.