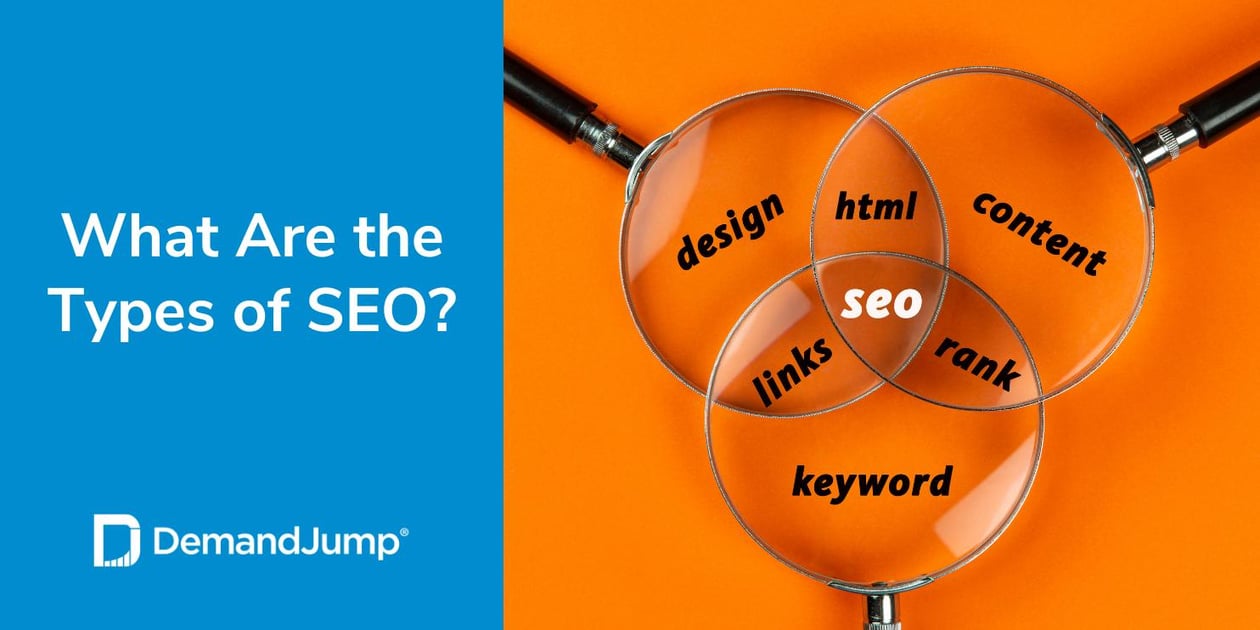 SEO, or search engine optimization, is the process of improving a website and its components to make it easier for Google and searchers to find it. Perhaps more importantly, though, what is the objective of technical SEO? The primary goal is to generate more authority for your website, which will in turn increase your rankings on search engine results pages (SERPs)—and you'll likely see more conversions and more revenue, too. It all sounds pretty appealing, right?
But how exactly do you get started building an SEO strategy? And what should be included in an SEO strategy in digital marketing? Keep reading to find out more about the four primary types of SEO keywords and simple techniques you can add to your marketing efforts that can make a real difference.
What Are the Types of SEO in Digital Marketing?
There are 4 types of SEO: on-page, off-page, technical, and local. Let's explore the basics of each.

On-Page SEO
On-page SEO refers to any practice or technique that helps you to create or optimize content and other elements on your website. The quality of your content, your keyword usage, and the relevance of your webpages are all critical components of how Google analyzes and ranks content. In other words, improving your on-page SEO can increase your site's authority and visibility, which is why on-page SEO is important. Common on-page SEO techniques you can employ include:
Performing keyword research: Perhaps one of the most important elements of SEO is keyword research, or the process of identifying which keywords your target audience is using when they search on Google. DemandJump makes keyword research a breeze. Simply use our Insight Reports and Content Briefs to identify the exact short- and long-tail keywords in your topic network.
Writing engaging content: Of course, once you've identified keywords, you need to create engaging content—or optimize existing content—with those keywords in mind. The key here is to write educational, compelling content that actually addresses your keywords and questions. In fact, Google's Helpful Content update rewards websites that provide users with high-value information.
Employing images: We're visual creatures, and using images can enhance your website and give your visitors' eyes a break from large blocks of text. When you use images, be sure to follow best practices around things like alt text, image format, and file size.
Off-Page SEO
Off-page SEO includes all the strategies and tactics that occur outside your website that you can use to increase your SEO authority. Think of off-page SEO as how you might develop your brand's awareness and reputation. You can't just use your own webpage to share how great your company is—you need to get the word out to the broader internet. There are a lot of different off-page SEO techniques you can use, including:
Developing a social media presence: Social media plays an important role in brand awareness. With social media, you can share information about your company, your products and services, events you're hosting, and more. In other words, it's a great way to connect with your followers and drive them to your website.
Participating in guest blogging: Guest blogs and guest articles are a great way to build thought leadership outside of your own site. Seek out industry experts in your field, connect with them, and identify what opportunities there are.
Seeking out other earned media opportunities: There are a lot of other great ways to get your company's name out there to build your authority. Review sites, for example, can improve your visibility and ensure your product is landing in front of potential customers. PR work and press releases can also get your brand into local or national media publications.

Technical SEO
Technical SEO involves optimizing the technical or backend elements of your website. This can not only improve user experience, but it can also make it easier for search engines to crawl, evaluate, and index your web pages. Although it sometimes gets overlooked, technical SEO plays a critical role in ensuring your website is discoverable. You can have the best content in the world, but if your technical SEO game is limited, your odds of ranking highly decrease. Fortunately, there are a lot of strategies to improve, such as:
Developing an XML sitemap: An XML sitemap helps Google more effectively crawl your website by providing it with detailed information about your pages, like when they were last updated.
Ensuring your website is mobile friendly: Approximately 281.5 million people in the US access the internet through a mobile device—a number that's expected to grow to 303.6 million by 2026, according to Statista. Catering to these mobile audiences is a critical component of technical SEO; in fact, Google has shared that they encourage webmasters to design responsive, mobile-friendly websites.
Improving your site speed: Although not as important as content quality and relevance, Search Engine Journal reports that page speed is a factor that plays into Google's page experience signal.
Local SEO
Finally, local SEO refers to the optimization of your site for a specific geographic region or locale. For local companies like stores, services, and restaurants, being discoverable when users search for "shoes near me" or "Italian food Indianapolis" is a crucial part of business. Here are some techniques to consider as you build out your local SEO strategy:
Identifying geo-targeted keywords: Take on-page SEO to the next level by identifying and using geo-targeted keywords that are popular in your region. For example, it's not uncommon for searchers to add "near me" or a city name at the beginning or end of a search query to find local results. With SEO keyword research tools like DemandJump, you can identify these keywords quickly and easily.
Maintaining your Google Business Profile: Formerly known as "Google My Business," your Google Business Profile is a free business listing from Google. It allows you to upload information about your location, business hours, products or services, and more.
Inviting customers to leave reviews: Unbiased reviews build trust. Fortunately, Google makes it easy for your customers to leave reviews on your Google Business Profile. Consider adding language to your receipts or emails asking customers to leave you a review—and be sure to monitor them! While you can't remove reviews, you can respond to clear up any potential misunderstandings.
DemandJump: SEO Keyword Research Made Easy
When it comes to on-page SEO, you need content that works for your business. There's just too much competition out there to leave it to chance. That's where DemandJump comes in. Our platform analyzes search behavior to provide you with key insight into the exact phrases your customers are searching for, how your competitors are ranking, and what content you should write to beat them to page one.
Check out our SEO strategy example, our SEO plan template, and sign up for a freemium account to start writing content that ranks.
Get Your Free Pillar Strategy Preview!