What Are the Types of SEO Tools?
June 12, 2023 •Nia Bowers
If you've had any screen time within the last five years, it's likely that you glanced over elusive SEO success stories while searching for the best ways to market your business online. Like any other skill, learning how to effectively craft and utilize an SEO strategy that works for your goals takes time and practice.
Understandably, there remain many business owners who are complete rookies to the optimization game. Getting started may seem daunting, especially when there are countless SEO techniques and tools, but there's always room for experimentation as you learn what works best for you and your business!
As you go on an expedition through the modern digital marketing world, let's take a detour to discover the best SEO tools for beginners that may exist unbeknownst to you!
What Is SEO?
Search engine optimization, commonly known as SEO, is the strategy that aims to increase organic traffic on Search Engine Results Pages, or SERPs. SEO isn't necessarily a novel concept, and while it's been around for a little over two decades as highlighted by Forbes, it's causing as much commotion today as ever before. As internet access continues to expand, there's a surplus of information on each and every topic known to human beings, making it difficult for newcomers to get their work noticed. That's where SEO becomes infinitely valuable.
However, understanding the term itself is not quite the same as knowing how to utilize it in practice.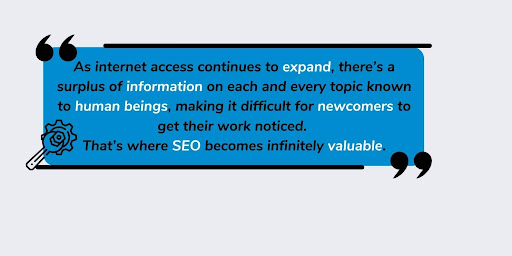 What SEO Tools Do You Use?
Before all else, SEO tools for finding keywords serve as one of the most necessary steps in your process. Some of these tools can include:
Keyword generators
Data and analytics platforms with user-friendly software and interface
Content brief generators
SEO tools for digital marketing are, in essence, your best friend! So you'll need to start using digital marketing tools if you truly want to piece together the perfect puzzle when producing a website worth visiting. These tools are the backbone of optimizing and analyzing the search engine rankings of your website and reviewing the most important ones will send you in the right direction.
What Are The 5 Types of SEO Tools?
Link-building, website optimization, keyword research, link analysis, and analytics all have their space in building accessible and effective SEO tools. Now that you've had a chance to grasp the SEO basics, take a look at this comprehensive list to pinpoint which ones best fit your organization's marketing goals: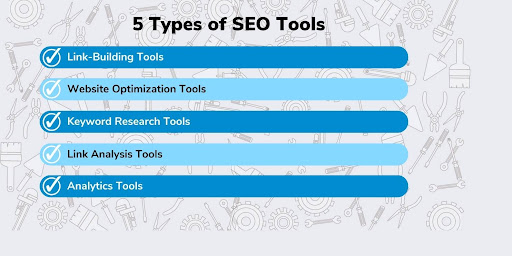 Link-Building Tools: These tools are there to assist you in building links between your company's website and any additional websites that might rank highly on SERPs.
Website Optimization Tools: These types of tools help to ensure that your website is properly optimized for search engines. Different tools will include varying checklists of strategies such as mobile compatibility, page speed, or duplicate content removal.
Keyword Research Tools: These tools aid you in locating the most popular keywords typed into search engines for specific services and products. Once you've found the best keywords, you can work them into your content writing plans, making it easier for consumers to find your page whenever they put similar keywords into the search bar. If you need a place to start your hunt for keyword research tools, just swing by! We at DemandJump

welcome your business with open arms.

Link Analysis Tools: These analysis tools award you the opportunity to review the amount of traffic being sent to your website from other websites. They also calculate how many other websites are linking back to your website.

Analytics Tools: These tools will provide you with insight on valuable data about your website's visitors. Some of these insights include:
Where customers are coming from once they've landed on your page
The amount of time they've spent on your website
The search engine ranking score of your website (also known as Domain Authority or DA)
This information allows you to see if the content you're producing is making significant waves with visitors, giving you motivation to keep going or maybe consider changing direction, depending on the data provided.
Furthermore, there are free SEO tools available, regardless of the category! However, it's crucial to note that "free" tools may not offer you and your website with optimal feedback and results.
Types of SEO Keywords
Along with SEO tool types, there are many categories of SEO keywords worth noting. These keyword types often include:
Short-tail
Long-tail
Customer-defining
Product-defining
Evergreen
Fresh
Intent-targeting (subcategories: informational, commercial, and transactional)
Geo-targeting
LSI or Latent Semantic Indexing (which relates to

Latent Semantic Analysis

or LSA)
The list of SEO keyword types is quite extensive, but the groups above are some of the most common used in SEO strategy today.
How Do I Choose an SEO Tool? Use DemandJump!
Researching ways to increase your search engine rankings doesn't have to be as challenging as it sounds. You have all the information needed to select the right SEO tools, so what next? Fortunately for both novices and experts in the SEO universe, DemandJump is the perfect place to pick out the right tools for the best results!
Forget about hypothesizing the success of your digital marketing strategy and start seeing results in a matter of days. Plus, you can get started for free with our freemium account! Try it today!
Get Your Free Pillar Strategy Preview!